Most frequent flier programs place Namibia into the Africa (southern) zone.   Most people will arrive here via JNB in South Africa and then get a flight from JNB to WDH.  Namibia does have some interesting direct flight options such as Qatar Airways via DOH, an excellent use of AA miles!  I already have a blog with my recommendations for which programs to join if you are new to the world of miles and points.
The major gateway city for Namibia is Windhoek (WDH).    Once you have been in the miles and points game for awhile, you will get a feel for which airline to use where but if you are just starting out Wikipedia will show you all the airlines that fly into Windhoek.  Since it is a small list I can even fit it all into one screen shot!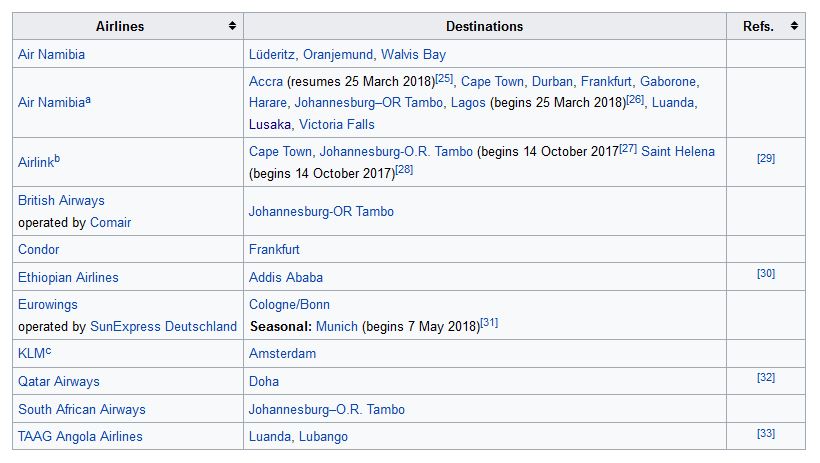 Comair (British Airways subsidiary) flies from JNB.
Qatar Airways flies from DOH.
Ethiopian flies from Addis Ababa
South African flies from JNB.
KLM flies from AMS.
NON-ALLIANCE OPTIONS
Air Namibia is the national airline but they don't partner with anyone so it's a cash basis only.
HOW MANY MILES WILL IT COST?
Every airline member of the 3 main alliances has it's own frequent flier program. Examples are in my East Africa post.
AVIOS (BA OR IB)
Many people like to combine South Africa with Namibia if they have the time and money.  In this case, Avios can be a great bargain priced at 10,000 Avios but keep an eye on the fuel surcharges as they can sometimes make the redemption a bad deal.