Since I already have a more detailed post on South-east Asia, I will only add some Thailand specific tips here.  The good news is that Thailand is one of the easiest countries in the world to get to on airline miles because everyone flies there!  You can get a full list of airlines flying to BKK (Bangkok Suvarnabhumi) on Wikipedia.  The first step is to identify which airlines that participate in one of the 3 alliances serve the airport in question.  You can do this by looking the airport up in Wikipedia and making a note of which airlines fly there and cross referencing with my guides on Star Alliance, OneWorld Alliance and SkyTeam.  Since this list is so long, I will only put a snippet here to give you an idea.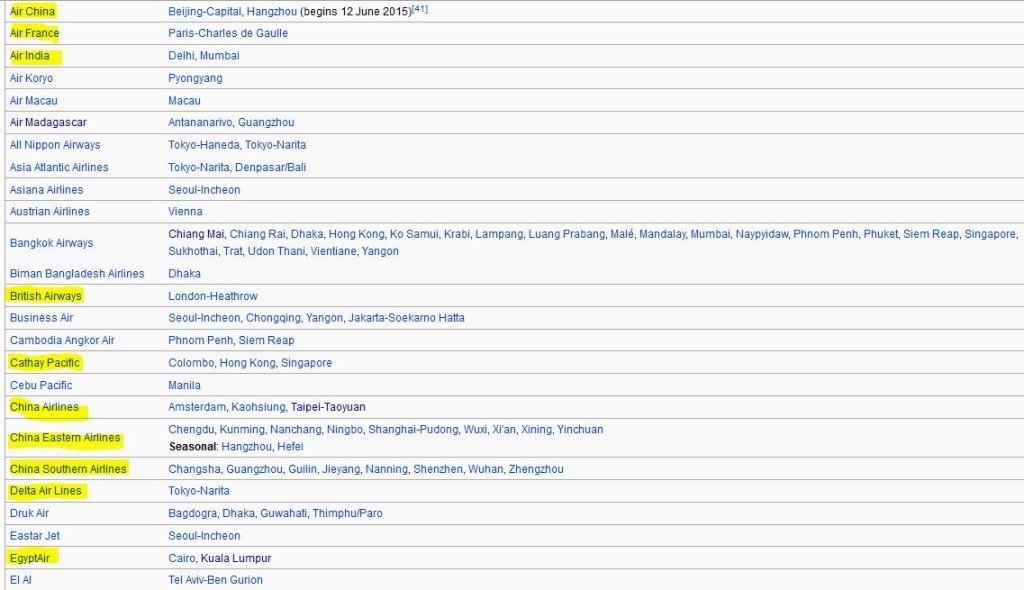 If you are using Star Alliance miles on Thai Airways, you can continue on the same award to other airports in Thailand such as Chiang Mai, Koh Samui, Krabi, etc.  Some airlines such as Malaysian, Air China, Korean, Singapore, China Eastern, etc also serve different airports in Thailand thus avoiding BKK all-together.
Connecting in BKK to another destination such as Chiang Mai on Thai Airways is quick and easy.  Just follow the signs to a special immigration counter for domestic connections which in our case was closer to the gate we arrived at.  See photos here.  The lines are much shorter too!  You will still claim your luggage at the final destination airport and clear customs there.  We were through immigration in 5 minutes flat and quickly found the gate to Chiang Mai.  Our connection was around an hour so I had time to use the free airport wifi to check my emails.
If you are on a longer connection and not in Thai's business class you can still get a massage at the airport.  It's much more expensive than massages in the city which are around 200 Bhat but if you are pressed for time but have sore muscles it might be worth it.