If you've been in The Hobby for awhile, you know that "enhancements" are never good news.  So it was with great dread that I perused United's new stop-over routing rules which come into effect on 6 Oct 2016.  They claim that they are simplifying the booking process and giving a new benefit called an "Excursionist Perk".  (I'd like to know how they came up with that term – maybe an office pool with the winner getting a couple movie passes?)
They have step by step instructions on how to use the new booking interface on their website so I won't copy it here.  What I will do is show you how it impacts people like me who were maximizing the previous stop-over rules that allowed 2 open jaws and two stopovers in any region.  This is the example of what will be allowed moving forward.
The Excursionist Perk is a free one-way award within select multi-city itineraries. Members who book an itinerary with three or more one-way awards will be eligible to receive one of those one-way awards for free, if it meets all of these conditions:

The Excursionist Perk cannot be in the MileagePlus defined region where your travel originates. (For example, if your journey begins in North America, you will only receive the Excursionist Perk if travel is within a region outside of North America.)
Travel must end in the same MileagePlus defined region where travel originates.
The origin and destination of the Excursionist Perk is within a single MileagePlus defined region.
The cabin of service and award type of the free one-way award is the same or lower than the one-way award preceding it.
If two or more one-way awards qualify for this benefit, only the first occurrence will be free.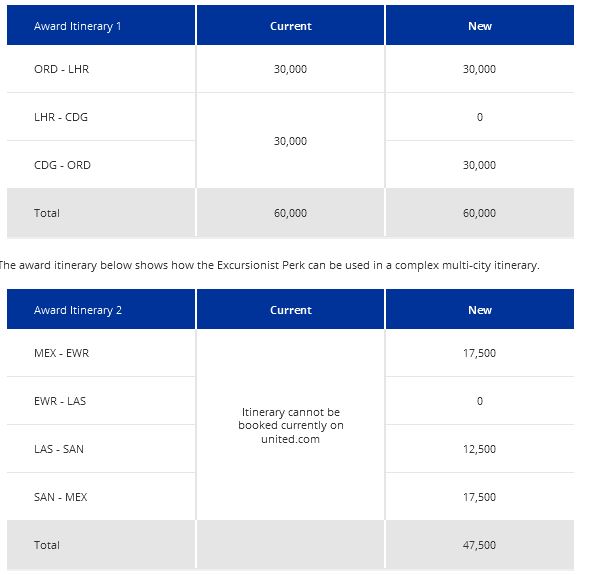 MY REAL-LIFE EXAMPLES
#1:  In 2014 I booked an United award as follows:
Brisbane-Taipei-Beijing-Johannesburg
Accra-Addis Ababa-Kilimanjaro
Kilimanjaro-Addis Ababa-Bangkok-Brisbane
This is a round-trip with an open jaw at destination and a stop-over at Kilimanjaro on the return.  Although open jaws are not specifically addressed, this is probably still allowed as I departed and returned to the same zone and my stop-over is in the same zone as the destination.
#2:  In 2014 I booked this itinerary and flew it in 2015:
Brisbane-Bangkok-Chiang Mai
Chiang Mai-Bangkok (23 hour layover)-Koh Samui
Kuala Lumpur-Bangkok-Shanghai-Auckland-Rarotonga
This itinerary wouldn't be allowed under the new rules.  I departed from Australia and returned to Rarotonga which is in Oceania – 2 different zones.  The stop-over would have been fine as it is in South-east Asia, same as the destination.
#3:  In 2016 I booked this itinerary and will fly it next year:
Entebbe-Addis Ababa
Addis Ababa-Lusaka
Lusaka-Johannesburg-Windhoek
It's a good thing I have it already booked because it wouldn't be allowed under the new rules.  The whole itinerary is in Africa (same zone) so no "Excursionist Perk" allowed!
#4:  I haven't booked this but it is a common itinerary for Aussies:
Sydney-Bangkok
Bangkok-(anywhere in Europe)
Europe-Sydney (or anywhere in Australia or NZ)
This will not be allowed as the Excursionist Perk is taking place in South-east Asia zone and the destination is in another zone-Europe.
Two out of my three actual trips would have cost a lot more miles if I hadn't already booked them.  The lesson here is – if you have any travel which depends on the current routing rules, book it before 6 October!