WHY BOTHER WITH HOTEL PROGRAMS
OK this is an eco-tourism blog so I don't keep up with all the issues regarding elite status and 5 star hotels.  I prefer smaller independent hotels & eco-lodges.  But what I do need is airline miles to get to those amazing birding hotspots preferably through ordinary everyday spending.
The most popular program in Australia is American Express Membership Rewards and most Aussies in The Hobby are familiar with 40,000 Amex MR = 20,000 SPG = 25,000 AA or other SPG partner airline miles.  You can earn up to 3x MR per AUD (Amex Edge supermarket spend) which equates to 1.5 SPG per AUD.  Normal un-bonused spend gets 1 MR per AUD which equates to .5 SPG per AUD.
There is usually a lucrative promo in August or September to get 20% bonus when transferring to AA so you end up with 40,000 Amex = 20,000 SPG = 30,000 AA.
GETTING UNITED MILEAGE PLUS IN AUSTRALIA
The one elusive program for Aussies has always been United MileagePlus as the SPG ratio is 2:1 rather than 1:1 plus bonus 5000 for transferring 20,000 SPG points.
Since the Marriott-SPG merger went through yesterday, they have released details of how to link your Marriott & SPG accounts.  You can transfer back and forth at the rate of 1 SPG = 3 Marriott.
The sweet spot for airline miles collectors is the preferred rates Marriott has with United Airlines.  (HT: Dan's Deals for this section).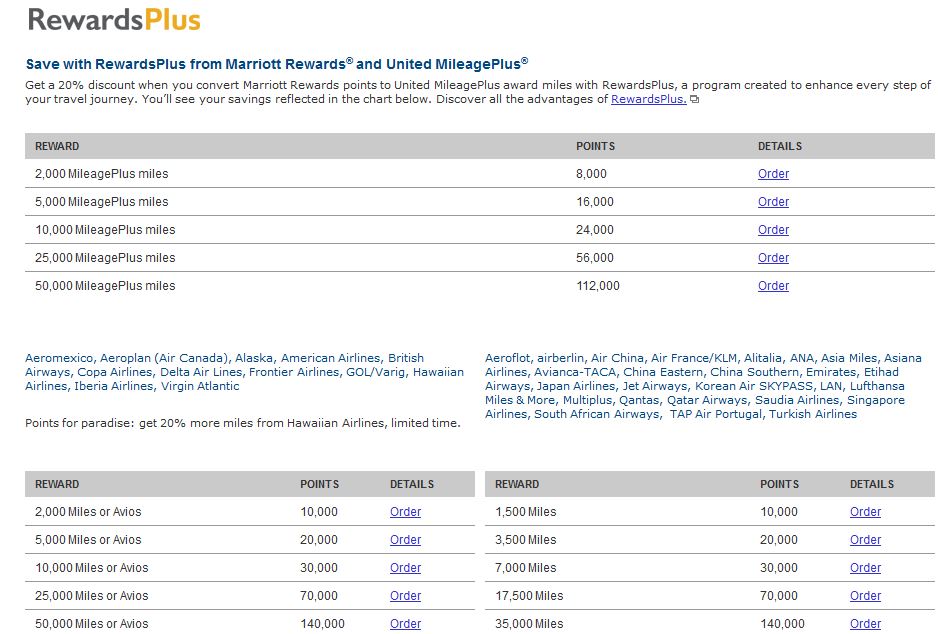 As you can see from the image, you can exchange 56,000 Marriott for 25,000 United MileagePlus.
With the new merger, that means that you can now transfer 38,000 Amex MR to 19,000 SPG which will get you 57,000 Marriott; that you can transfer into 25,000 United Mileage Plus with 1000 Marriott left over.
AMEX – SINGAPORE
Don't forget that you can also transfer Australian Amex MR to Singapore Krisflyer at 1:1 but SQ does have pretty hefty YQ "fuel" surcharges whereas United doesn't have this surcharge.  So if you are after a Star Alliance award, you need to weigh up your options on the SQ and UA award charts and see if the cheaper transfer rate directly to SQ is better or if you would rather spend more Amex MR to save the "fuel" surcharges.
RECAP OF AUSTRALIAN AMEX MR OPTIONS
Amex 40,000 = 25,000 AA or other SPG partner in batches of 20k SPG
Amex 38,000 = 25,000 UA via SPG/Marriott
Amex 40,000 = 40,000 SQ (or VA, CX, MH, EK, EY).  But watch the surcharges!
WHAT WE DON'T KNOW
We still don't know how long Marriott will keep SPG as a separate program.  We also don't know if the Australian Amex MR will partner with Marriott if/when SPG disappears.  Conventional wisdom says the full integration of SPG to Marriott should happen around 2018 and we would be given fair notice so we can do any last transfers required.