East Africa is probably the most popular option for people wanting to go on a safari.  Unlike South Africa where it is easy to drive yourself around the game parks, the experience here will be in 4WD safari trucks with a driver either on you own or shared with others.
There are several airports you can use to visit East Africa and the one you choose will depend on what you want to see, safari prices and birdlife you are targeting.  I will be using Tanzania's Kilimanjaro International Airport as an example because that is where I went and also because Tanzania is in my opinion the best country in East Africa for a general bird and mammal safari experience.
The first step is to identify which airlines that participate in one of the 3 alliances serve the airport in question.  You can do this by looking the airport up in Wikipedia and making a note of which airlines fly there and cross referencing with my guides on Star Alliance, OneWorld Alliance and SkyTeam.  Other East African airports of interest to birders will be Nairobi for Kenya, Addis Ababa, for Ethiopia, Entebbe for Uganda & Dar es Salaam for southern Tanzania & Zanzibar.
This is what you are looking for and I have highlighted all alliance members in yellow.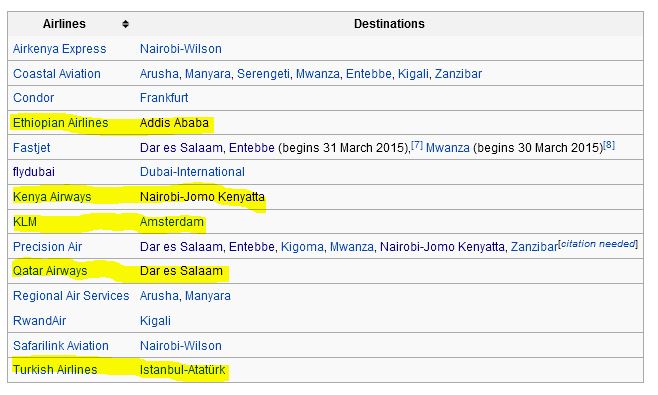 Star Alliance rules Africa in general and for most people, these are the miles you want if you are going anywhere in East Africa.  Ethiopian Airlines and Turkish Airlines fly here.  Most people will be using United Airlines miles for their trip although Australians may be using Singapore Krisflyer miles.  I advise using United or possibly Avianca Lifemiles to avoid YQ fuel surcharges.  Here are some typical routes and costs with United, all are quoted as one-ways so double it for a round trip.
Traveling from the USA or Canada will cost 40k economy or 80k business class.  Beware of mixed classes in the business class column, sometimes the long flight is in economy!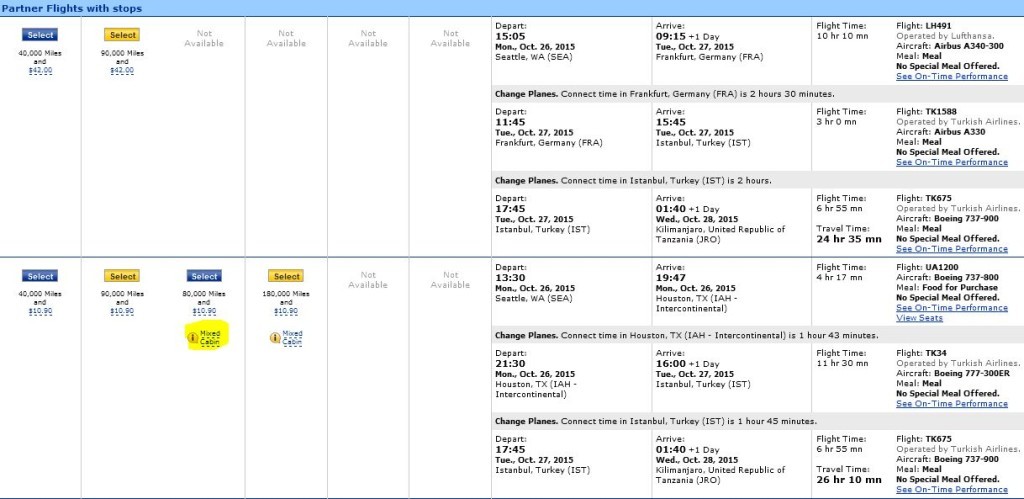 From the UK or Europe you will pay 30k economy or 55k business class.  Watch the high airport tax from the UK!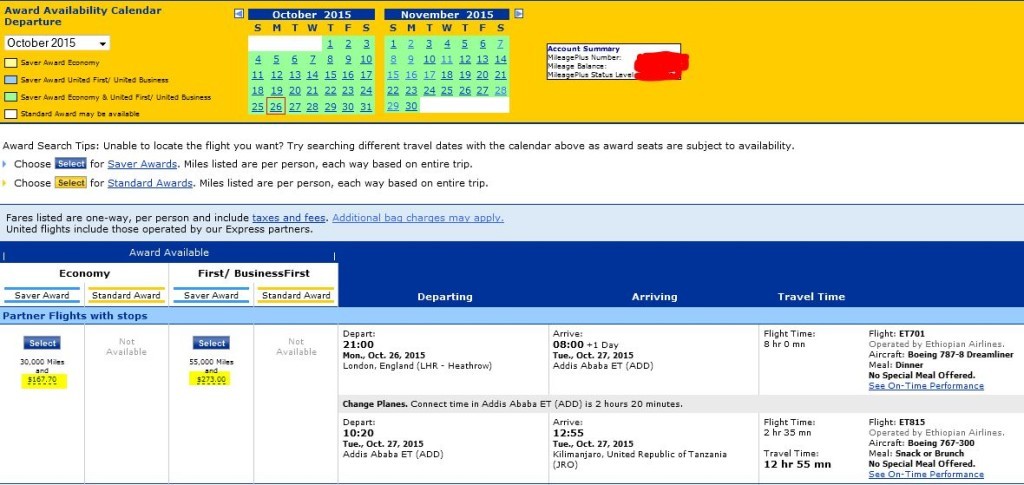 From Australia or New Zealand you will pay 50k economy or 85k business class.
If you need intra-Africa flights, these are a bargain at  17.5k economy and 35k business class.  Notice how the 2nd itinerary gets you a free overnight in Addis Ababa!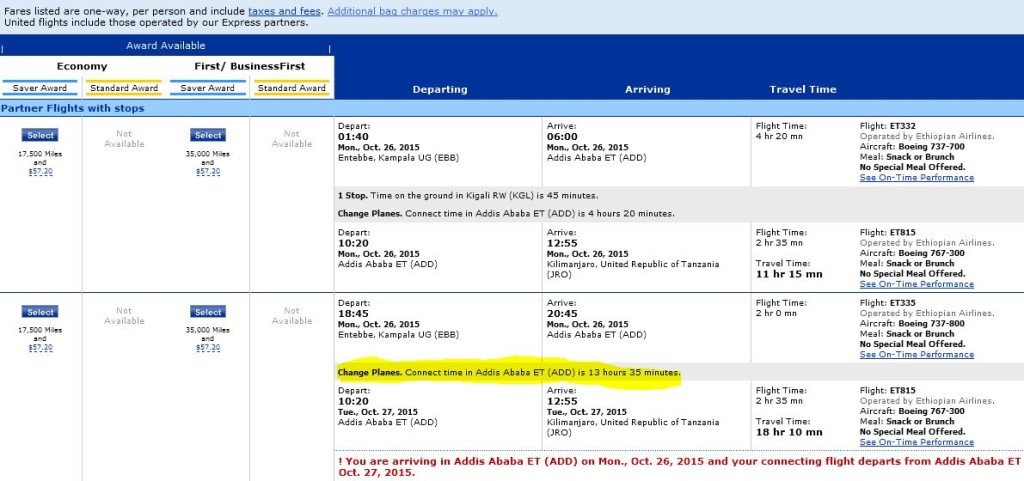 If you are using Singapore Krisflyer, the miles are reasonable but the YQ surcharge is insane!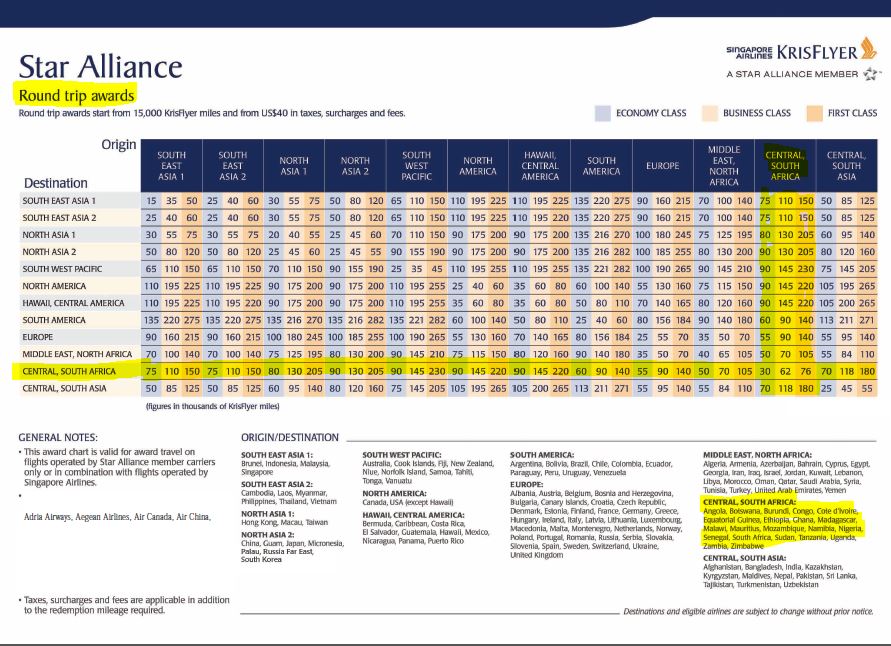 The website only quotes for SQ redemptions but this gives you an idea because SQ flies to JNB.  They also charge YQ on partner awards.
Seriously?  Over $500 AUD for the YQ surcharge!!!

Only 1 OneWorld Airline serves Kilimanjaro – Qatar Airways.   Beware of YQ surcharges when using Avios or Qantas miles.   Due to routing restrictions, you will need to redeem 2 awards if you are coming from Australia/New Zealand – Singapore/Bangkok – East Africa.  Americans can use Qatar all the way from the gateway to Kilimanjaro but they may need to pay extra for a positioning flight if Qatar doesn't offer a through-fare from the originating city.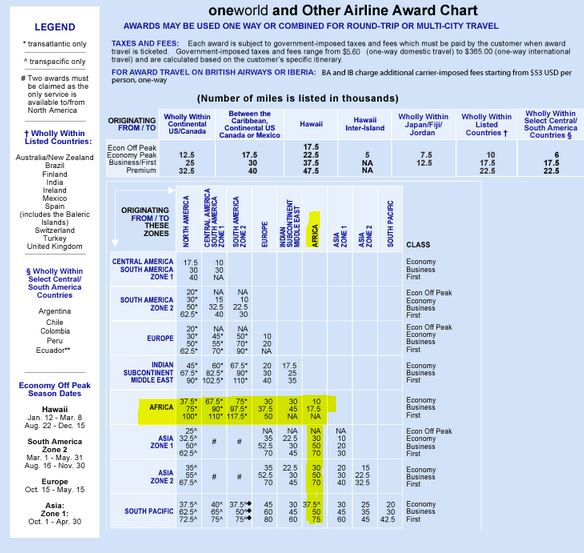 If you are flush with Avios from a credit card bonus, they are an option but please beware of the YQ surcharges!  I couldn't find any availability online using Avios on Qatar but this might mean the system is down so it's worth calling in.  Here is what you are looking at.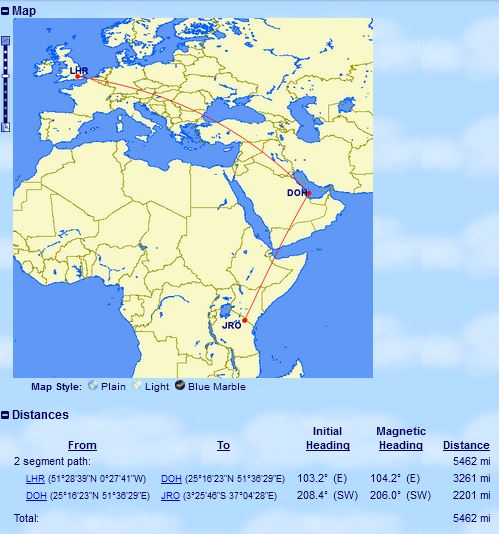 LHR-DOH is 3261 miles and falls into Zone 5.
DOH-JRO is 2201 miles and falls into Zone 4.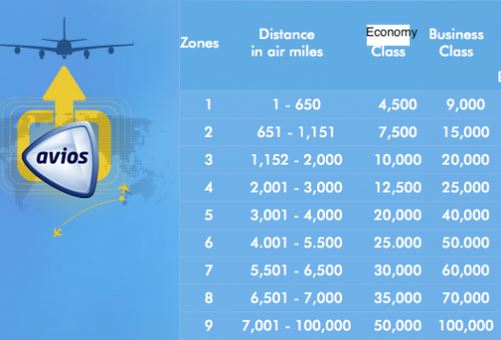 So add the figure for your preferred class of service in Zone 5 & Zone 4 as per below to find out how many Avios you need.  Partner awards use the peak chart so you need 46,000 Avios for one way economy and 81,250 for business.  When you call in, you will find out the YQ surcharges.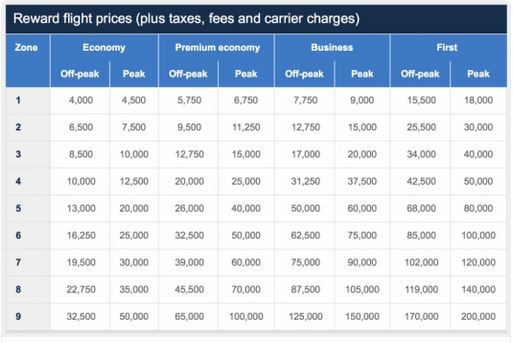 Accra is served by 2 Skyteam partners – Kenya Airways & KLM.
Delta has annoyingly removed their award charts so I tried to quote IAD-JRO and couldn't find anything.  I did find a quote for a sample IAD-NBO route using Delta and KLM.   However their website doesn't see Kenya Airways flights so you may better these examples by calling in.  Also see the West Africa post for an example where Delta serves the airport – Accra.
I have to admit that I have no use for Delta's Skypesos which seem to devalue at an alarming rate so if I need SkyTeam partner flights I use the Flying Blue program with miles transferred in from Amex or SPG.
Using Flying Blue miles on Kenya Airways can be good for hopping around Africa and they do add certain destinations like Madagascar that Star Alliance can't provide.  For more information on using Kenya Airways, see my Madagascar post.
BOTTOM LINE
You can't beat the Star Alliance coverage which at time of writing has no fuel surcharges, so collect United Mileage Plus!  Chase is your friend!