This is a good deal, especially for Aussies who have no other way to earn AA miles.  The SPG promo comes around every year about this time and I have made excellent use of it in the past.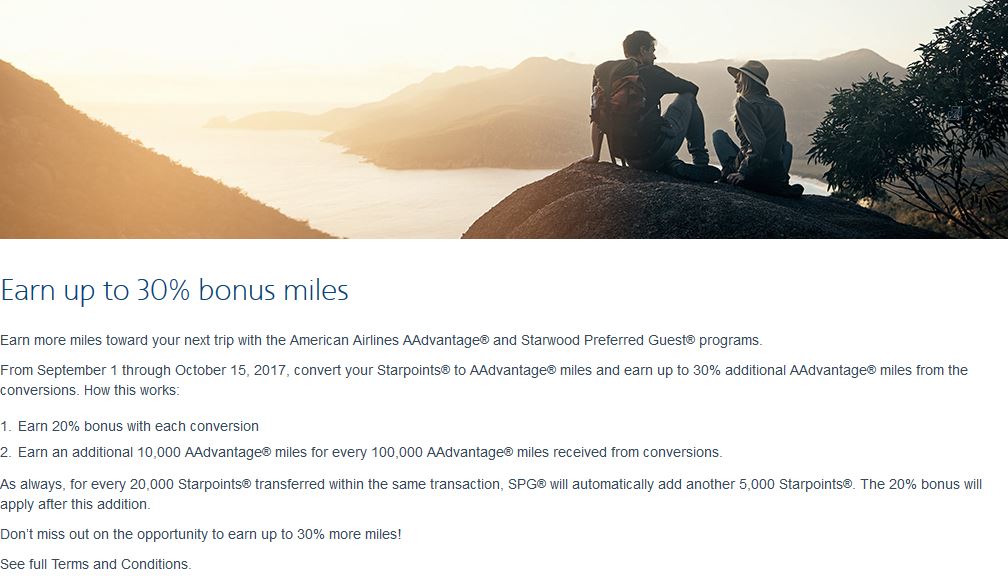 40,000 Amex MR = 20,000 SPG
September 1, 2017 at 12:01 a.m. Central Time through October 15, 2017 at 11:59 p.m. Central Time.
(1) During the Program Period, American Airlines AAdvantage® and Starwood Preferred Guest® program members (each, a "Member") that convert Starpoints® to AAdvantage® miles will earn 20% additional AAdvantage® miles on each conversion ("Conversion(s)").
(2) For every 100,000 AAdvantage® miles a Member receives from Conversions during the Program Period, the Member will receive an additional 10,000 AAdvantage® miles.
(3) For every 20,000 Starpoints® converted to AAdvantage® miles within the same Conversion, SPG® will automatically add another 5,000 AAdvantage® miles. The 20% bonus referenced in #1 above will apply after this addition. Thus, converting 20,000 Starpoints® in a single Conversion would result in the Member receiving 30,000 AAdvantage® miles.
I will be sitting this one out this year as I don't have a need for AA miles within the next couple years and they could devalue before then so I prefer to keep building my Amex MR account for the time being.