I've seen tons of posts on this subject in my rss feed.  Some people hate it because the miles required for most awards is going up.  Others love it because fuel/carrier surcharges are going away.  Here's the details straight from the horse's mouth.
Revisions to Saver Award levels in the Singapore Airlines and SilkAir Award Chart have been made to ensure that flight rewards remain sustainable yet competitive. We last made adjustments to award levels in various zones in 2012.
The 15% discount for redemption and redemption upgrade bookings made through singaporeair.com and the SingaporeAir app will be discontinued, and the same redemption fare will be applied across all channels.
Fuel and insurance surcharges from all redemption award tickets on Singapore Airlines and SilkAir operated flights will be removed.
> View the Revised Award Chart, effective from 23 March 2017
> View the Current Award Chart
Importantly, with this change, while there will be an increase in the number of miles required to redeem for flights in certain zones, you can also expect to enjoy savings in the amount of cash you would need to pay for your redemption ticket due to the removal of fuel and insurance surcharges. Here is a snippet of the old and new charts with emphasis on Zone 9 which includes Sydney, Brisbane & Melbourne.  Old chart on top, new chart below.  A further 15% will be taken off the old chart if you book online.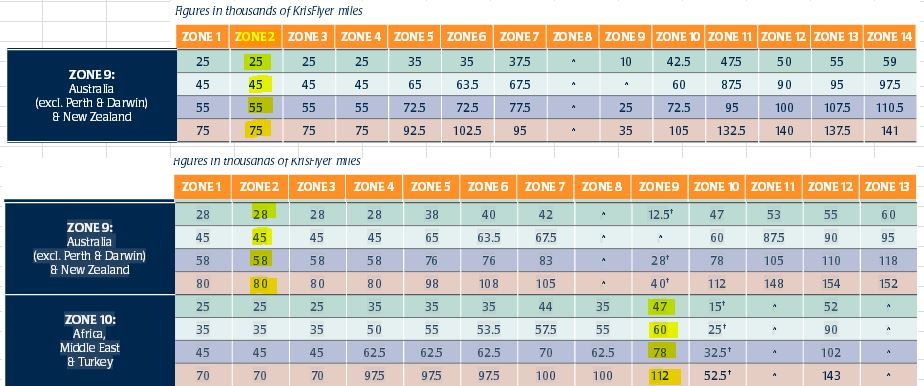 This is further illustrated in the examples below.  I am using my own examples geared towards eco-tourists and birders ex-Australia.
EXAMPLE 1 SYDNEY TO JOHANNESBURG
The current prices reflect the 15% online discount and the carrier surcharge.  Below, you see highlighted in yellow how much surcharge is going away.  But the new mileage costs will be 47k economy, 60k premium economy, 78 business & 112k first.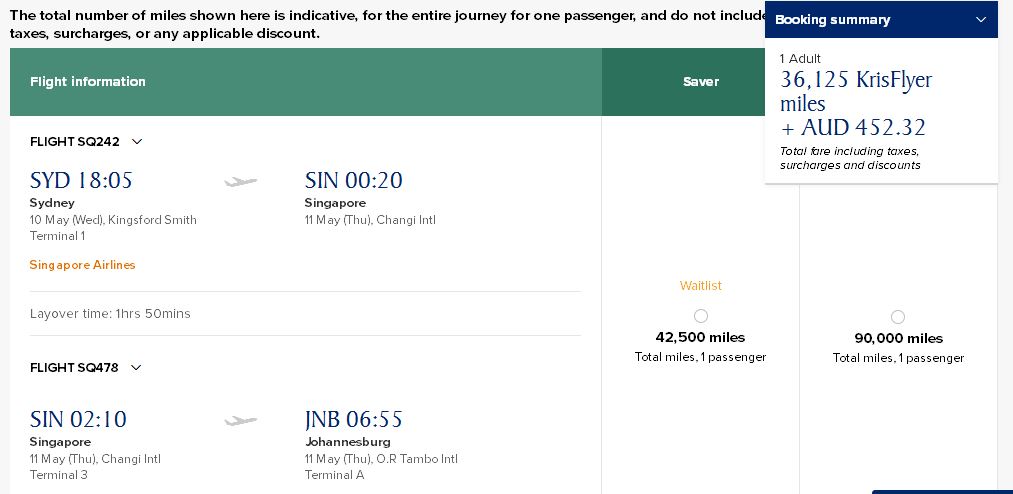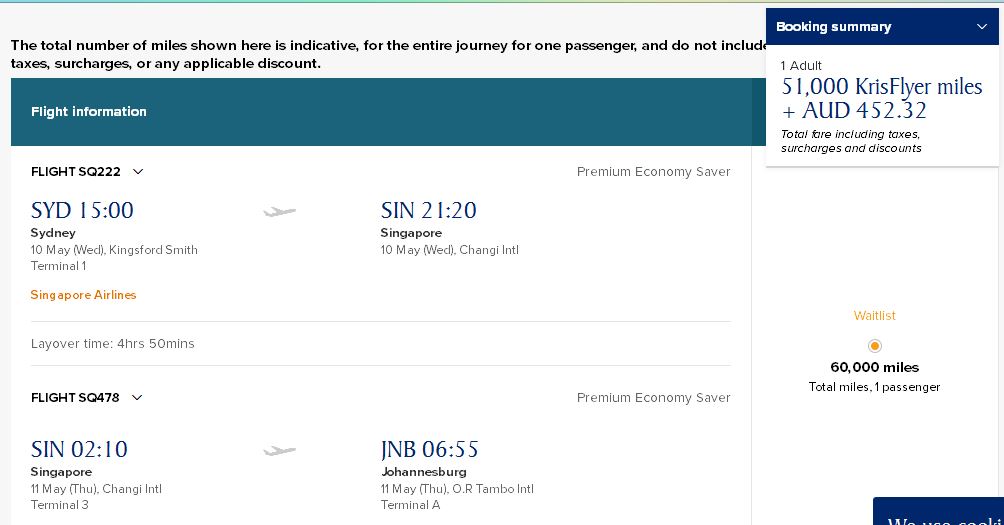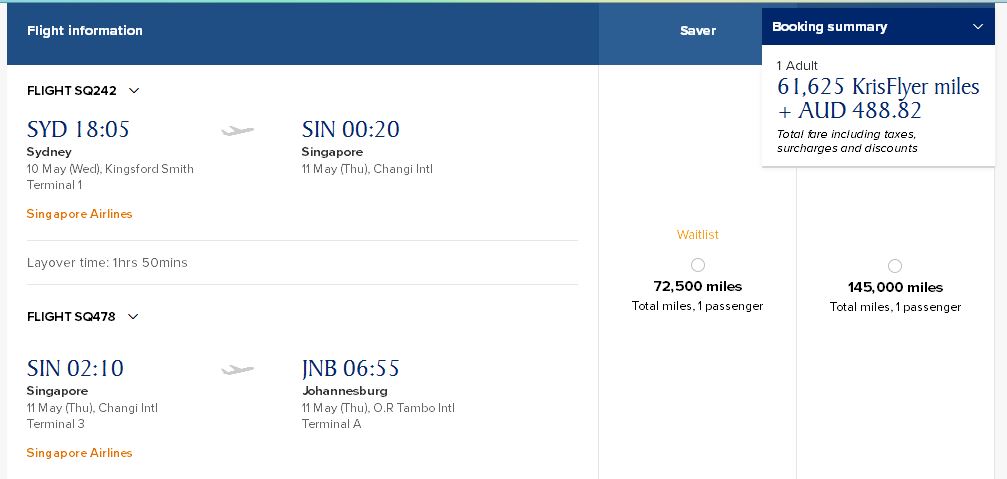 Since most people prefer to redeem business class awards, the comparison is between 61,625 miles + $488 AUD vs 78,000 miles + $90 AUD in gov't taxes which you always have to pay.  The economy example is 36,125 miles + $452 AUD vs 47,000 + $90 AUD gov't taxes.
EXAMPLE 2 – BRISBANE TO KOTA KINABALU (SQ + SILKAIR)
This is a route I would actually be willing to do in SQ's economy cabin which is one of the best in the world.  So I would be looking at 21,250 miles + $286 AUD old rates vs 28,000 miles + $88 AUD for gov't taxes.
Are you a winner or loser with these new charts?  It all depends on what is easier for you to acquire, cash or miles.  If you get miles fairly painlessly with credit card spending and online mall portals then you will probably prefer the new charts.  If you have more cash to spare and don't like bothering with the credit card game, you won't be happy with these new changes.  As for me, I have grown away from SQ as a primary program mostly because of the fuel surcharges so this is encouraging to get me back on board.
Now if only Qantas would get rid of their surcharges!