Devaluations and other changes in airline mileage programs will see many more people traveling in economy.  While in the past it was easy to find business class seats for long-haul travel at a small mark-up over economy, those days are pretty much gone.  If you are using miles based in the USA such as United and America, you will find that some partner airlines such as Singapore, Air New Zealand, Eva, Qantas, Qatar & LAN have really tightened up on business class awards.  While they may continue to make these awards available to their own members, many of these programs will have very high YQ surcharges so your "free" ticket isn't so free anymore.  Gov't airport taxes can't be avoided no matter which program you use but most people prefer to use miles that don't attract surcharges and just book whatever availability they can find……………..even if all they can find is economy.  So how can you increase your chances of a good experience in economy?
USE AIRLINES WITH BETTER ECONOMY SEATS
Seat Guru has a nice filterable chart on various airline products – long-haul and short-haul in economy, business and first class.  Let's look at long-haul economy as that is where having a better seat can make the biggest difference.  Obviously, you can filter on airline to find out what kind of seat map you will have.  You want to try to avoid a 3-4-3 arrangement as that means the seats will be smaller and you will feel like a sardine.  I prefer 2-4-2 arrangements so my husband and I don't have to sit with a stranger.  If it's a 3-3-3 arrangement we either book opposite aisles or if the flight doesn't look full we book an aisle and a window and hope for an unoccupied middle.  When I do this, I do keep track of seats up to departure time so I know if the middle seat is likely to be taken and I can adjust as needed.
If there is a choice of airline, you can filter based on other criteria such as aircraft type, seat pitch and seat width.
Many people like the A380 so would choose one of these airlines if possible.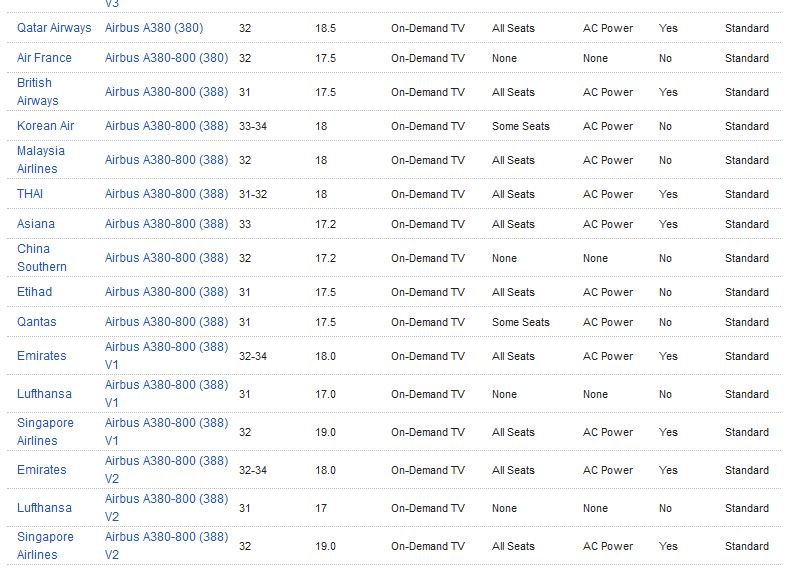 This sort based on seat pitch (length from one seat back to the next one) has some surprising airlines at the top of the list!  USA based carriers are usually shunned by award bookers in favour of Asian or Middle-Eastern carriers so maybe think again about that!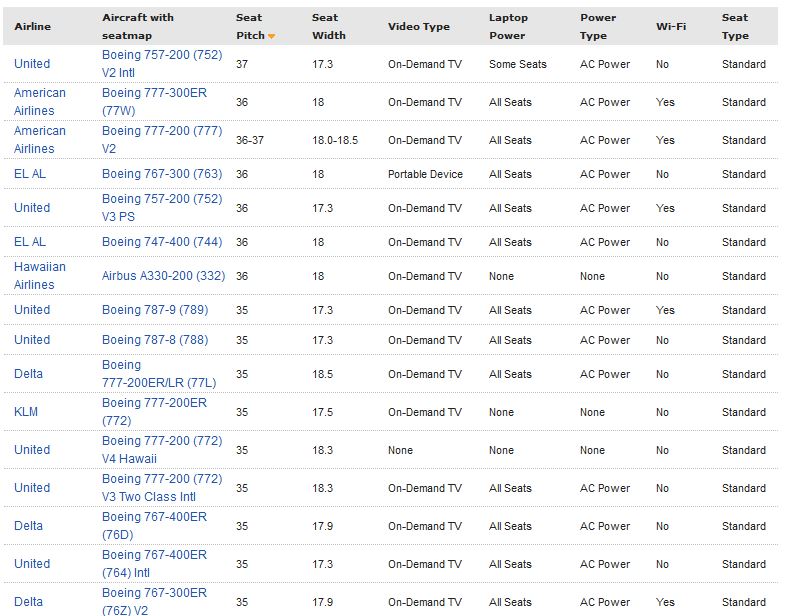 A sort by seat width puts the Asian carriers back on top so if you'd like a little more wiggle room, look for these airlines.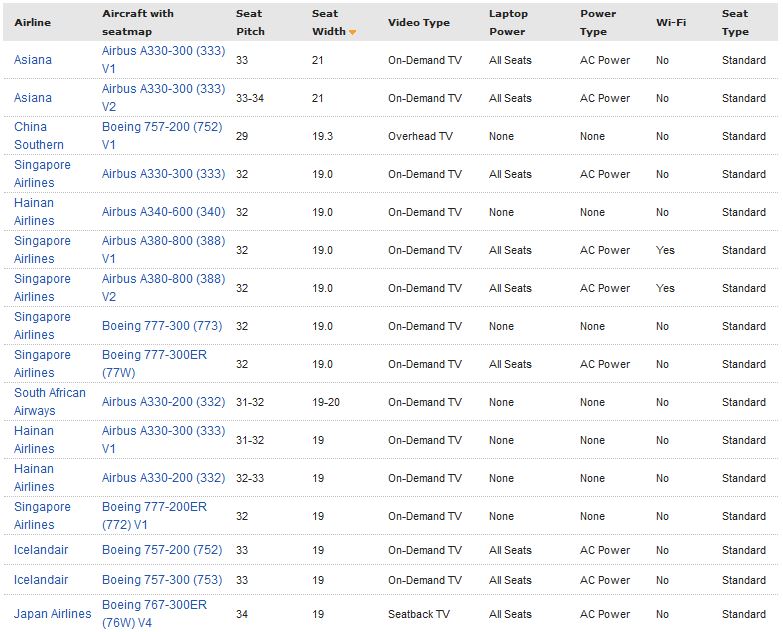 Conde-Nast Traveler has a nice infographic for a visual.
CHOOSE YOUR FLIGHT TIME WISELY
It's very hard to sleep in most economy cabins so try to choose flights that arrive in the evening so you can go to a hotel for sleep.  Just stay up and watch movies during the flight.
IF YOU HAVE TO SLEEP ON THE PLANE
I've found my doctor to be helpful in prescribing meds to help me sleep.  My lucky husband is the type who falls asleep at the drop of a hat!  Many blogs will tell you to stay hydrated but I don't do that.  That hydration will wake you up prematurely with a trip to the loo.  I try to drink sparingly, just sips at the beginning of a flight, then after I wake up naturally, then I drink water or juice.  I don't drink alcohol other than the free champagne in business class – but those days are over.  If I have trouble falling asleep on a plane, I will put a boring movie on, one with little action and lots of dialogue.
PLAN A DAY TO RECOVER
If you fly business and get a good night's sleep, you can usually hit the ground running once you arrive.  I would have really struggled with that 3 hour drive after arriving in Port Elizabeth after the long journey to get there if I hadn't had a lie-flat seat.  When I travel long-haul in economy, I wouldn't try to do a long drive right after the flight.  Sometimes it can be very cheap to get a massage when you arrive in countries like Thailand, Indonesia or the Philippines.  And whatever you do, don't sleep during the day at your destination as you will get into a vicious cycle of being awake all night and sleeping or feeling tired all day.  Force yourself to stay awake until at least 8pm in your destination and set a wake up call for around 8am to get yourself de-jetlagged.
BUSINESS CLASS LOUNGE ACCESS ON AN ECONOMY TICKET
This is the other perk besides the lie-flat seat I miss when traveling economy.  I love being able to kill time in a lounge, use internet and have free food and drink or even a safe place to lie down for a nap using my phone as an alarm.  To some extent, I can make up for this by using credit cards that give lounge club passes.  Chase Ink will give you and each authorized user 2 passes per year.  Amex cards that give Priority Pass membership will give 2 free passes per year as well.
Use them wisely if you have a lot of flights.  Look for lounges with good food, good reviews by other travelers and free wifi.  Don't waste a pass in nice airports that have good facilities for everyone such as Singapore and Incheon.  Even Bangkok Suvarnabhumi has a massage parlour on the 2nd floor with reasonable prices that anyone can use.  Always use a pass to get into Istanbul's lounge, it's awesome!  Other airports that I would use a pass are Santiago and Auckland if it's a long layover and I want to use the internet and it's too expensive in the terminal.  If an airport has free wifi for everyone, I won't waste a pass there.
THINGS I WON'T MISS ABOUT BUSINESS CLASS
Tablecloths!  They annoy the crap out of me.  I always seem to be pulling on them or trying to keep them from falling off.
Hovering flight attendants, I hate being fawned over!
Fancy-schmancy "gourmet" food.  Just give me spag bol, chicken rice or something simple and be done with it!  And please remove the tray promptly!
Meals that drag on forever while they bring you different courses.  I'd rather watch the movie and not be offered something every ffew minutes.
Last but not least – snobby travelers who give us "the eye" when we board with carry-on backpacks.  Like "Who let YOU in here"?