Today is the day the programs merge.  It's the 28th of March in Australia and now also in around half of the USA.  Soon we will wake up with increased AAdvantage balances and the US Airways Dividend Miles (USDM) program will be history.   I can't help but think back fondly on all the opportunities we never would have had without it.  USDM was the game-changer that put extravagant premium class awards within reach of the ordinary person who had little money but was willing to put in some time and effort.
I never was a big player in the miles and points games until 2008.  It always seemed to me that the best benefits were always for those who traveled a lot – actual FREQUENT flyers and were elites.  I booked our trips on the cheapest routes although trying to use Star Alliance programs as much as possible as we were collecting United Miles.  If we managed a free trip from BNE to RAR or PPT every 2 or 3 years we were happy.
GAMING THE GAME-CHANGER
Then United started blocking partner awards – Starnet – and I had to look for an alternative.  Right around this time, one of the best ways for people to earn miles without spending money was playing Live Search Club games.  I was already playing for our AAdvantage accounts so it was a natural step to add a few more accounts and start playing for US Dividend Miles.  Anyone remember Chicktionary?
LSC was a great little earner while it lasted.  An anagram-solver and a desk in front of the tv was all I needed to rake in around 4000 miles in 4 accounts (mine & husbands – US & AA) roughly every 2 weeks. It was a pretty hot topic on FlyerTalk while it lasted.  LSC later morphed into Club Bing and by using a never ending supply of new accounts I was able to keep the miles rolling in for around 18 months until they finally shut down in 2010.  But the best was yet to come!
GRAND SLAM PROMO
I was too late for the 2008 Grand Slam but ready and waiting for the 2009 version.  There was a whole thread in FlyerTalk dedicated to this killer promo where you could earn 50,000 miles by using USDM's partners.  The game was to use as many free hits as possible or to use purchases you were already making at certain hotels or car rentals to create hits.  Then find the cheapest item to buy from partners such as Biscoff spread (yummy!), batteries from SkyMall, screen-wipes from some telephone company, sandwiches from dining partners, GAIAM trees from the mall, churned Netflix accounts and stickers from Track-it-Back.  We opened brokerage accounts for $5 with Sharebuilder, bought the cheapest Lifelock packages, swapped miles for magazines.  Since I live in Australia, my Mom in California was the lucky recipient for several bouquets of flowers and assorted junk.
In 2010, the Grand Slam upped their game to 100,000 miles and in 2011 they upped it again to 110,000 though the last 4 hits were too hard for me so I had to settle for 100,000.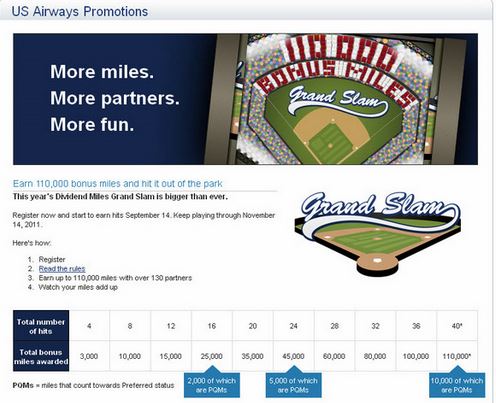 In the latter years, I would prep for the upcoming Grand Slam by getting hotel points for free by doing Foursquare check-ins, Facebook promos and E-Rewards.  The Daily Getaways promos which used to be so much better were also a source for cheap hotel points and Grand Slam hits.  I estimate that I paid around $600 between both our accounts that I wouldn't have spent otherwise to get 200,000 miles between us those last 2 years.
TRACK-IT-BACK TAKES IT TO THE NEXT LEVEL
Remember those Track-it-back (TIB) stickers I mentioned?  They became another game-changer in the 2009 Holiday promo.  You had to spend a certain amount with various shopping partners and there were tiers to multiplying the bonus.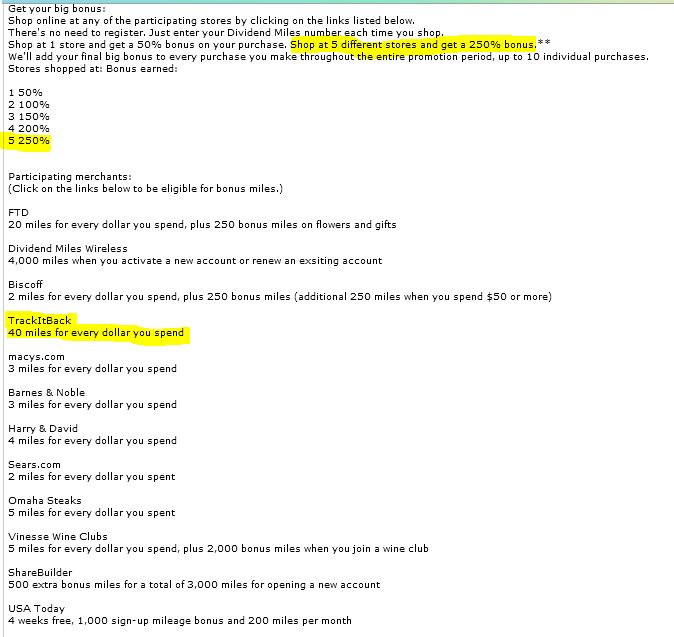 In a nutshell, you made the cheapest possible purchases for the first 4 transactions, then the 5th you bought as many TIB stickers as possible and got 100 miles per $!  I don't remember how much I spent, I got as many as I could manage the cash flow for.  Some people on FlyerTalk spent $1000's and got LOTS of miles!
CHURNING THE CREDIT CARD
I only managed to do this twice – once in 2011 and once in 2013.  Each time I got 40,000 miles and on the 2nd one it comes with a 10,000 miles anniversary bonus so I've kept it.  Barclays Bank has since cracked down on churners.
BUY/SHARE MILES PROMOS – UP TO 100% SHARE
The last great way to get USDM relatively cheaply (although not as cheap as Grand Slam & TIB) was to share miles back and forth between two accounts.  Obviously this works better for couples than single people unless they knew someone very trustworthy.  When the Grand Slam promo didn't return in 2012 much to everyone's disappointment, this became the best way to get USDM and on the bright side it worked equally well for people all over the world.  You shared miles to your partner, they got double, then they shared back to you and you got double.  USDM kept this promo up until last year, then they scaled it back to 50% bonuses.
SO WHAT DID I DO WITH ALL THOSE MILES?
USDM's fantastic promos allowed us to go places we otherwise had no chance of affording – usually in business class (bolded)!
2011 – BNE-BKK-ICN-LAX-PHX-MEX /-LAX-ICN-BKK-BNE
2011 – BNE-SIN-KTM /-BOM-SIN-BNE
2012 – BNE-AKL-RAR-AKL-BNE
2013 – BNE-BKK-ICN-YVR-IAH-BZE /-HNL-ICN-BKK-BNE
2013 – BNE-BKK-BLR /- CMB-SIN-BNE
2014 – BNE-BKK-IST-TLV /-BCN-ZRH-FCO-PEK-SIN-BNE
And I still have some USDM left to transfer to AA!
In no alternate universe could someone of my economic level even dream of trips like those!  USDM and their crazy promos made it all possible!  We visited some of the world's finest eco-tourism locations and saw some amazing birds that we could only dream about before.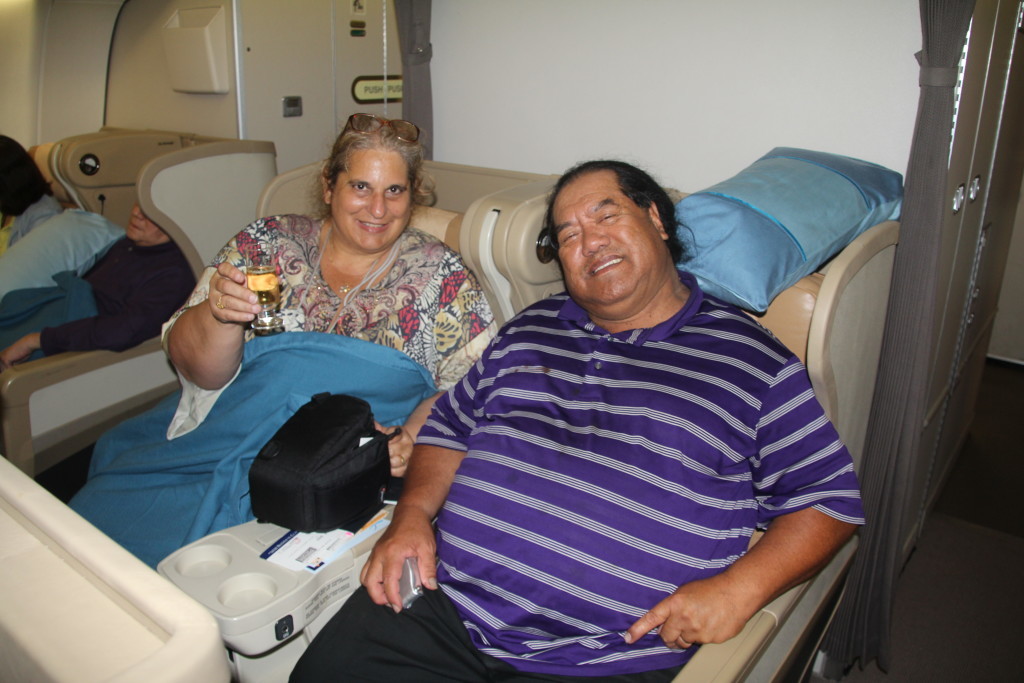 So here's to you, US Airways!  It's been a wild ride the past few years and I am sad that it's over but really happy and grateful that it happened it all.  From the bottom of my heart (and my champagne glass) thanks for the memories!