I am sure that many Aussies have looked with envy at the huge credit card signing bonuses available to Americans and the free trips they brag about in forums such as Flyertalk,  Milepoint and some blogs.  Amex Bluebird, Vanilla Reloads, Green Dots, Chase Sapphire Preferred and similar are out of  reach for most Aussies but cheer up!  While Australia doesn't have nearly the amount of affiliate cards as the USA, there are still a few good options.  Disclaimer:  I do not have any affiliate relationships with any of these banks.  The links below take you directly to the bank's website or the airline's website.  I am not a qualified financial advisor and the links are only to let you know what is available.  It is up to you to analyze your own financial situation.  I personally RARELY carry a balance on my credit cards and if I do, it's only for a month.  Interest charges can be very high, please be aware of these charges on the bank's website.  The invitation I offer in the red text below is available to most people once they have a similar American Express card.
AMERICAN EXPRESS
These come in various types with different mileage earning partners.  Click HERE and let's compare the options, scroll through the different options and take some time to read the T&Cs of each card.   There are two types of cards that will get you miles.  Travel cards are affiliated with a particular airline such as Qantas or Virgin Australia and will automatically sweep into the airline's program each month.  Rewards cards will earn Membership Rewards points which you can transfer manually to your choice of programs.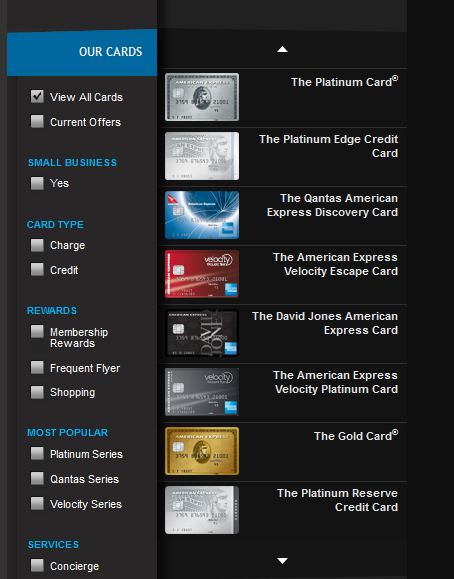 When you click on each card in turn, the details of that particular card will show on the right.  For example we can see that the Velocity card has no annual fee and a 7500 sign up bonus.  You have to apply and be approved by 28 February 2013 and spend $300 on your Card within the first 3 months.  The Qantas version of this card is much the same so you would choose which program you want to earn points in first.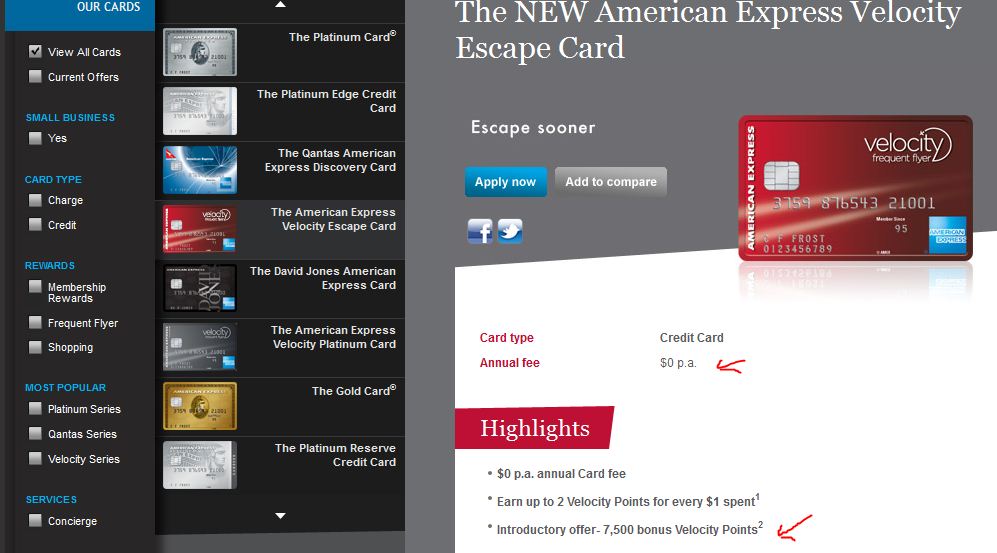 Now let's look at the Rewards card which comes in several varieties.  The most expensive one, the Platinum Card has a $900 annual fee and you receive 45,000 Membership Rewards Bonus Points when you spend $500 on your Card within the first 2 months of receiving it.  While the fee may seem high, it does come with other benefits, so have a read through and see if they appeal to you.
Much cheaper is the Platinum Edge card with a $149 annual fee, a free flight on Virgin to your choice of several selected destinations.   These are short haul domestic trips.  The sign up bonus is 10,000 Membership Rewards Bonus Points when you spend $500 on your Card within the first 2 months.
And then there is the Platinum Reserve card with a $395 annual fee.  Some Aussies got grandfathered into this card when Amex discontinued the Gold Rewards Maximizer so we have a lower annual fee but no free domestic flight.  This is the currently offered version of the card.  There is no publicly available sign up bonus at present but I can refer you for a limited time special until 31 Dec.  You will get a large bonus and I will get a smaller bonus for referring you.  These bonuses come up throughout the year so once you have a card, you can then refer your friends and family and get bonuses for yourself!  The included flight with this card is much more generous and depending on your city of origin, you can even go to Bali or New Zealand!  For example if you live in Brisbane, you can go to Perth, Darwin, several cities in New Zealand- all flights which compensate for the annual fee.  Plus you get other benefits such as free lounge access via Priority Pass, travel insurance and more-you really need to read the whole description on the Amex site.
**************************
The special offer is:
You will receive 40,000 Membership Rewards points when you spend $500 within the first two months of Cardmembership. If you have already applied for The Platinum Reserve Credit Card without using this recommendation, you will not be eligible for the bonus Membership Rewards points. If you already have an American Express Card, you will not be eligible for the bonus Membership Rewards points as this offer is not valid for upgrading Cardmembers. Please allow 8 to 10 weeks for the Bonus Points to be awarded once approval is made. Offer expires 31 December 2013. Subject to the Terms & Conditions of the Membership Rewards Program.  The email invitation you get will have the T&Cs and more details. 
UPDATE FOR 2013:  I can give referrals for the following American Express products:
PLATINUM CARD – You get 60,000 points
PLATINUM RESERVE CREDIT CARD – You get 40,000 points
PLATINUM EDGE CREDIT CARD – You get 15,000 points
GOLD CARD – You get 30,000 points
AMERICAN EXPRESS CARD – You get 10,000 points
If you would like a referral, please use this contact form.  I will need you email address to send you an invitation.
IF YOU ARE INTERESTED IN THIS OFFER, PLEASE USE THE CONTACT FORM AND GIVE ME YOUR EMAIL AND I WILL SEND YOU AN INVITATION!
**************************

WHAT CAN YOU DO WITH MEMBERSHIP REWARDS POINTS?
You can either spend them directly with online shops or transfer them to airline partners.  Obviously, the biggest value is in transferring them to airline partners for free or greatly reduced flights.  In most cases, you will have to pay some taxes but if you transfer to Virgin Velocity there are options for using points to pay the taxes and even the checked bag fees!  Here is an overview of the Membership Rewards Program.  The participating airlines and transfer ratios are HERE and the participating hotel programs and transfer ratios are HERE.
OK, I AM CONFUSED!  HOW DO I MAXIMIZE THIS FOR ECOTOURISM?
I will tell you how I use my Membership Rewards points to best advantage having been a member for 7 years.  I use 3 transfer partners.  Virgin Velocity (usually to top off what I get from my NAB card), Singapore Krisflyer for cheap awards to Pacific Islands and SPG to use on either hotels or transfer to airlines in blocks of 20,000 to get a free bonus of 5000 miles.  Transferring SPG to American AAdvantage works best for me.  If you have a 40,000 sign up bonus and you use the card for your everyday expenses like groceries, phone bills, fuel, etc; you should have 50,000 within 6 months to a year.  Here's some ideas!
Keas, Kakarikis, Kakas and maybe Kakapo if Sirocco is doing one of his tours in New Zealand.  Remember, you get one trip included with the card so use the points to take a friend!  45,400 with no additional taxes!   Here is an example.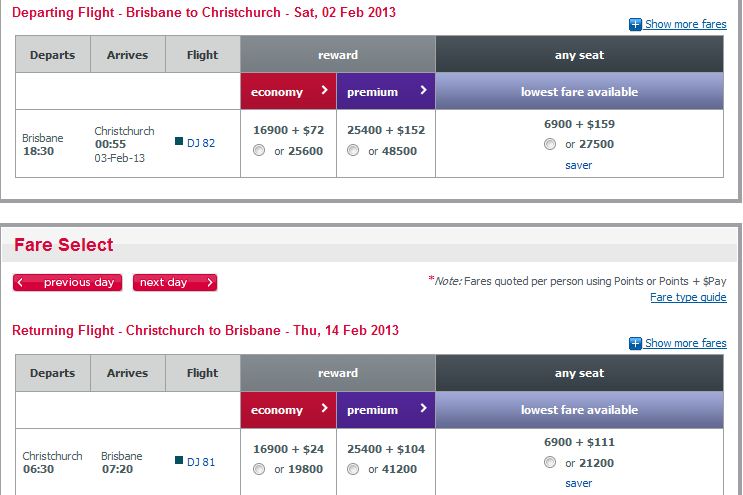 Or how about the Pacific Islands?  Rimatara Lorikeets and Tahitian Blue Lorikeets in the Cook Islands?  Ultramarine Lorikeets in French Polynesia?  Shining Parrots in Fiji?  Although you will need some domestic flights at additional cost, you can get from Australia to the main airports of Rarotonga, Papeete or Nadi using a Star Alliance award with Singapore's Krisflyer.    Awards within South West Pacific are the greatest bargains in this region!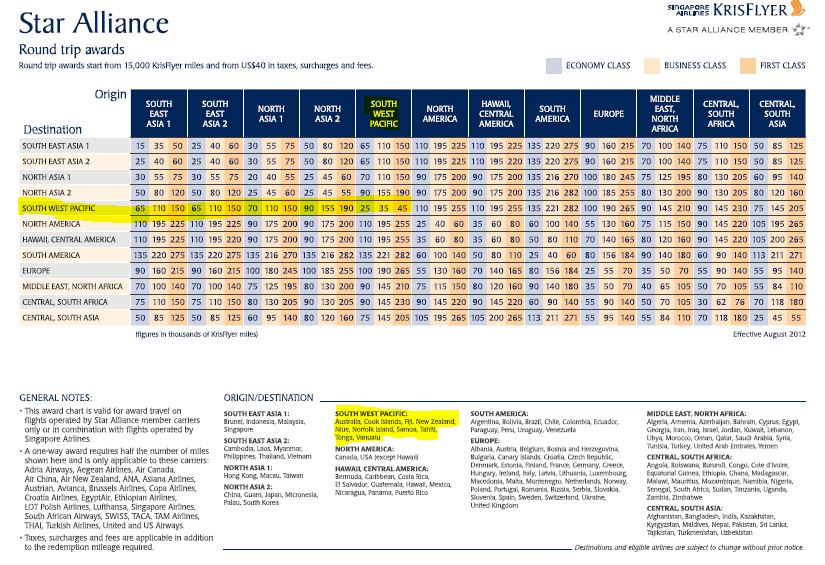 I think I've probably overloaded you now with information and lots of studying to do, so I will continue next week with other mileage earning credit cards in Australia.  I have seen on Flyertalk how most people dislike seeing credit card posts all the time so I am not going to do that.  I will do one edition each week until I have most of the world covered, then just link them all on a master list.  If you have any specific questions, please ask in the comments.
***** PART 2 IS AVAILABLE HERE *****