Conde-Nast Traveler does some interesting articles as do some miles & points bloggers who specialize in luxury travel.  In this slideshow, they show the first class cabins of several airlines – Singapore, Etihad, Air France, Qantas, All Nippon, Asiana & Emirates.  Sure they look fancy but do we really need all this luxury for a mere 8-15 hours of your life?  Redeeming miles for first class could be anywhere from double to triple the miles for an economy flight.
Yeah, I know economy sucks but at the end of the day, you get to your destination the same time as everyone else and at worst you have to wait for them to disembark first.  But then once off the plane, even a middle-aged backpacker like me can outrun someone dragging a rollaboard!
I've had my fair share of flights in business class which in recent years could be had for around 25-50% extra miles over the economy redemption.  I've never flown first class but on our last trip to Europe, we had one segment BKK-IST in a wet-leased Jet Airways plane (they are no longer doing wet-leases).  These trips were booked using US Airways miles obtained from lucrative promos such as Grand Slam that are now obsolete.
Thai Airways Business Class BNE-BKK
Turkish Airways wetleased Jet Airways first class suite (sold as business class) BKK-IST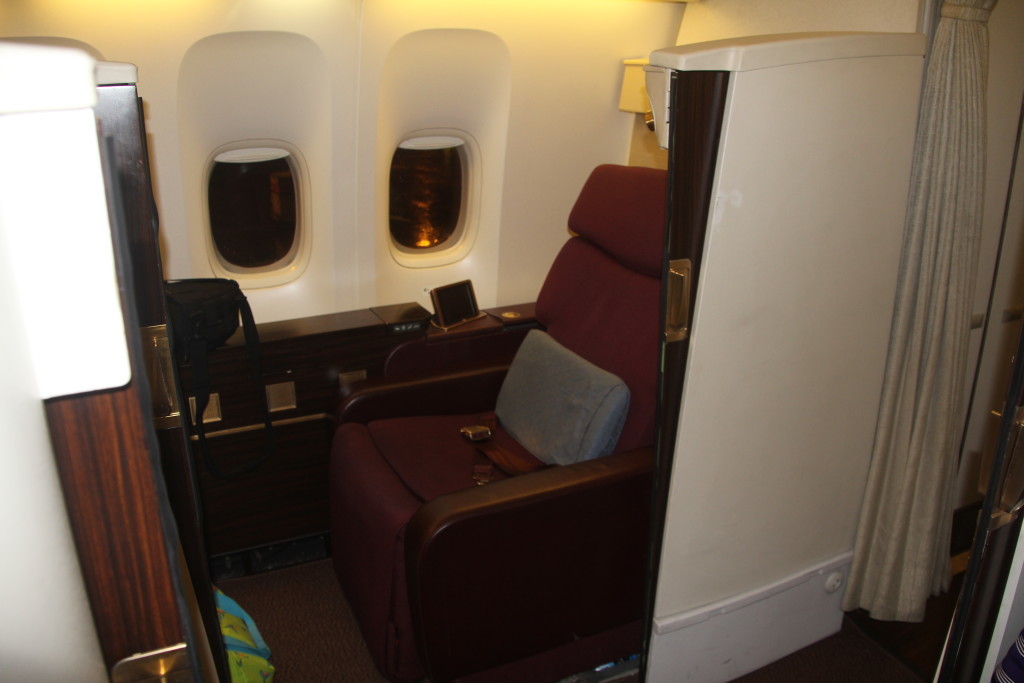 Normal Turkish Airways Business Class Seat (as comparison), still pretty nice!
Swiss Euro-business Class BCN-ZRH-FCO, I would never redeem an intra-Europe award in J but this was part of a longer route back to Australia.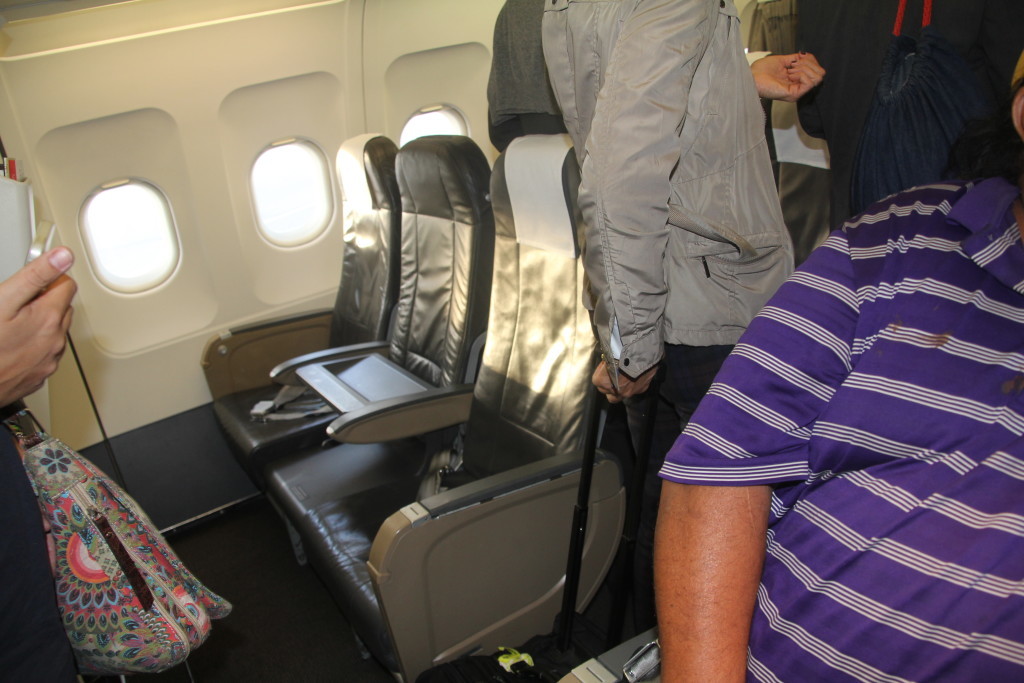 Air China Business Class FCO-PEK
Singapore Airlines A380 Business Class PEK-SIN, these seats were huge!
Singapore Airlines Business Class SIN-BNE, not an A380 but still nice and plenty of free Singapore Slings!
SO NOW WHAT?
So I've been there, done that and got the selfies.  Now what?  Airlines are tightening up on business class award availability.  They are also devaluing their miles making premium seats much more expensive.  It can come down to a question of do you want to travel in a larger seat, eat fancy food and drink champagne or do you want to have two trips instead of one?
Sure it was nice to have the lie-flat seats and get a good night's sleep but we did have to take some very convoluted routes to do that.  BCN-ZRH-FCO-PEK-SIN-BNE   That's 4 changes with security screening and lines at each stage which kind of negates the relaxation from the larger seat.  The first 2 flights were delayed.  Yes SWISS was delayed, who'd of thunk it?  We could have been home a day earlier if we had done BCN-SIN-BNE but it wasn't available at time of booking.  We aren't fans of fancy-schmancy food, I actually prefer the simplicity of economy food.  The big seats that lie flat do make a big difference in arriving somewhere well-rested and I love having lounge access to surf the net on layovers and have free snacks.
Now that I have had the experience of luxury travel, it's made me rethink what is important.  OK, so I'm a destination based traveler so I know what's important to me.  Definitely not the food.  Some airports have free wifi, otherwise I can just read or watch something I downloaded.  Free snacks and drinks are nice but not a deal-breaker.  Economy seats suck but my DR helped me out with sleeping pills and my husband can already sleep anywhere at the drop of a hat.  The journey is basically what gets you to the destination.  Some bloggers will have you believe that you shouldn't leave home if it's not in a premium cabin, but what's the real point of travel?  You need to GET some place first and if economy is the only affordable way to do it than so be it!
I've been blogging a series about a trip to Africa which was the last trip we did in business class using United Mileage Plus.  Our most recent trip in April 2015 was Thailand, Malaysia & the Cook Islands all in economy.  I'd blown my stash of UA miles and that's all we could afford.  Thankfully we survived!  I'll be blogging about this trip starting in June.
Now I am looking towards next year – 2016.  This will be a major trip to Ecuador, Colombia, some Caribbean islands to see some amazing birds and a visit to family in the USA..  Looks like we are in for economy tickets again.  If you are using AA miles, it's almost impossible to get business class between Australia and South America or the USA and Australia as Qantas members have earlier access and snap them up.  While I do participate in Qantas' program, I am not about to pay their hefty fuel surcharges.  I don't have enough QFF points anyway.  So once again, it will be the back of the plane but to some pretty amazing destinations!