STAR ALLIANCE IS THE BEST OPTION
The Cook Islands has only one international airport (RAR) and only 3 airlines that serve this airport.  Air New Zealand, a member of the Star Alliance has the most flights, most of which originate in Auckland (AKL) and a few flights to LAX and SYD (Sydney).  You can use any of the Star Alliance partners to book these flights but depending on where you live and what your profile is, some programs will be better than others.
If you live in Australia or New Zealand, your best bet is probably going to be the Singapore Airline's Krisflyer.  As you can see by the chart below, Australia, New Zealand and the Cook Islands are all in the South-West Pacific category.  Round trip awards are only 25,000 miles in economy and 35,000 in business class.  Air New Zealand does not have a first class cabin.  This is the ONLY award I use SQ miles for and I keep my Amex points in Amex and transfer them just when I am ready to redeem because SQ miles expire after 3 years whether you have any activity or not.  I don't use SQ for any other routings than Pacific awards because they have tremendous fuel surcharges on just about all their other routes.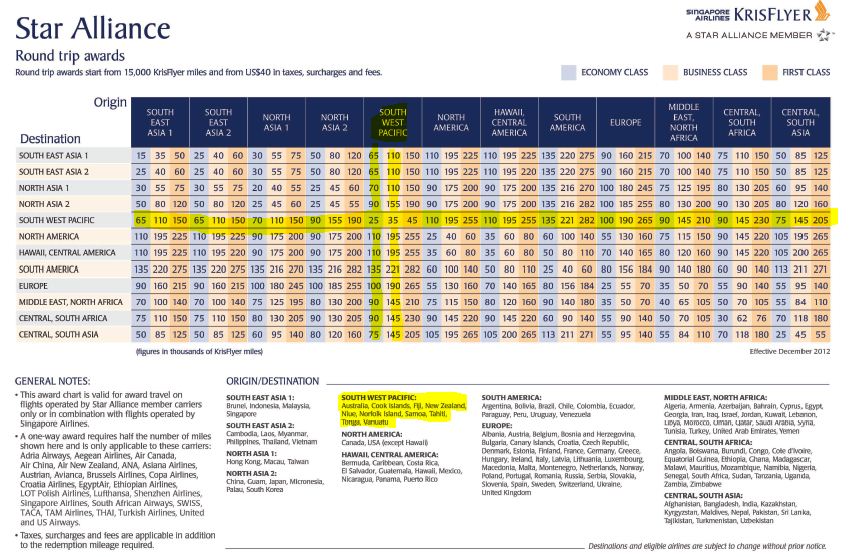 If you are traveling from North America, Asia, Europe or South America, you will find much easier awards using one of 3 Star Alliance partners:  US Airways Dividend Miles, United Airlines Mileage Plus or Avianca Taca Lifemiles.  There are pros and cons to each program and from the USA especially business class is hard to get so you will most likely end up in economy.  Air New Zealand does release business class within a couple months of departure but by that time, the economy seats will be gone so if you like to plan in advance, I wouldn't risk it.  On the other hand, it can be good news for more spontaneous travelers who have more flexibility.
Anyone from anywhere in the world can join these 3 programs.  Americans will usually be better off with United if they plan on using any of the Chase Ultimate Reward cards to acquire miles with both personal and business cards available and gift card churning.  This is way too complicated to go into here but if anyone is interested, start with Flyer Talk or ask me to personally recommend a blogger who specializes in this sort of thing in the comment section below.
No matter which Star Alliance partner I am booking on, I find the UA award search tool is the easiest to use because of the colour-coded calendar.  Obviously the miles needed for the redemption are valid only on UA.  If you are after business class awards, beware of the Mixed Class warning as shown in the second screenshot.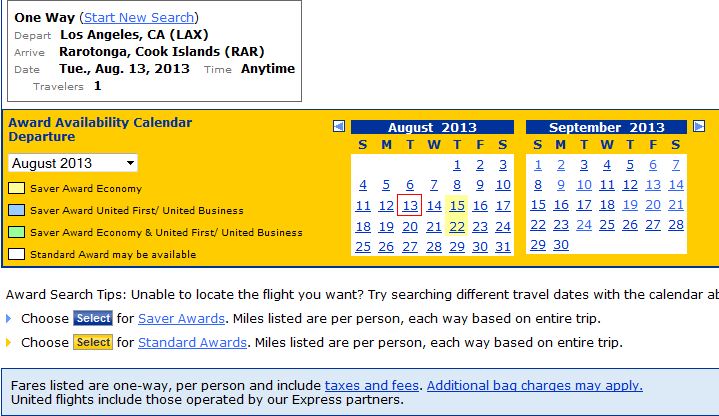 You are probably wondering why they are routing you through Sydney instead of the direct flight LAX-AKL, then AKL RAR.   Let's see if there is any availability.  Scroll down to the bottom, do a LAX AKL search, choose your date and tick the Nonstop flights only box.

There are no non-stop flights available so it gives a warning and shows connecting flights.

At this point, depending on how much flexibility you have, you can keep plugging in dates hoping for the non-stop LAX-AKL (I did a few random dates and couldn't find anything) or just take what they offer.
Bear in mind that this availability display will be much the same for any of the Star Alliance airlines but not all airlines have the facility to search partner awards.  The ANA tool can also be used.  It's complicated but I will do a more comprehensive post on how to use it later.
For people who can't get the Chase credit cards from the USA, your best bets will be either US Dividend Miles or Avianca Taca Lifemiles.  Both these airlines have frequent 100% bonuses on purchase miles throughout the year.  I'll go into more detail later, because both programs have their pros and cons so I will just show you how many miles it takes to go from LAX to RAR.
Let's start with US Airways Dividend Miles.  From the USA and the rest of North America, you will need 80k in economy, 110k in business.  From UK and Europe, you will need 100k economy, 120k business and from Australia or New Zealand you will need 25k economy and 30k business-all round trip and no one-way options available.
Using a 100% bonus on purchase miles, an American would pay $1505 USD including tax for 40k miles purchased and 40k given free with the promo.
Avianca Taca Lifemiles offers one-way awards and online booking of partner awards, but people on Flyertalk report it is difficult to deal with the call centres for non-Spanish speakers and you can't mix classes (economy and business/first) on an award.  I'll post their award chart and do a more comprehensive post on them later.  Sorry this is going to post very small so I would suggest clicking on the link on their website to see it better.   All the Pacific countries:  Australia, New Zealand, Cook Islands, Tahiti and others fall into the "Others" category.  Don't ask me why they didn't just call it "South Pacific" like all the other airlines!  From the USA and the rest of North America, you will need 90k economy and 130k business.  From Europe, you will need 110k economy, 175k business and from Australia/New Zealand you will need 35k economy, 55k business.
Using the 100% bonus purchase miles promo, an American would have to buy 45k for $1350 and get 45k free from the promo.  The website states that there is a tax payable but when I bought a smaller amount of miles earlier, I was not charged a tax. 

ALWAYS COMPARE FULL COSTS WHEN PURCHASING MILES TO JUST PURCHASING THE TICKET.
Using the examples above, an American would spend $1505 to use USDM, $1350 to use Avianca Taca Lifemiles (need to add tax on top of that) or a quick look at Expedia shows tickets available for $1313 and you will EARN miles!   So in this case, only use miles if you got them free from a credit card or earned while flying on other paid Star Alliance flights.  Don't buy miles in this case when the paid ticket is cheaper!!!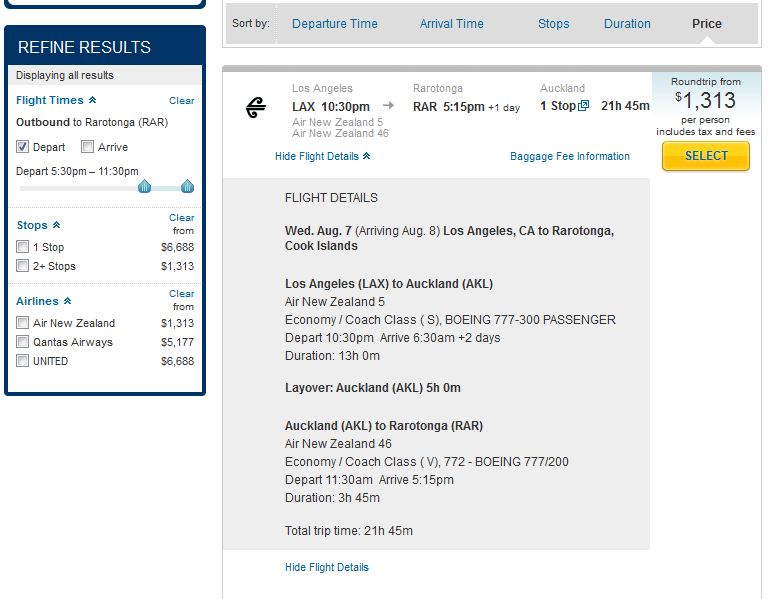 An Australian would pay $490 to get 13k USDM plus 13k free.  On Avianca Taca Lifemiles, it would cost $540 to get 18k miles plus 18k free.  A quick look at Air New Zealand's site shows a fare of $1276 NZD which is around $1056 USD so for the Aussie, the better option is to buy the US Airways miles after making sure there is availability on the desired dates.

FLIGHTS USING VIRGIN AUSTRALIA'S VELOCITY
Virgin Australia serves RAR from AKL with onward connections to Australia.  This program is likely to be useful only to Australians who are using credit cards or every day life techniques to get Velocity points so here is a sample of award levels.   See their website for more information.  Aussies who are using Amex Membership Rewards would be better off transferring to Singapore's Krisflyer where 50k Amex = 50k SQ which can be redeemed for 2 x Australia to RAR in Y as noted above.
FLIGHTS TO/FROM TAHITI
Air Raro and Air Tahiti share the route between RAR and PPT (Papeete, Tahiti).  There are no frequent flyer options here, you will have to pay cash for this flight but it could be a useful option if you want to redeem a Star Alliance open jaw award Australia-Raro /- Tahiti-Australia and need to get between Raro and Tahiti.  The flight only operates once a week but does save a lot of backtracking.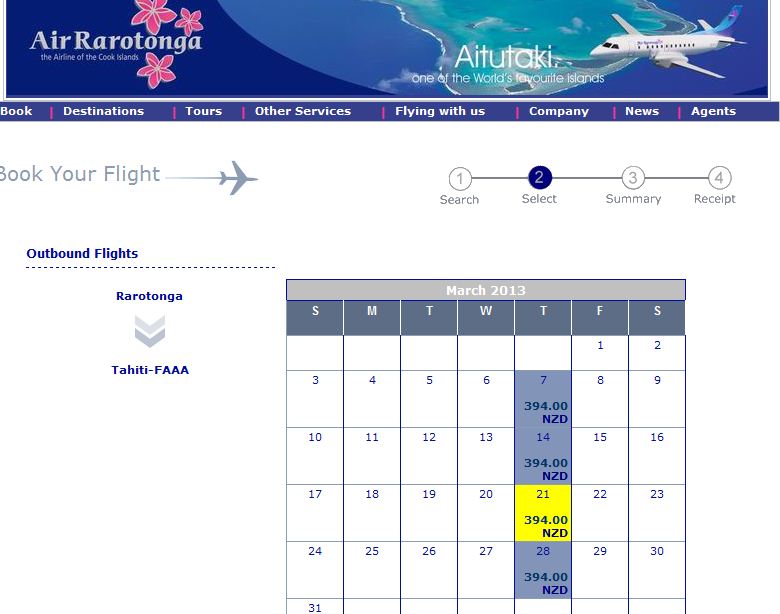 WHEW, that was confusing!  If you have any questions, please ask in the comments below and I will be happy to clarify anything.  Once you get to the Cook Islands, you will want to organize your neighbor island visits to Aitutaki and Atiu so please check those posts too!