I want to make the distinction between Peninsular Malaysia (PM) and the Borneo states of Sabah and Sarawak which would be a completely different experience.  PM can be a stand-alone birding destination or tagged onto a trip to Thailand and/or Singapore.  The main birding hotspots are easily reached from Kuala Lumpur by bus so we decided to go with public transport and not hire a car.  I was especially pleased with this decision when I saw how many toll booths there were on roads leading out of KL!
DO YOUR HOMEWORK
With so much on offer, you have to do lots of research online to find out your best chances of seeing the species you really want to see.  I always check trip reports on Surfbirds and more recently added Cloudbirders to that.  Xeno-canto has mapped locations where birders took sound clips of many species so that can pinpoint them even more.
I also look through trip reports by major birding companies such as Birdquest, VENT, Naturetrek, Rockjumper and more.  The itineraries can provide inspiration for your own or you may decide that it is easier to just join a tour.  They are not cheap but they do have excellent guides to help you find a lot more birds.
Independant birders have a lot of resources too.  Have a look at these websites.
HOW I CHOSE MY ITINERARY
I was prioritizing parrots, knowing that there would actually be lots of different bird species in the same habitats.  We didn't have a lot of time – just 6 days.  Using the websites referenced above, I decided on these national parks, all of which make for fantastic birding.
Taiping – Long-tailed Parakeets are commonly found in Taiping Lake Gardens.
Cameron Highlands – Beautiful scenery and some cool birds midway between Taiping and Taman Negara.
Taman Negara – Blue-rumped Parrots, Blue-crowned Hanging Parrots and much much more!
These parks will be covered in detail as the report progresses.
HOW I BOOKED OUR FLIGHTS

United Airlines has a fantastic deal on awards between Australia and South-East Asia for 35,000 RT in economy.  Since I had burned so many miles on last year's Africa trip, the best I could do was scrounge enough miles for economy but I did maximize the rules but having a stop-over and 2 open-jaws.
BNE – BKK – CNX
Stopover
CNX – BKK – USM
Open jaw #1 which was filled by a super-cheap fare on Air Asia from Surat Thani to Kuala Lumpur.
KUL – BKK – PVG (8 hour layover) – AKL – RAR
Open jaw #2 ending in Oceania zone so added 5k to each person's award.
Final cost was 80,000 United miles plus 47,800 Virgin Velocity miles for the final RAR – AKL – BNE to get us home.  The Rarotonga stop was for my husband to visit his friends and family.
LOGISTICS
Our budget was pretty well tapped out after last year so this trip had to be done as cheaply as possible.  The parks I was targeting are all easily reached by public transport and/or short walks from the accommodation.  We used the Starmart Express bus from KLIA to Taiping and regular buses from Taiping to Tanah Rata with a change of bus in Ipoh.  In Tanah Rata, we booked the minibus transfer from Father's Guesthouse to Taman Negara which includes a boat ride from the jetty at Kuala Tembeling to Kuala Tahan just opposite the Mutiara Taman Negara hotel.  Finally we used a local bus from Kuala Tahan to Jerantut, then a larger bus to Kuala Lumpur.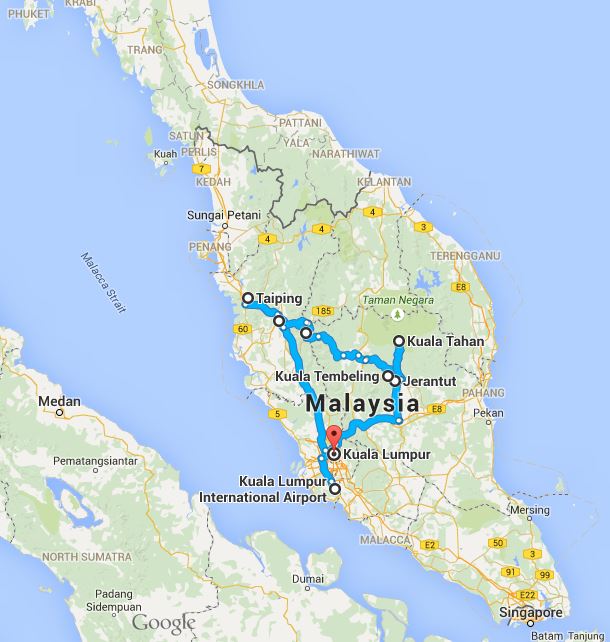 There are a few other birding hotspots we didn't get to this time – Selangor, Fraser's Hill and Genting Highlands.  All are very close to Kuala Lumpur and in a pinch could be a day trip.  I decided to save these parks for a future trip when we may be on a One-World ticket via KUL or using Air Asia to get somewhere else in Asia and able to stop over a couple days.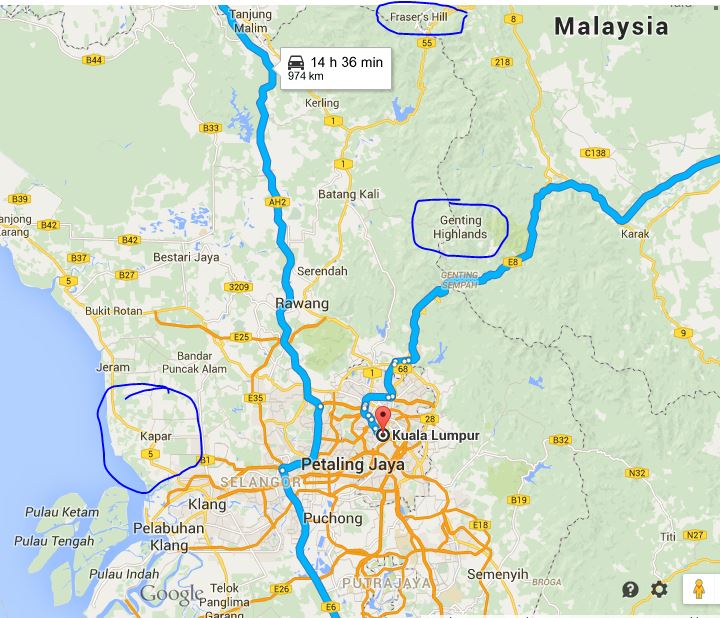 WHEN TO GO

This was a delicate balance of avoiding the rainy season and allowing enough time after returning from Africa and allowing a full year until our big Ecuador/Colombia trip next year to replenish the coffers.
Weather2Travel is my go-to site for weather planning.  April was the last possible time to travel and avoid the rains but still save up for the trip.  March would have been better but wasn't financially feasible for us at the time, waiting until Nov would be too close to the upcoming 2016 trip.  Always take your personal situation into consideration.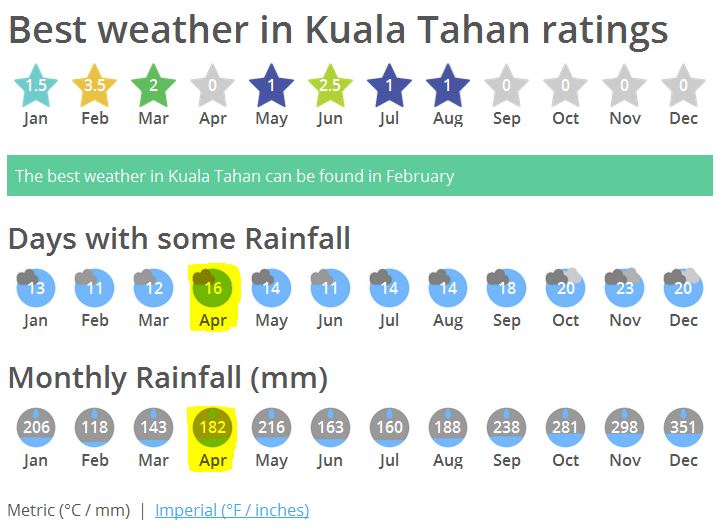 VISAS
The citizens of most countries that are likely to be reading this blog can enter Malaysia for at least a month (or 3) visa free.  See details here.
ACCOMMODATION
I booked lodges in Taiping and Tanah Rata on Hotels.com because at the time they were a partner of Chase Ultimate Rewards and I was chasing the free night after 10 paid nights for next year's trip.  The hotel in Kuala Lumpur was booked on Pointshound with me referring my husband so both he and I could get miles.  We booked the Mutiara Taman Negara on  Rocketmiles to maximize bonus miles and this hotel was the same price no matter where you booked it.  Each property will be reviewed in the appropriate section of the trip report.