After almost 3 years of owning this blog, I am finally going to blog about my hometown – Brisbane!  Australia is high on the wish list of eco-tourists, especially those who wish to see lots of parrot species and many other birds too.  And don't forget Australia's amazing mammals such as kangaroos, koalas and wallabies (not the rugby playing ones)!
Australia is a huge country and Queensland is a huge state so you won't be able to see it all in one go if you have the usual 2-4 weeks annual leave.  Far north Queensland will need a separate series all on its own.  In this series, we will be looking at South-east Queensland and some of its best eco-tourism hotspots.  Brisbane is a great place to start your birding/eco-travel adventure and if you have miles and points you can save a bundle!
GETTING TO BRISBANE

Brisbane is the main international airport serving South-east Queensland although the Gold Coast airport also has some flights from New Zealand.  There are several options for using your miles to get from your home country to Australia.  It has been harder to get business class awards recently, especially to/from the USA so you may have to suck it up in economy.  Just keep your eye on the prize that awaits at the end of that long flight!
Brisbane specifically is served by:
Air New Zealand – Auckland, Christchurch
Eva Airlines – Taipei
Singapore Airlines – Singapore
Thai Airways – Bangkok
Qantas (home carrier) – Auckland, Hong Kong, LAX, Singapore, Tokyo
Jetstar (Qantas affiliate and only available using QF points) – Denpasar, Honolulu
Cathay Pacific – Hong Kong
China Airlines – Taipei
China Southern – Guangzhou
Korean Airlines – Seoul
NON-ALLIANCE AIRLINES
Virgin Australia (partners with Delta) – Apia, Auckland, Christchurch, Denpasar, Honiara, LAX, Nadi, Port Vila, Queenstown, Wellington
Emirates (Partners with Qantas, Alaska, Korean) – Dubai, Singapore
Etihad (Partners with AA & Virgin Australia) – Abu Dhabi
Hawaiian – Honolulu
DOMESTIC ROUTES
The only two airlines you are likely to be able to redeem miles on are Qantas and Virgin Australia.  I have a post with more information on domestic connections.
QANTAS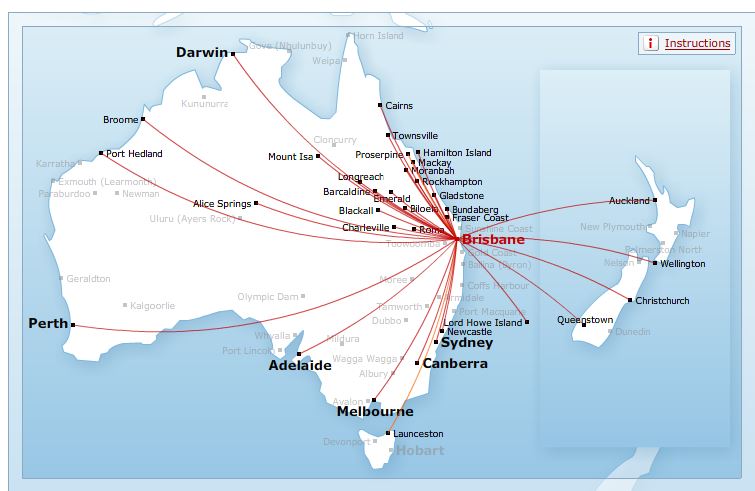 VIRGIN AUSTRALIA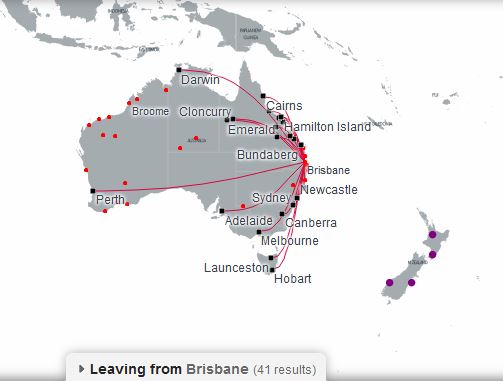 WHERE TO STAY ON POINTS
If you plan to spend a day or so in Brisbane and will be relying on public transport, your best bet is in the CBD where buses and trains are plentiful.  Out in the suburbs you can wait 30 minutes or more to catch a train or bus (speaking from experience).  If you will be renting a car (which you will be if you are heading to the Outback), then avoid the CBD as parking is expensive.  Brisbane really isn't the best place to get the best value out of hotel points unless you are swimming in them.
Hilton Brisbane – 60,000
Brisbane Marriott – 35,000
Four Points by Sheraton – 10,000
I think you would be better off using Brisbane as an EARN miles opportunity and use Pointshound or Rocketmiles to book your room.  In any case, readers of this blog probably won't be hanging around the city for long with all the birds awaiting you in the bush!