Madagascar is one of the most fascinating countries on earth with its unique culture and wildlife found nowhere else on earth.  You could spend months here and not see it all.  Unfortunately, very few of us have unlimited time and money to spend as much time here as we would like so we need to prioritize and plan very carefully to make the most of our visit to Madagascar.  Here's some things to consider.
VISAS
Madagascar gives a free visa on arrival to the citizens of most countries.  This is where it is essential to book your airplane seat wisely as you want to be first off the plane and first in line at the visa desk.  It's like a rugby scrum and very disorganized.  People crowd around the desk, most don't stand in a line and everyone is shoving their passports at the officer who puts them on a desk where other officers grab a passport off the desk, input the data into a computer and issue the visa.  Then he holds up the passport and calls out the name of the owner who will be somewhere in the rugby scrum!  We were one of the first off the plane and it still took about 10 minutes, I wouldn't want to be last off the plane!  You can also expect to be heat-screened for Ebola as you enter the airport.  You walk slowly past a machine that is able to detect if you have a fever.
FINANCES
Once you get here, if you travel like the locals do, Madagascar can be very cheap.  You will need lots of cash no matter what.  I cannot emphasize this enough as I am very plastic-orientated.  And in Madagascar when I say LOTS of cash, I mean literally.  If you change even $200 you will end up with a very thick stack of Ariary the size of War & Peace!  The bank in the airport is good enough to change cash, there isn't much difference between them.  Even the tour operator went there to change the Euros I gave her as payment to Ariary and she would know the best place to exchange money.
Only a few hotels around the country and some souvenir shops in Antananarivo accept credit cards and then it's only Visa or Mastercard, not Amex.  ATMs are widespread but not all banks accept foreign ATM cards.  I totally underestimated this and got into strife in Ankarafantsika as there was no place near by to get cash so we had to seriously curtail what we wanted to do and we could only eat one meal a day in addition to breakfast provided by the hotel.  BNI branches are good for foreign cards, Bank of Africa didn't accept my debit card or my Visa card.
Petrol (gas) stations do not accept credit cards!  Not even the big ones like Shell, Total, Jovenna and Galana.  This was the main reason I ran low on cash.  I knew I had to pay cash for food, guides, park entries and lodges but I had expected to use a credit card to fill the car.  Unless you are using public transport such as taxi-brousse, you will have to pay the fuel for your rental car so be prepared!
GETTING AROUND
Getting around Madagascar isn't as simple as South Africa where you can simply drive off in your own rental car on your own.  Car hire companies in Madagascar only hire cars with their own driver.  The rate quoted to you will include the daily rate for the vehicle and the driver's expenses such as food and accommodation and the car insurance.  You can either book a full tour package which includes your accommodation, sightseeing and the transport or just book the car & driver.  If you book a full package, you will probably have to pay some portion of it in advance by bank transfer as the tour operator has to pay the accommodation.  If you book only the car & driver, you can usually negotiate to pay cash on arrival.  No tour operator in Madagascar that I could find (and I did look extensively) accepts credit cards or even Paypal.
The above is of particular interest to travel hackers as paying by bank transfer is the worst possible scenario.  You have to part with the cash immediately (no 30 days interest free), no miles by using the right credit card and you have to pay bank fees to transfer the money!  There is also some risk if the tour operator doesn't show up or goes out of business, you won't get your money back.  Needless to say, I will bend over backwards to avoid bank transfers!
I have to admit that I don't prefer this type of travel.  I much prefer to drive my own car or take public transport.  I am just not comfortable being in the role of "boss of a personal chauffeur" even just for a few days.  However with a tight schedule and the need to see two specific national parks, we didn't have time to mess around with public transportation.  If I could have added a couple days on to the week we spent in Madagascar, we could have done the itinerary using public transport (buses & taxi-brousse).
CHOOSING WHICH NATIONAL PARKS TO VISIT
How much time do you have?  What animals and birds do you want to see?  This is where you really have to do your homework.  Even us hard-core birders want to see lemurs as well as birds.  The good news is that pretty much all national parks have different species of lemurs and birds.  If you are after specific species, you need to read trip reports on Surfbirds and see what species are commonly seen where.  Also read up on Madagascar's National Parks.  Be realistic in how many you can visit in the amount of time available to you.  If you only have a week, choose the two most likely parks to have your target species.  Avoid trusting Air Madagascar to get you anywhere on time, you need a day or so as a buffer just in case they cancel or are very late.  If one of the parks you want is only reachable by plane, do that one first and save the easier-to-reach park for last.
I was targeting the 3 parrot species in Madagascar – Greater Vasa Parrots, Lesser Vasa Parrots and Grey-headed Lovebirds.  After that, I wanted to see as many lemurs and other birds as possible.  I only had a week and didn't want to mess with Air Madagascar so after many hours of research, I chose two parks that were both reachable from Antananarivo easily by road, even by sedan car so we didn't need a 4WD.  I chose Andasibe-Mantadia as a good all-rounder that had two of my target birds and Ankarafantsika that had all 3 species.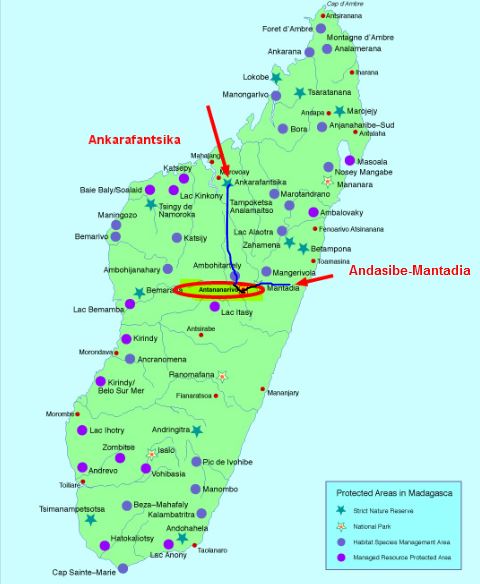 In posts to follow, I will go into detail about these two parks, how to get there, where to stay and what to see.
Because I can't emphasize it enough I will repeat:  when in Madagascar, make sure you have plenty of cash!