Most frequent flier programs divide the continent of South America into northern and southern regions.  Brazil, which is one of the best destinations for eco-tourism falls into the southern region.  I already have a blog with my recommendations for which programs to join if you are new to the world of miles and points.
The gateway cities for Brazil include Sao Paulo (GRU), Rio de Janieiro (GIG), Manaus (MAO) and Recife (REC).  Other airports in Southern South America are Santiago (SCL), Buenos Aires (EZE), La Paz (LPB) and Santa Cruz Bolivia (VVI).     Once you have been in the miles and points game for awhile, you will get a feel for which airline to use where but if you are just starting out, Wikipedia will show you a list of all airlines that fly into a given airport.
Let's take Manaus for our first example.  So we can see that  Manaus is served by a few international airlines.  AA flies from Miami, Copa flies from Panama City which has good connection to the USA and TAM flies from Miami as well.   In most cases you will have to transit through the USA even if you are coming from Australia, Europe or Asia direct to Manaus or you could fly to one of the larger airports such as GRU or GIG and get a connecting domestic flight.  If Manaus and the Amazon region are your destination, you have two choices-One World or Star Alliance.  Sky Team can get you to GRU or GIG and then you would have to use domestic flights on GOL which is a partner of Delta.
From North America you can use American Airlines or TAM once they make the switch.  TAM has been in Star Alliance but they are in the process of merging with LAN and joining One World.  The new airline will be called LATAM.
From South America you can use TAM.
From Australia and New Zealand you can use Qantas or LATAM via Santiago.
From UK and Europe you can travel via the USA using BA or IB to get to the USA, then AA, LAN or TAM to South America.
From Asia or Africa there are no direct flights so you will need to travel via the USA or Europe.
From North America you can use United, US (until they merge with AA), Avianca-Taca or Copa
From South America you can use Avianca-Taca
From Australia and New Zealand, Europe, Asia and Africa there are no direct flights, you will need to travel via the USA.  Depending on which program's miles you have, this may require one or two awards.
From North America you can use Aerolineas Argentinas, AeroMexico or Delta.
From Europe you can use Air Europa, Air France or KLM, or you can connect in the USA or Buenos Aires on Aerolineas Argentinas.
From Australia you can use Aerolineas Argentinas, from New Zealand possibly Qantas to Sydney and then Aerolineas Argentinas.
From Asia and Africa there are no direct flights, you will need to travel via the USA or Europe.
Delta partners with GOL which has extensive coverage of Brazil and connections to neighboring countries.
HOW MANY MILES WILL IT COST?
Every airline member of the 3 main alliances has it's own frequent flier program.  They often have alliances with other airlines outside the program.  I have made some reference charts for the airline alliances and I strongly recommend that you check out the program of the airline in your country and the USA based partners of each program as the USA airlines tend to have the most lucrative bonuses.  Americans can get very generous credit card bonuses.  Details of credit card partners (and other partners) will be on each airline's website, however often there are more lucrative sign up bonuses.  Details are usually posted in the Flyer Talk thread so I strongly suggest you read this thread and the Miles Buzz forum before you apply for any cards just in case a better bonus has been offered.  I don't have any affiliate links and I recommend you do extensive research on your own when applying for airline credit cards.
USING ONE WORLD
AMERICAN AIRLINES
No matter where you live, frequent flyer programs based in the USA usually offer the best deals but it's still a good idea to look at other members of the alliance.  Try to avoid carriers that charge a fuel surcharge.  Looking at AA's award chart, we can see that Brazil is in South America Zone 2.
So let's look at the chart.  You will notice there are taxes and fees with certain routes and that the awards are prices as one way trips.  Also notice that there is a reduced rate for off-peak travel which is March 1- May 31 & Aug 16- Nov 30.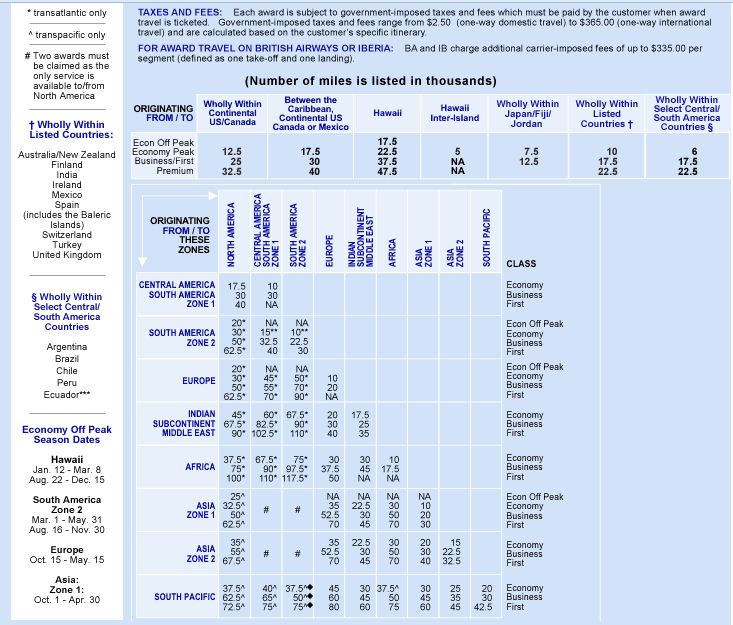 We can see that a South Pacific to Central/South America award will cost 37,500 miles each way (75,000 round trip) in economy, 50,000 (100,000 round trip) in business class and 75,000 each way (150,000 round trip in first class.  AA doesn't allow you to transit the USA on this award so you must fly on the only carriers that operate between Australia and South America-Qantas and LAN.
If you are based in North America, economy will cost 20,000 off-peak each way (40,000 round trip), business class  is 50,000 each way (100,000 round trip) and first is 62,500 each way or 125,000 round trip.  You would be flying on AA or LAN.
AVIOS (BA OR IB)
Avios can be a great bargain for shorter flights.  The awards are priced by distance flown per segment rather than zone to zone.
Using the Great Circle Mapper, we can see that a direct flight from Miami to Manaus would cost 12,500 Avios each way, a direct flight from LAX to Sao Paulo would cost 30,000 Avios and a direct flight from NYC to GIG would cost 25,000 Avios.  If you are using credit card miles, transferring them to Avios rather than UA or AA could save you some points.  If you need a connection from elsewhere in the USA to the gateway city, you need to pay for that segment separately with the Avios cost for the distance flown.  Example OKC-MIA is 1222 miles so you need to add 10,000 Avios to the total price of the ticket.