The annual Parrot Lover's Cruise for 2016 has been announced by World Parrot Trust.  This year they have chosen a wonderful Southern Caribbean itinerary with two islands boasting endemic wild parrots – Puerto Rico & St Lucia!  I will be visiting these 2 islands in a few months on a land based trip so will have more details soon.  Start organizing your airline miles to get to the departure port of San Juan now!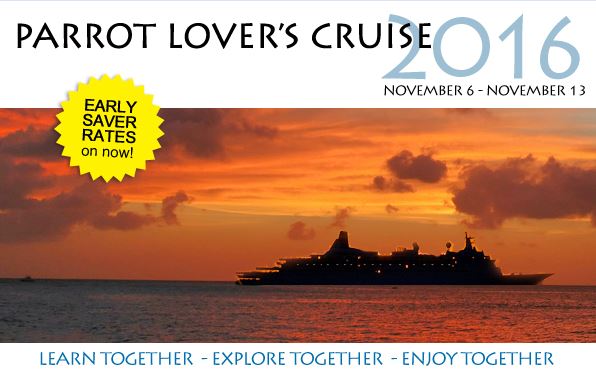 Set sail aboard the outstanding Carnival Fascination out of San Juan, Puerto Rico. With stops in St Thomas, Barbados, St Lucia, St Kitts and St Maarten, this cruise promises to be the best yet!
Cruise-goers will have a chance to explore the islands and local sights, attend onboard seminars by experts from the avian community, and possibly see parrots in the wild!
You MUST use the official travel agency to take part in the WPT activities.

CAROL CIPRIANO
Carol's Travel Time
570.470.5006
Send email
parrotloverscruise.com
Early Saver Rates
in effect – contact Carol to learn more!