There are several ways you can organize your visit to the Pantanal.  There are also two major gateway cities – Campo Grande in the south and Cuiaba in the north.  It doesn't really matter which gateway you choose as the wildlife is similar on either end and the Hyacinth Macaws are found in both areas.  It will probably come down to which is more convenient to the rest of your trip.  If you are including Cristalino near Alta Floresta then go with Cuiaba.  If you are including Foz do Iguacu, then choose Campo Grande.  You have a choice of flights (Gol, Azul, Tam or Avianca) or bus transportation either way.  When we did our trip, Gol was a partner of American Airlines, now they partner with Delta.  Tam is the current partner of American.  Azul and Avianca Brazil partner with United.
You can save money and miles if you book your first flight from your home country to either Cuiaba or Campo Grande using these partners rather than booking just to Rio or Sao Paulo.  Bus travel in Brazil ranges from the very basic to luxury "executivo" buses.  If you want to do both areas – north & south, then I recommend taking the bus and booking a lodge along the Trans-Pantaniera so you can just hop out.  You could also drive but check the drop off fees first.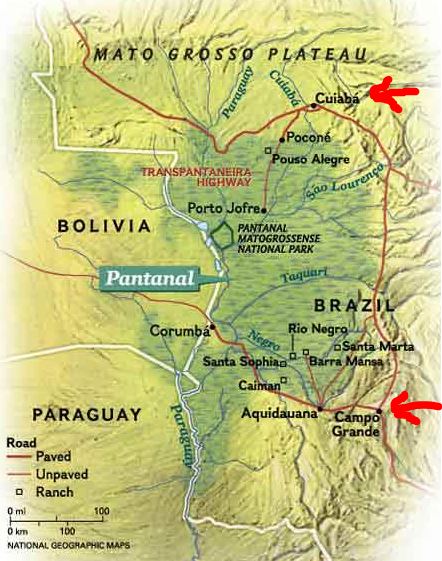 THE THREE BASIC WAYS TO VISIT THE PANTANAL
 Join a longer birding tour that includes the Pantanal and has a guide accompanying the group.  This is the easiest option and also the most expensive.  I can't really recommend one tour over another as I am not the group tour type but you can start by googling "Pantanal Birding Tour".
  Book a package from a Brazilian tour operator that only includes the Pantanal component of the trip.  We used Open Door Tur back in 2007 and were happy with the service.  There are other local companies which can be found with a search but I don't know enough about any of them to make a recommendation.  This option is a nice compromise between budget and DIYing as you still get local birding guides and transport out to the lodge you will be staying at.  This is the option we did during our first visit in July 2007 via Campo Grande to Caiman Ecological Refuge.  I had also booked a day with the Arara Azul volunteers which took the place of the usual tourist activities and was the highlight of our trip!
  DIY the whole thing.  Book a rental car, book a lodge and drive yourself.  The lodges will have guides available and you can make a day trip to places like Pousada Araras with a guide to show you the birds.  This is what we did on our Sept 2012 trip.  After calling several lodges and finding a few of them fully booked, we found the Curicaca Wildlife Refuge and booked in for a couple days and rented a car from Hertz in Cuiaba to drive ourselves out there.  It wasn't as simple as I thought it would be but we did end up with an excellent experience and saw lots of birds!
Of course detailed posts on all of the above will be forthcoming in this series!