Since I already have a more detailed post on South-east Asia, I will only add some Malaysia specific tips here.  The good news is that there are lots of airlines flying here so you have plenty of choices no matter which alliance you participate in.    You can get a full list of airlines flying to KUL (KLIA) on Wikipedia.  The first step is to identify which airlines that participate in one of the 3 alliances serve the airport in question.  You can do this by looking the airport up in Wikipedia and making a note of which airlines fly there and cross referencing with my guides on Star Alliance, OneWorld Alliance and SkyTeam.  Since this list is so long, I will only put a snippet here to give you an idea.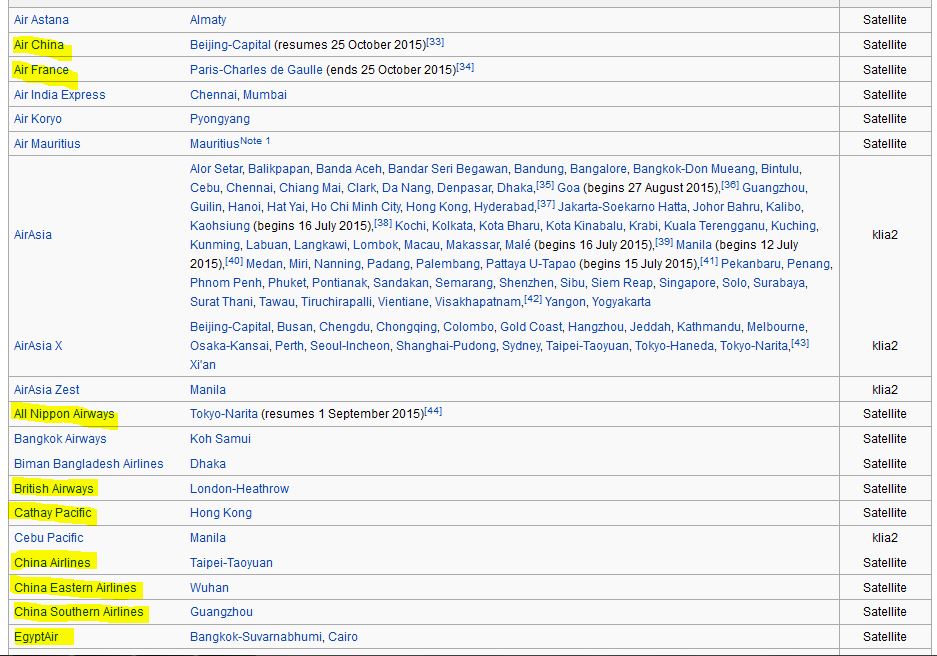 You don't necessarily need miles to get to Malaysia, especially if you are already in Asia or even Australia.  Air Asia is an excellent low-cost carrier (LCC) which has a huge network of flights around Asia.  They usually have good sales on so it pays to check with them before spending your miles.  Here's some examples.
KUL's KLIA airport is easy to navigate with everything well signposted.  There are some interesting shops downstairs near the bus kiosks as well as a food court.
If Kuala Lumpur is your first destination, you have a choice of buses, trains or taxis to get downtown.  But if you are headed elsewhere in Malaysia, you can usually get a bus direct to your final destination.  Here are some bus schedules showing departures to our final destination – Taiping.  SInce our Air Asia flight from Surat Thani got in around 4pm, the soonest we could get away was that 17:30 Starmart bus.  Although you can book buses online, there is no need to unless possibly during public holidays.  Just go to the bus kiosk downstairs and they will sell you a ticket on the next available bus.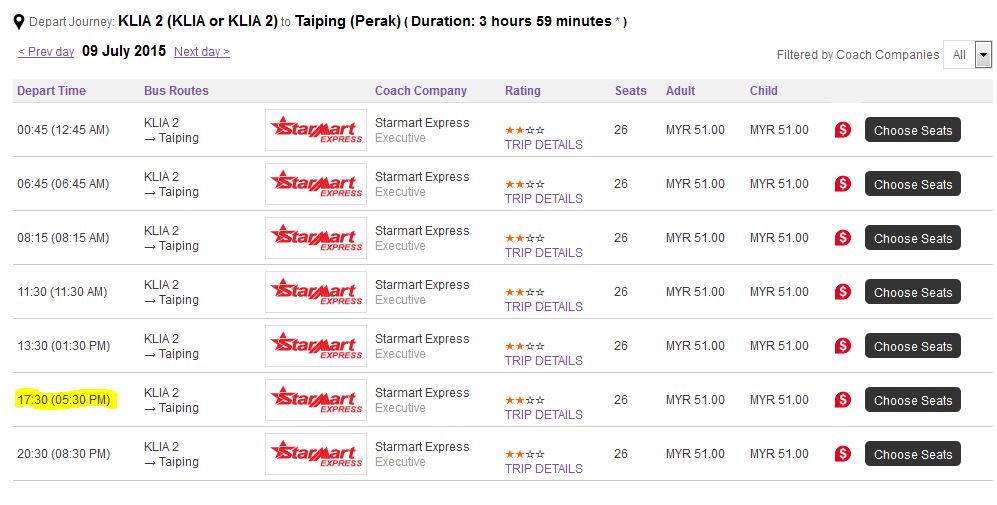 Malaysia buses are an excellent way to get around peninsular Malaysia.  They are timely and very comfortable.  They pick up at a specific bay which will be on your ticket just outside the airport at both KLIA 1 and KLIA 2.
The seats rival domestic business class on Australian or USA based airlines with an even better recline.  Surprisingly it was half empty – good for us, maybe not so good for the bus company!  If it had been full, I wouldn't have used the recline so much as I would have been in the lap of the person behind me.  Since we were pretty tired already, I had no problem dozing off before we reached Taiping, thankfully the driver woke us up when we got there!
I'm trying to show how deep the recline is.