The countries of South-East Asia's bird populations are as colourful and diverse as you could expect from this culturally rich region.  let's concentrate on the countries which are classified as "South-East Asia" by the frequent flyer programs and have great birding and eco-tourism opportunities such as (alphabetically) Burma, Indonesia, Laos, Malaysia, Philippines, Singapore, Thailand and Vietnam.  If you are married to or involved with a non-birding partner, this is a great region to plan a trip to as they will find plenty to do while you are off chasing birds.   Unfortunately, being so far from everywhere except Australia, it can be very expensive to get there whether you use miles or cash.  Let's look at a few options.
AMERICAN AADVANTAGE
For most people, joining American Airline's AAdvantage will be the best option.  They have quite a few credit card options to quickly build your miles stash and a few partners such as E-Rewards and various hotels where you can transfer points in.  The region is called "Asia Zone 2″ on this chart and includes Bhutan, Brunei, Cambodia, China, Guam, Hong Kong, Indonesia, Laos, Malaysia, Myanmar, the Philippines, Saipan, Singapore, Sri Lanka, Taiwan, Thailand, Vietnam.  Airlines which serve this area include Cathay Pacific and Qantas with Malaysian Airlines, Sri Lankan Airlines and Qatar Airways joining very soon.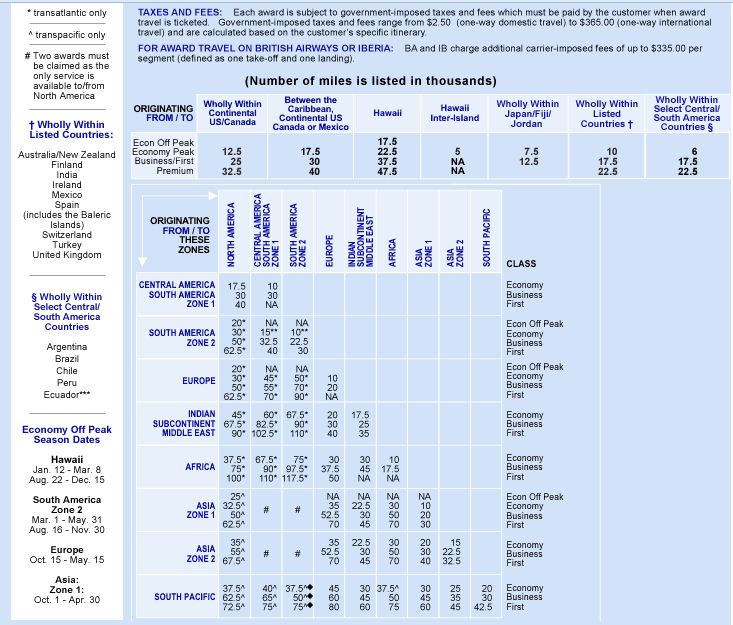 These figures are one-way so double if you want a round trip.  The nice thing about AAdvantage is the flexibility, you may choose to go one way in economy and one way in business, or do an open jaw where you fly into Bali (DPS)  for example and out of Bangkok (BKK).   Please note that awards between South-East Asia and South America Zones 1 & 2 are not available so if you want a route like that you will have to join up two awards such as Asia-North America and North America – South America.
USA and Canada:  Each way is 35,000 economy;  55,000 business; 72,500 first.  You can use Qantas, Cathay Pacific, and Malaysian  but there are no stopovers allowed.
UK and Europe:  Each way is 35,000 economy; 52,500 business; 70,000 first.  You can use British Airways, Cathay Pacific, Japan Airlines, Etihad or (coming soon) Malaysian Airlines and SriLankan Airlines; or use Finnair, Air Berlin or Iberia to get to Bangkok, Singapore, Hong Kong or anywhere Qantas flies.
Australia and New Zealand:  Each way is 25,000 economy; 35,000 business; 45,000 first.  You can use Qantas, Cathay Pacific and Malaysian.
QANTAS
For Aussies who have easy access to Qantas points via their employer or Everyday Rewards, it's worth checking out QF's awards to South-East Asia.  Use their points calculator as the awards are distance based, not by country.  A long distance award such as Brisbane – Bangkok will cost more than a short one like Darwin – Denpasar/Bali.  The awards look expensive compared to AA, UA and US but if you got your points for free, might as well enjoy them!
AVIOS (BRITISH AIRWAYS AND IBERIA)
By the time you read this, Malaysian will have joined One World, though the booking engine may not be online yet.  Look for bargains in one way awards between Kuala Lumpur and nearby cities such as Singapore, Jakarta, Bali, Bangkok, Vientiane and Manila.   In the examples below, the awards will range from 4500 Avios to 10,000 Avios.