It seems every time I turn around this bird has a new taxonomy, my head is spinning!  The Brown-necked Parrot (Poicephalus fuscicollis) is a large Poicephalus parrot species endemic to Africa consisting of the savanna-dwelling brown-necked parrot (P. fuscicollis fuscicollis) and grey-headed parrot (P. f. suahelicus) subspecies. It formerly included the Cape parrot (now Poicephalus robustus) as a subspecies before the Cape parrot was re-classified as a distinct species.  Birdlife has the most recent explanation.
These guys are hard to find but if you are lucky you may get a glimpse of them flying overhead to their roosting sites on a Zambezi River cruise.  I did see a couple in the distance but didn't get a photo so here's Wikipedia's pic.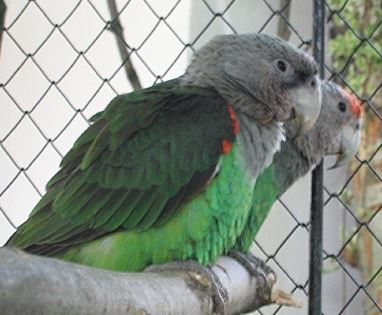 The Birdlife distribution map has all 3 Poicephalus species – Cape, Brown-necked and Grey-headed Parrots.  The Grey-headed Parrots (suahelicus) are in the yellow shaded area with the Zambezi River indicated by the dot.  The easiest access is from Livingstone, Zambia.  We did the Lady Livingstone cruise and birders tend to congregate in the top level near the rear.  One of the staff is an experienced birder (I didn't get his name but he will notice your camera and binoculars and offer to help) so just ask him to help you find these parrots.  He knows them by their calls.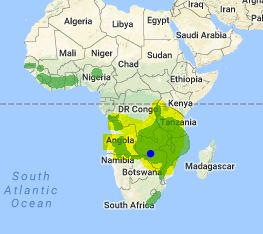 LEARN MORE ABOUT GREY-HEADED PARROTS
The Flacks Photography (nice photos of wild birds)
VIDEO
You think it's hard to get a photo of these guys in the wild, try looking for videos!