Zambia is one of the fastest growing destinations for Africa safaris.  The parks here are much less crowded than those in surrounding countries and the Big 5 can be easily seen.  Birders can look forward to seeking 779 species of which one is endemic.
Zambia's airports are smaller and they don't have as many airlines as other safari destinations but careful planners can still use their miles to get here.  Star Alliance and SkyTeam have the most options via Addis Ababa, Johannesburg and Nairobi.   If you have limited time and finances you will really have to make some tough decisions on how many parks to visit. It really helps if you know what species are your priority. For some people this may be raptors or trying to check off all the endemics. For me it's always parrots first, then songbirds, then other birds and mammals.
Lillian's Lovebirds at South Luangwa NP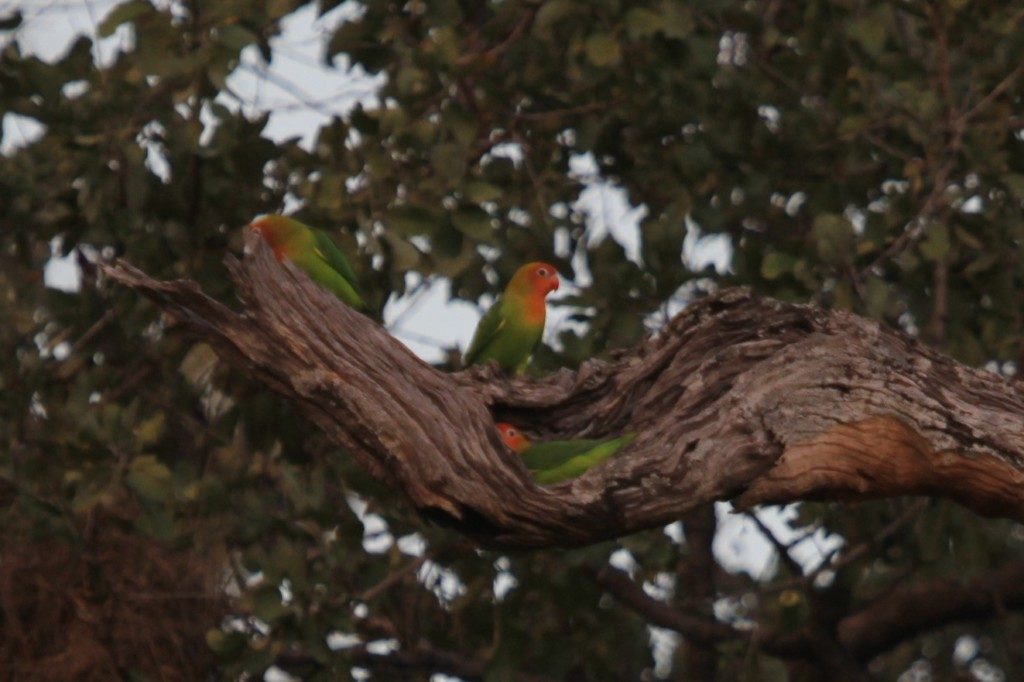 DO YOUR HOMEWORK
With so much on offer, you have to do lots of research online to find out your best chances of seeing the species you really want to see. I always check trip reports on Surfbirds and more recently added Cloudbirders to that. Xeno-canto has mapped locations where birders took sound clips of many species so that can pinpoint them even more.
I always check bird sightings on eBird, you can see my full guide on locating bird species .
I also look through trip reports by major birding companies such as Birdquest, VENT, Naturetrek, Rockjumper and more. The trip reports will show you which parks you need to concentrate on. Once you have this, you can start contacting birding tour operators or safari companies that are well-recommended for quotes.  If you are traveling on your own, it's worthwhile to note when the birding groups will be in the area as they will have the best guides already reserved and you may not even find accommodation.
HOW I CHOSE MY ITINERARY
I had 2 definite target birds (Black-cheeked Lovebirds and Lillian's Lovebirds) and a third maybe target (Grey-headed Parrot).   My research revealed that the Black-cheeked Lovebirds had a stronghold in the Machile area, Lillian's Lovebirds were regularly seen in South Luangwa National Park and Grey-headed parrots had been reported from the Zambezi River cruises.  Meyers Parrots are seen all over Zambia.  I was prioritizing parrots knowing that plenty of other bird species would be in the same habitats so chose these locations:
LIVINGSTONE:  ZAMBEZI RIVER CRUISE, VICTORIA FALLS WALK & DAY TRIP TO MACHILE IBA

Grey-headed parrot, Poicephalus suahelicus
Meyers Parrot, Poicephalus meyeri
Black-cheeked lovebird, Agapornis nigrigenis
SOUTH LUANGWA NP/MFUWE

Lillian's lovebird, Agapornis lilianae
Here is a map showing the locations.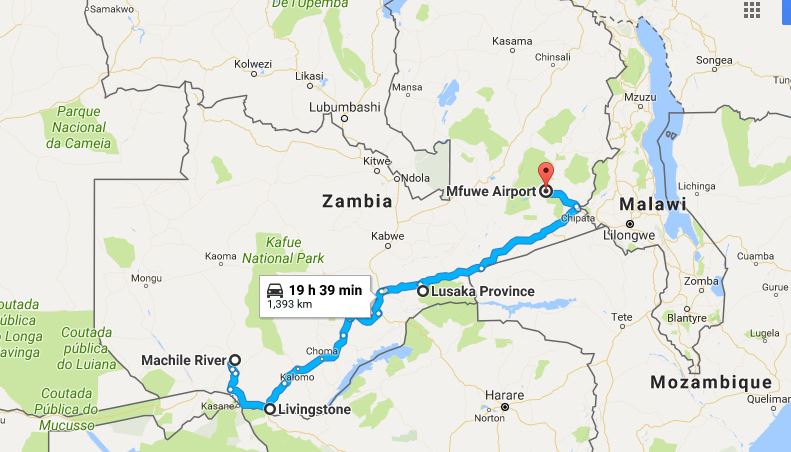 HOW TO ORGANIZE YOUR OWN BIRDING SAFARI
In Zambia, it's very rare for tourists to self-drive cars and the rates are very high as they all have a per kilometre charge and Zambia involves great distances.   Domestic flights are operated by Proflight Zambia and they are not cheap but could be a good option if your time is limited.  They do not partner with any airline alliances so you would be up for the cash.
Buses between major cities are very cheap and reasonably comfortable.  If the bus has a 2 x 3 configuration, I recommend buying 3 seats so you can be more comfortable and keep your bags with you.  I will have a separate post on the Zambia bus experience.  We used buses for all travel between Lusaka, Livingstone and Mfuwe.
For the day trip to Machile IBA, I was recommended to Savannah Southern Safaris and the excellent birding guide Chiinga.  They organized the 4×4 to Machile IBA as well.
South Luangwa NP has many options for all budgets which usually include the accommodation, food and game drives into the park.  We went for a backpacker package with the beautiful Marula Lodge.
VISA FOR ZAMBIA

Visas are issued on arrival to most nationalities on payment of a $50 fee in cash or credit card.  It was very straightforward and smooth, didn't take long at all.
BEST SEASON TO TRAVEL
There's a couple things to consider, the weather and potential crowds.  I always check the weather on Weather2Travel.  Zambian weather was a priority as I knew the places we were visiting would be difficult to reach if it were raining.  May is in the dry season and we enjoyed good weather throughout the trip.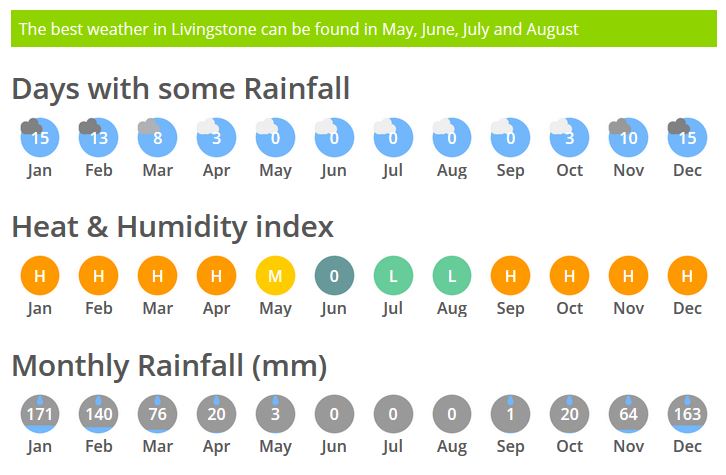 If you have "must-see" bird species, always check eBird to make sure the birds are being seen that time of year by other birders.
OTHER HELPFUL RESOURCES
WhatsApp:  I am not on this app but if you are, look up a group called 'Birds of Interest' which comprises professional birders such as my guide Chiinga and amateur birders based in Livingstone.
BOTTOM LINE
Zambia is by far the best safari experience we have had in Africa and I have been going to Africa since the mid '80's!  The game drives (which will be covered in detail) were amazing, the best I had ever been on!
The only thing that would have made the experience better would have been to self drive between major cities and then use the guides/drivers we already did.  The buses just took forever and we spent way too much time on them.  Most Zambians seem to speak English, some more fluent than others and we had no trouble communicating.  The tourist infrastructure is very good.  Guides are very well trained and I was amazed at how well they spot birds and animals even in dense bush!
As this report progresses, you will see just how amazing Zambia is, and if you can only afford to visit one country in Africa and want an all-round birding and Top 5 animal experience, you can't go wrong in Zambia!