WHERE IS IT EXACTLY?
In the previous post of this series, we have used miles and points to get from your hometown to Lima, Peru and have an overnight stay to get you refreshed before you arrive in our destination, the Tambopata National Reserve aka Tambopata-Candamo National Reserve.  So where exactly is the Tambopata National Reserve?  As the crow, Macaw flies, it's not really that far from Cuzco, and it's close to the border with Bolivia.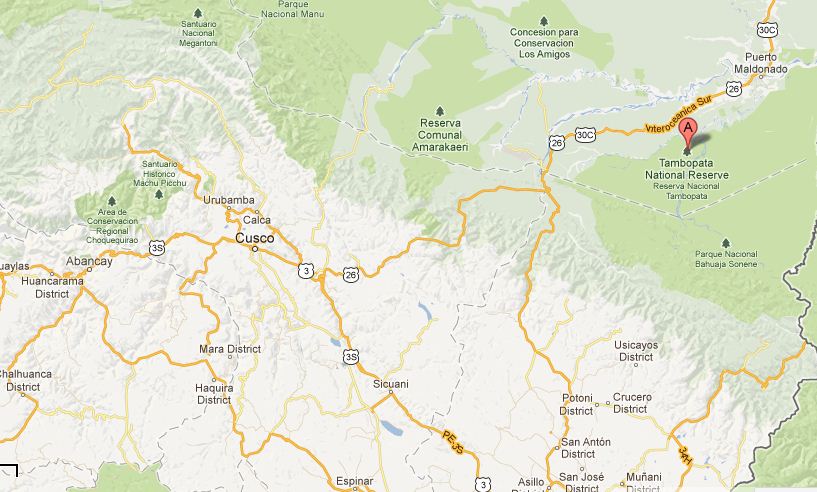 HOW DO YOU GET THERE?
To get here from Lima, most people will fly in from Lima or Cuzco.  If you are going to do a stopover in Cuzco, I advise you do it on the return.  Cuzco is at very high altitude and unless you are already acclimated to high altitudes, you may suffer from altitude sickness which can leave you feeling lethargic and ill for days.  There are medicines to combat that, but I prefer to err of the side of caution as I know that I personally don't deal well with high altitudes.  Here are the flight schedules on LAN Peru (One World) and Avianca/Taca (Star Alliance).  If you used One World or Star Alliance miles, these flights will have been included in your ticket.  If they weren't, this is a typical situation when it is nice to have some BA Avios on hand for a cheap 4500 Avios redemption.  Later on, I will go into more detail about this but you can always ask in the comments if you need info urgently.  Depending on the rules of your airline's FF program, you may be able to book the whole trip as a RT from your home to Puerto Maldonado with a stop in Cuzco or as an open jaw Home-Puerto Maldonado /-Cuzco-Home and buy a separate ticket between Puerto Maldonado and Cuzco.  As you can see, most flights are very early in the morning, making it well worth getting those Wyndham points so you can use the airport hotel.  I won't show fares here as they vary widely but be aware that the cheapest fares are usually for Peruvians only.  Use miles!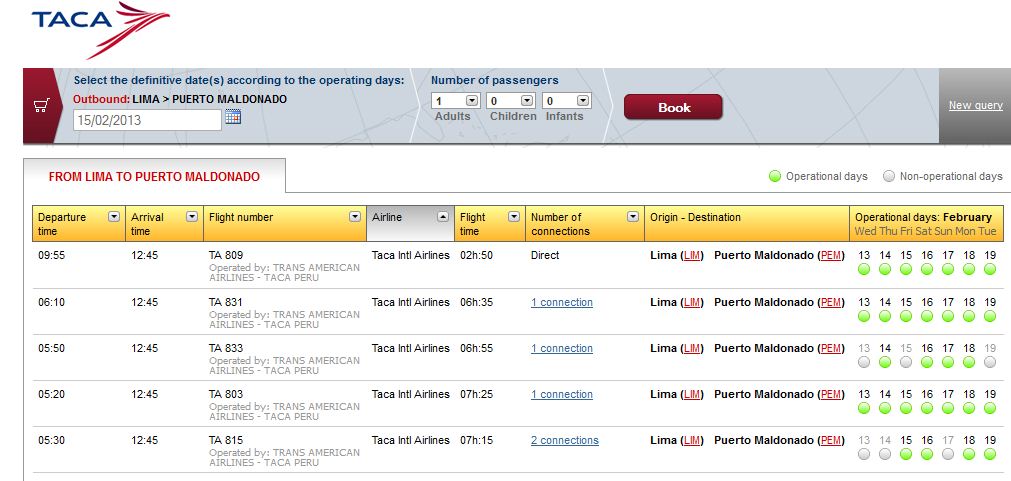 BUT IT'S SO CLOSE TO CUZCO, CAN'T I TAKE A BUS?
Yes, you can take a bus between the two and many backpackers do choose this option because buying flights can be very expensive.  The trip will take between 12-20 hours depending on if you go in the rainy season or not.  Just be grateful you have miles! 😀
WHAT PARROTS CAN I SEE IN THE TAMBOPATA NATIONAL RESERVE?.
Blue-and-yellow Macaw  (Ara ararauna)
Scarlet Macaw   (Ara macao)
Red-and-green Macaw                 (Ara chloroptera)
Chestnut-fronted Macaw  (Ara severa)
Red-bellied Macaw  (Orthopsittaca manilata)
Red-shouldered Macaw  (Diopsittaca nobilis)
White-eyed Parakeet    (Aratinga leucophthalmus)
Dusky-headed Parakeet   (Aratinga weddellii)
Peach-fronted Parakeet  (Aratinga aurea)
Black-capped Parakeet(Pyrrhura rupicola)
Blue-winged Parrotlet   (Forpus xanthopterygius)
Dusky-billed Parrotlet    (Forpus sclateri)
Cobalt-winged Parakeet  (Brotogeris cyanoptera)
Tui Parakeet       (Brotogeris sanctithomae)
Amazonian Parrotlet      (Nannopsittaca dachilleae)
Scarlet-shouldered Parrotlet      (Touit huetii)
White-bellied Parrot   (Pionites leucogaster)
Orange-cheeked Parrot      (Pionopsitta barrabandi)
Blue-headed Parrot   (Pionus menstruus)
Yellow-crowned Parrot     (Amazona ochrocephala)
Orange-winged Parrot   (Amazona amazonica)
Mealy Parrot      (Amazona farinose)
WHAT ABOUT OTHER BIRDS?
WAY too many to copy here, but I found a good comprehensive list online.  Some of the most highly sought-after birds are the toucan species:  Channel-billed and White-throated Toucans, Chestnut-eared Aracari, Curl-crested Aracari, Emerald Toucanet and the Golden-collared Toucanet.  Raptors include:  Harpy Eagle, Bat Falcon, Gray-lined Hawk, Great Black-Hawk and Roadside Hawk.  And there there are numerous species of Tinamou, Caracara, Owls, Nightjar, Kingfishers, Tanagers, Mot-Mots, Trogons and the enigmatic Hoatzin (Opisthocomus hoazin) just to name a few!
MAMMALS
Monkeys are always popular and fun to watch.  Tambopata has several species:  Brown Capuchin, Dusky Titi Monkeys, Red Howler Monkeys and White-bellied Spider Monkey.  If you are REALLY lucky, you may see a Jaguar!  You are much more likely to see Giant River Otter, Capybara, Brown Agouti, Armadillos, Peccaries and Brown-throated three-toed sloth.  A more comprehensive list can be found here.
In the next post, I will show you what kinds of lodges are in the Tambopata National Reserve, how to choose one and show options for all budgets.
OTHER POSTS IN THIS SERIES
Review of Refugio Amazonas and Tambopata Research Center