As I mentioned in yesterday's post, we are going to build a sample trip step by step that will ultimately get us to the birder's paradise of the Tambopata Research Centre.
In most cases, you will arrive in the gateway city after a long, tiring flight.  Maybe a little less tired if you were in business class!  If you are lucky, you may be able to connect straight through to your destination, Puerto Maldonado; but more often then not you will have an overnight layover either before or after the trip.  Here's how to find an overnight hotel and pay for it with your hotel points so you have more to spend on ecotourism.
First, get familiar with the major hotel chains as some of them have more than one brand.  I have a chart to help you out.  Then go to Google maps and type in Lima Airport.  Look for hotels in the immediate vicinity of the airport.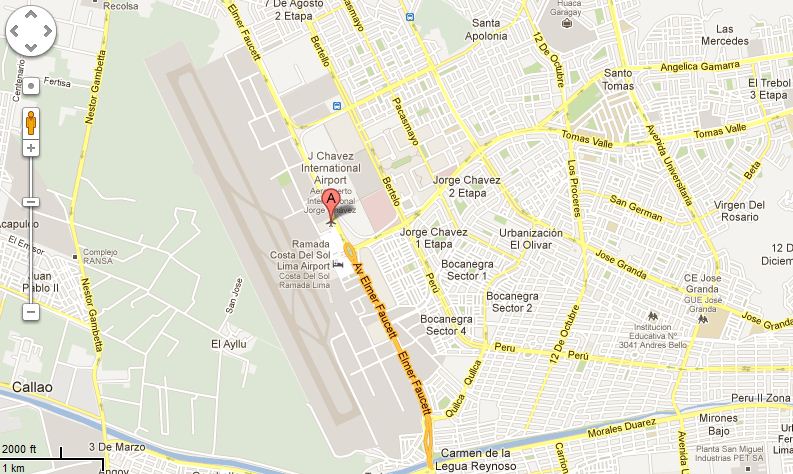 BINGO!  There's a Ramada right there at the airport!  So how many points do you need?  I plugged in some random dates.  Wyndham is unusual in that you can't book the reward night online, you have to call them but if you have 30,000 points you're sorted for the night and only a short walk to the airport the next morning.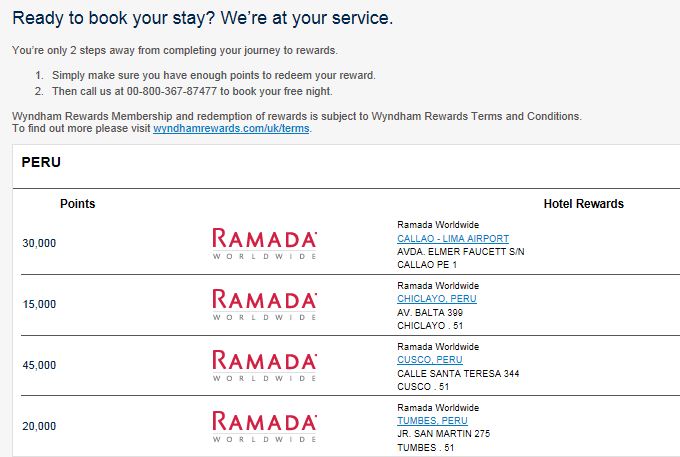 So what if you don't have Wyndham points?  Try some different chain websites for hotel programs you do have points in.  Since we are planning pretty far in advance, you would also have time to build up your points account.  These hotels aren't near the airport but luckily taxis are pretty cheap in Lima.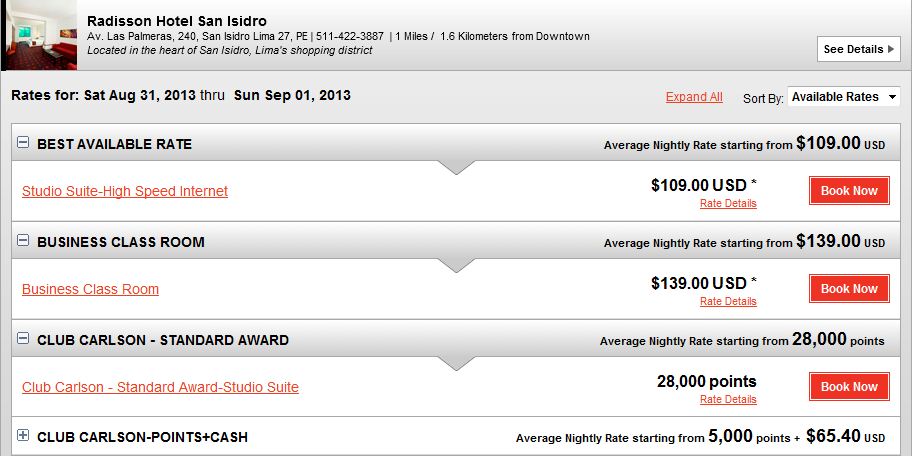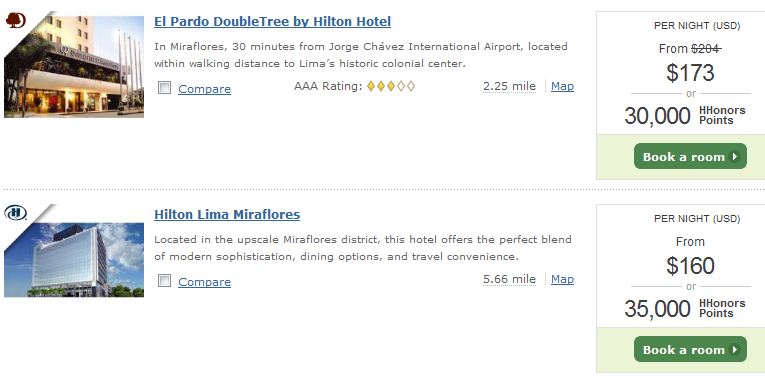 What's that?  You don't have any hotel points at all?  You can still participate in a rewards program such as Hotels.com's Welcome Rewards.  10 paid nights gets you a free night based on the average cost of the 10 nights you booked to earn it.  So go to www.hotels.com, type in any random date and look at the results.  Use the map view to see which options are close to the airport, for our purposes we just need somewhere safe and convenient.  You will find a variety of accommodation ranging from backpacker cheapies at $20ish up to 5 star hotels.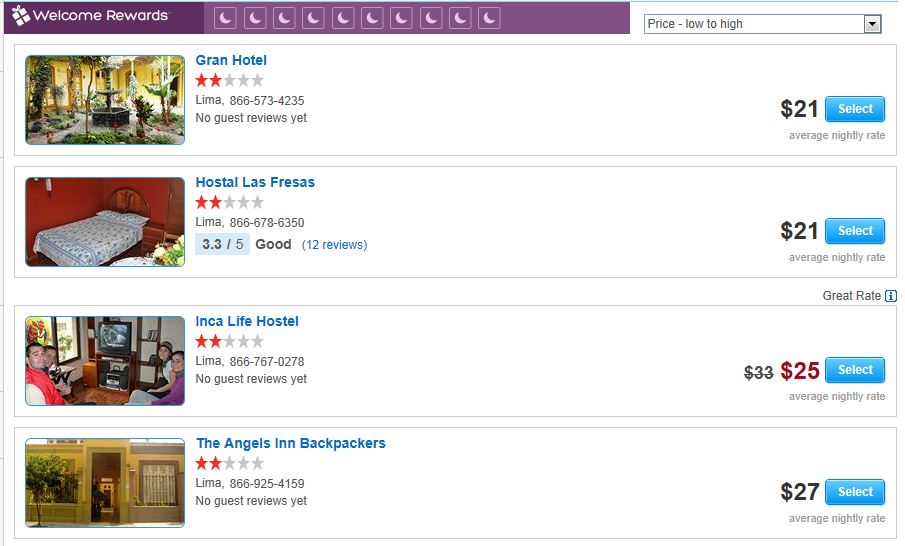 It's actually a pretty long list so I can't put it all here but have a look for yourself.  What I do is use the map to get as close as possible to the airport or if I have to stay downtown, I will go middle of the range.  I also make use of Trip Advisor to check out the hotel reviews by other people who have stayed there.  Start at the top with the top-rated hotels and scroll down until you see something in your price range.  $67?  Looks promising, let's have a closer look.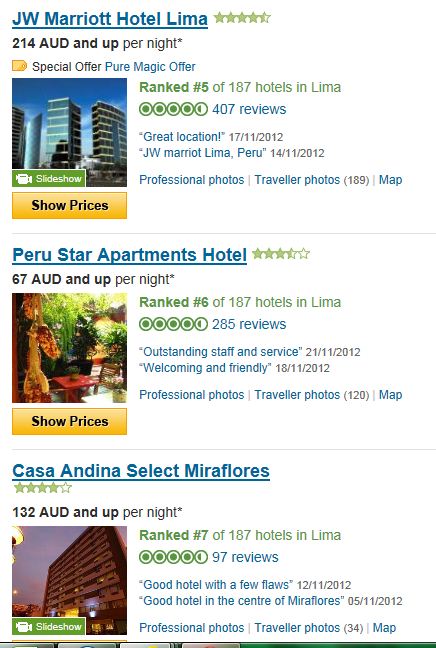 It looks pretty good.  I read a few reviews and most people seemed to like it.  It's not near the airport but like I said, taxis are cheap.  I'd feel comfortable staying here.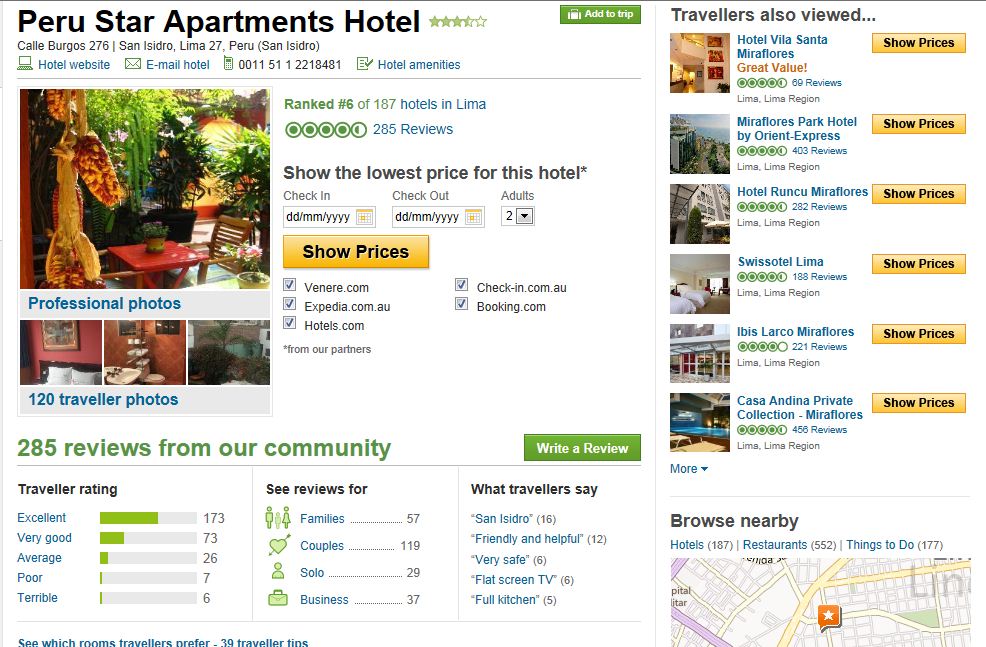 That's it for today.  Get a good night's sleep because tomorrow we will finally reach the lodge we've chosen and the adventure begins!
OTHER POSTS IN THIS SERIES
Review of Refugio Amazonas and Tambopata Research Center