Last week, I did a comprehensive post on all the lodges that are available in Tambopata National Reserve.   I have only been to two lodges so in the other post, I was only able to assess the lodges by their websites and what other had said about them on Trip Advisor.  Now I can give a more personal review.  I am reviewing these two lodges together as they are part of the same group and if you visit Tambopata Research Center (TRC), you will have one night at either Refugio Amazonas or Posada Amazonas before and after the TRC trip because it is a LONG way down the river!
The journey to get there is half the fun and the birding begins right away!  I have a full account on my main website Feathered and Free which actually reads more like a blog post so I won't copy everything again.  The service was amazing from the moment we were picked up at the airport in Puerto Maldonado, given our safety gear and leaf lunches to the nature walks and birding.  Our guide, William was well trained, knew all the species and had a good eye for spotting them.
The lodges were both beautifully laid out and in harmony with the rain forest.  What I really love is how the rooms are open to the jungle and you can see and hear everything that goes on 24 hours a day!  Mosquito nets are provided and we found the beds very comfortable.  People are warned not to leave personal effects and food out as macaws and monkeys can and will take anything they find. Meals are done buffet style and the food was excellent!  We were amazed at how they could cook the variety of dishes they did out in the middle of the rainforest!  There is a well-stocked bar and library where you could take a book and relax in a hammock during the siesta time.
Macaws can and do come into the rooms!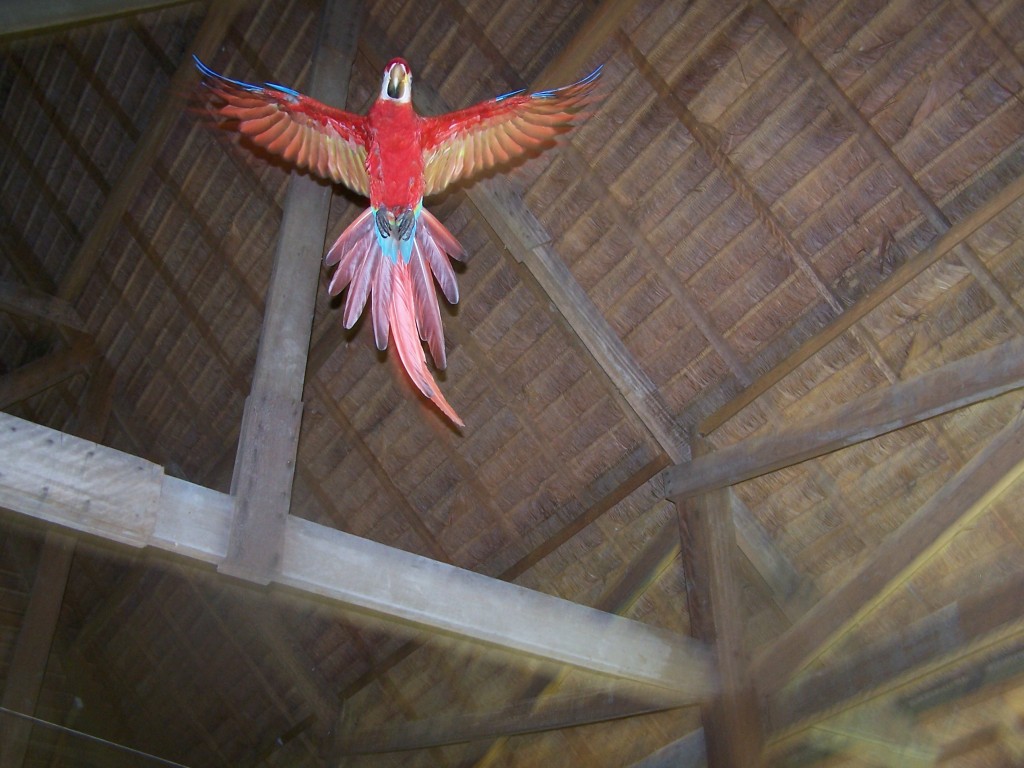 At TRC, there are several semi-tame Scarlet Macaws that were rescued from nests in cases where the parents weren't feeding them.  This often happens with a 2nd chick, the parents sometimes neglect the younger in favor of the elder one.  These semi-tame macaws are called "Chicos", and they would not be alive today if they hadn't beed rescued and fed by researchers.  Although they are totally wild and free, they have come to realize that free food is a good thing, so they usually come around at breakfast time hoping to steal as much from the buffet and people's plates left unattended as possible.  It's quite hilarious as they are experts at faking out the lodge staff and work in teams to distract the staff while their mate swoops in to steal something!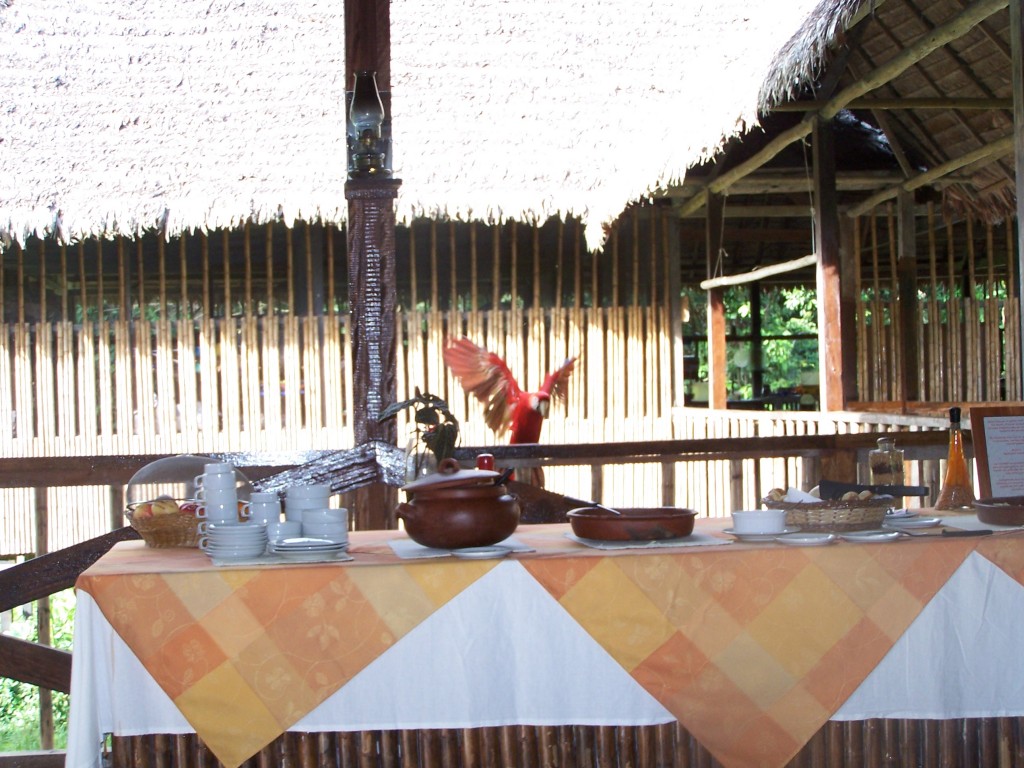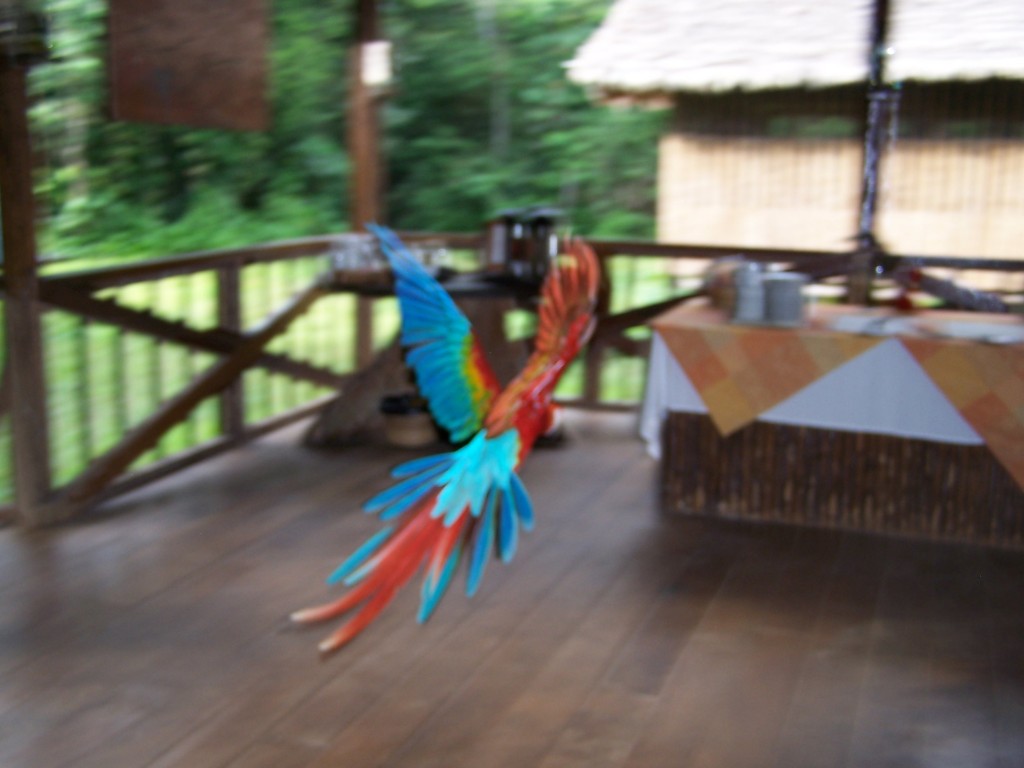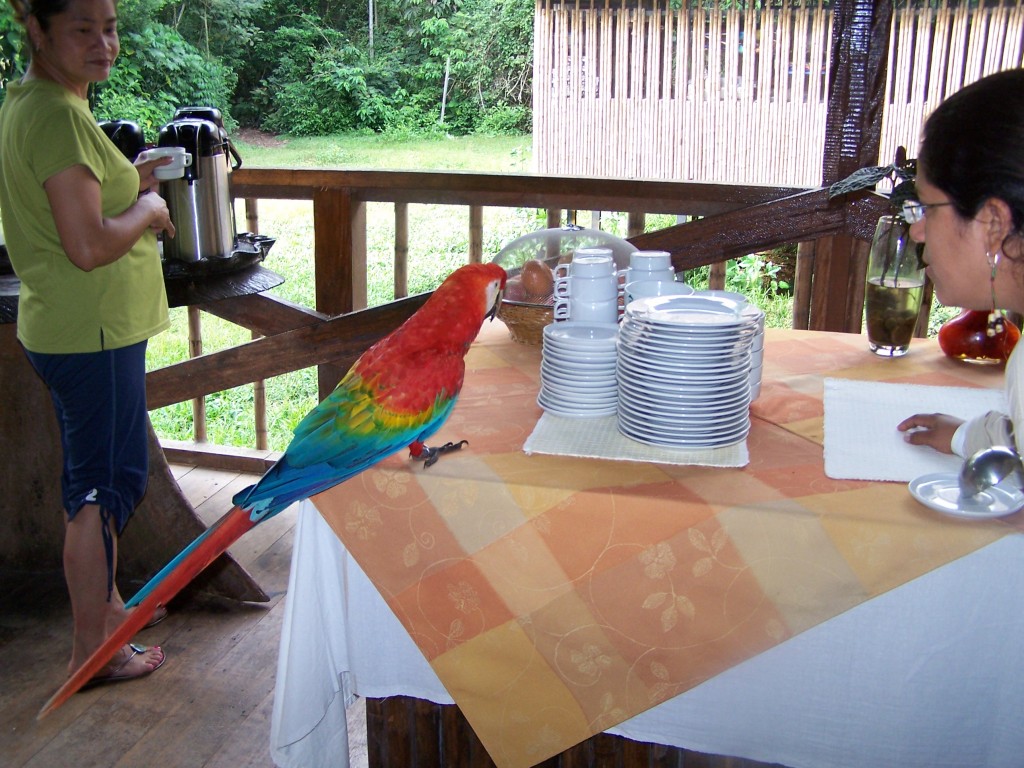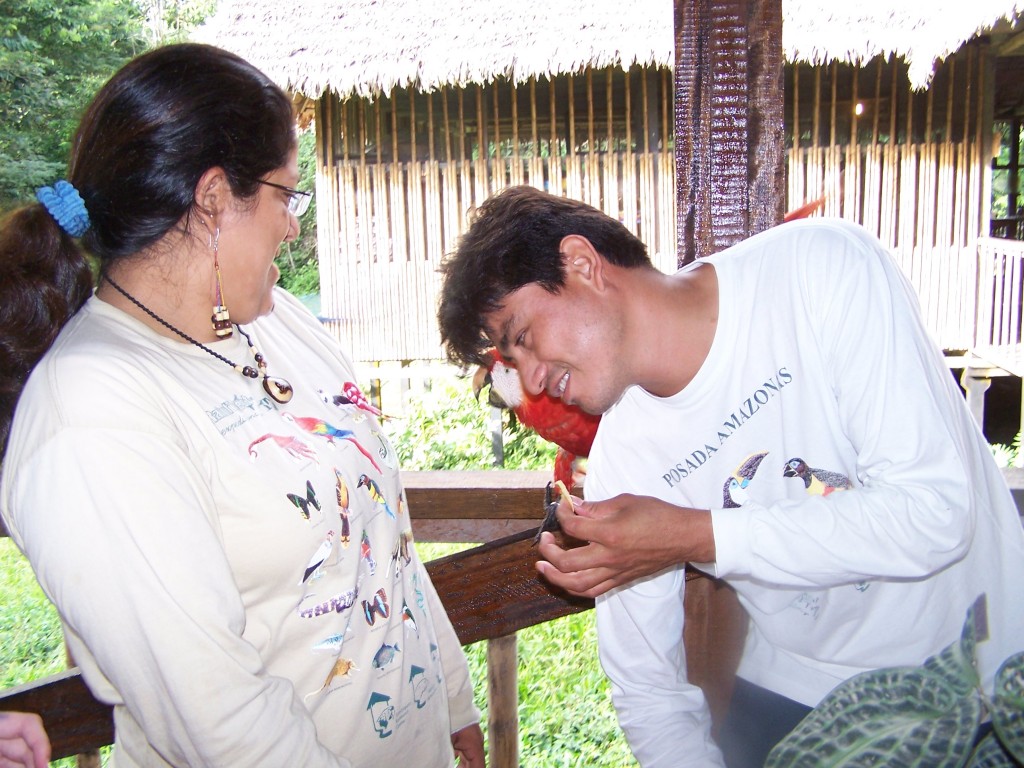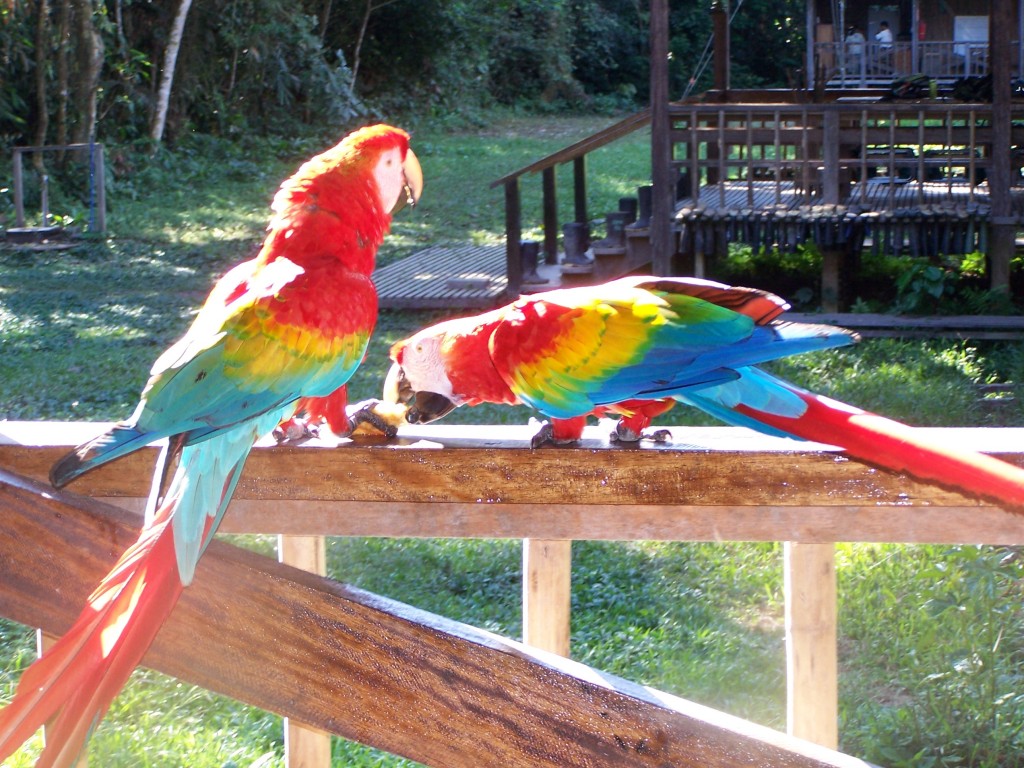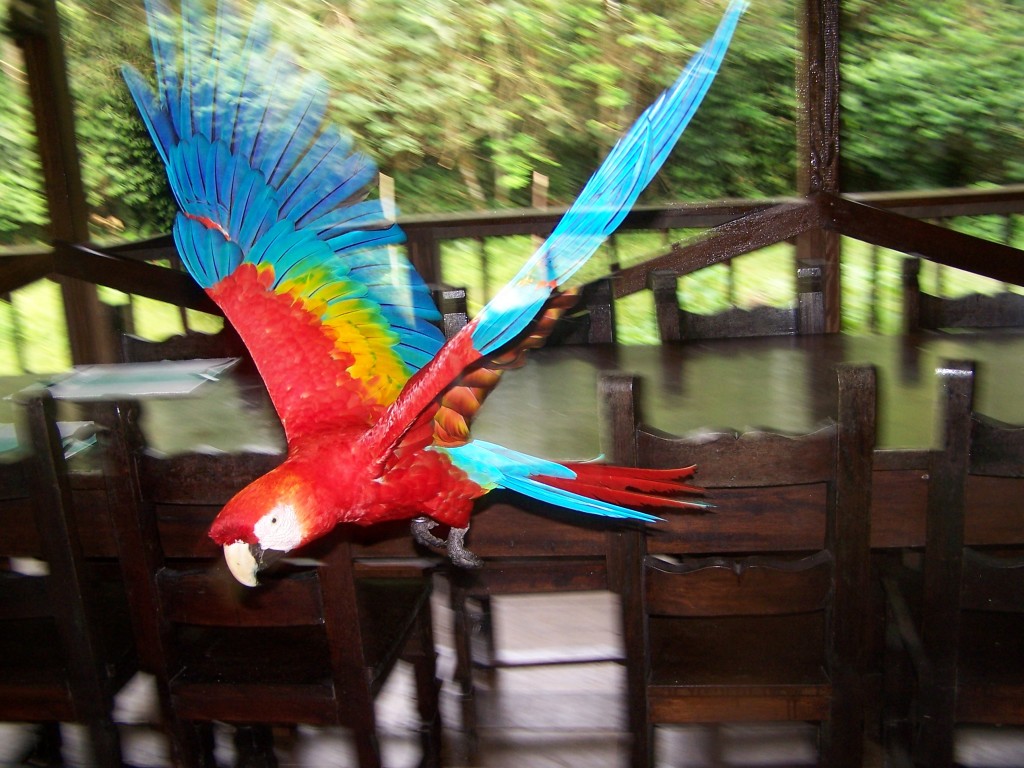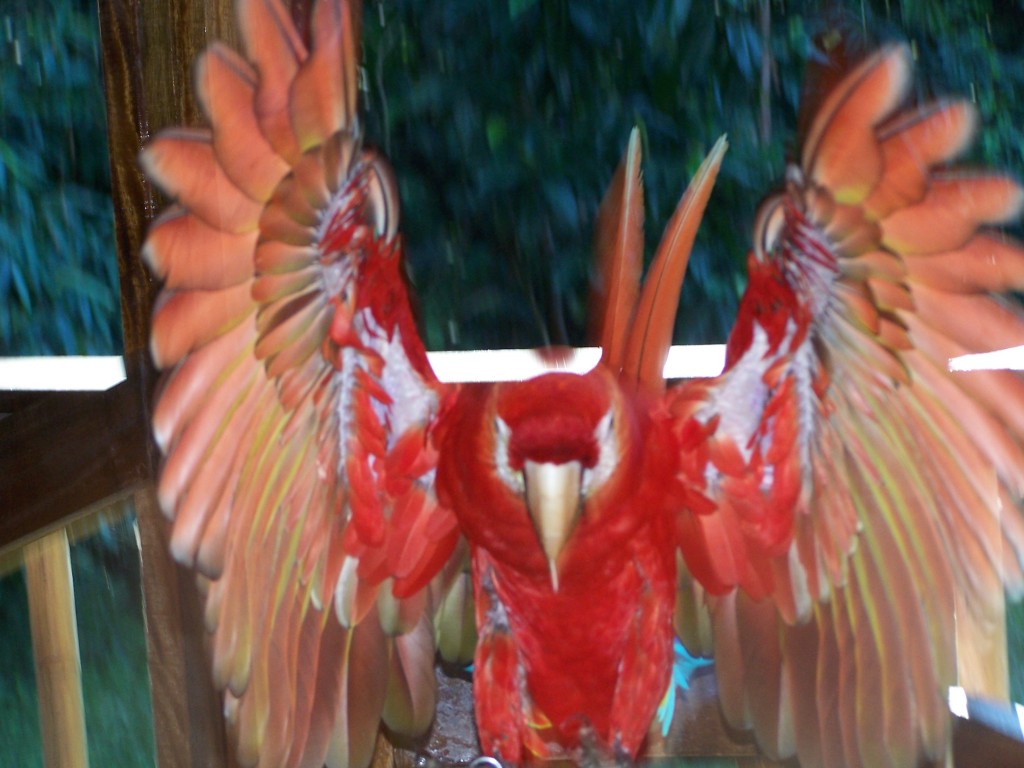 VIDEO CLIPS!
TRC will give you a lifetime of memories and if you do stay here, the only thing you will regret is that you didn't stay longer!
OTHER POSTS IN THIS SERIES