When deciding on an eco-lodge, there are many things to consider as I wrote HERE.  Once you decide on your priorities, Tambopata National Reserve has something for just about everyone!  When reading Trip Advisor reviews, I tend to ignore anything written by someone who has only one review as they may not be completely objective.  Pay attention to what species people report seeing at the lodges.   Some people who seem to be ill-prepared will complain about mosquitoes and other bugs but hey, it's a jungle out there!  What do you expect?  All the lodges will have bird species lists but they are accumulated over time so you want an idea what to expect from a shorter visit of 3-7 days.
In Alphabetical Order
This is one of the cheapest lodges in Tambopata so a good choice for budget travellers and backpackers.      Not near a clay lick.  This is not a place for serious birders but they seem to provide a nice jungle experience at a great price and the few reviews on Trip Advisor are positive.
You can't go past a recommendation from National Geographic!     Located in a national park that is the meeting of three major ecosystems: lowland Amazon forest, Andean foothills, and savanna. The rainforest retreat, built in part from certified forest wood, relies on solar panels and candles for light. It is a short walk from an oxbow lake, home to giant river otters, tiny tamarind monkeys, and hundreds of bird species. The lodge and its surroundings are pure Amazon, basic in design with fauna all around. Resident naturalists provide fine insight. 30 rooms; from $230, two-night minimum, all-inclusive.
They have a very impressive research and conservation program!    From its inception in 1976, the Explorer's Inn has played a central role in the effort to preserve the stunning natural environment of Peru's Madre de Dios province and to support research in the field of tropical rainforest conservation biology. Our company was among the first to adopt the practice of ecotourism in the region and promote the concept of conservation to its communities. Indeed, it is largely thanks to the efforts of many people at the Explorer's Inn, including the staff and numerous scientists who have conducted groundbreaking fieldwork from here, that Tambopata National Reserve and Bahuaja-Sonene National Park were established by the Peruvian government, protecting more than 1.3 million hectares of Amazonian rainforest.   The Explorer's Inn donates on average one quarter of its bed/nights to our Resident Naturalist Programme, allowing researchers at the Masters level and above to carry out fieldwork in the life sciences, including botany, ecology, entomology, herpetology, primatology, and ornithology. In addition to their academic research, our Resident Naturalists have also become involved in conservation work including through the Tambopata Reserve Society (TreeS), a NGO founded by former Resident Naturalists in the UK, raising funds and providing expert advice to local communities on sustainable development within the rainforest.
The 7 day birding tour looks really good although you don't get guided walks with the naturalists every day, some days are on your own to explore.    The prices are some of the lowest for this area so you are getting a bargain!     This blog has a great report of a trip there in August 2012 with lovely photos but they did have some complaints about not having access to the top of the canopy tower.   I would email Explorer's Inn and make sure that you would have full access to the Canopy Tower before booking.    With rave reviews on Trip Advisor, I'd say you can't go wrong here, especially for the price!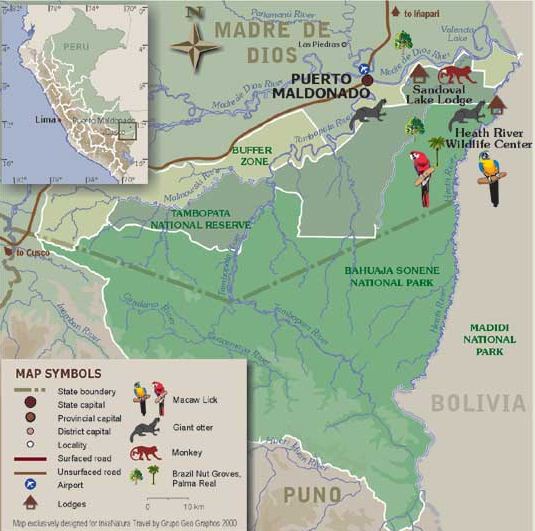 They have two lodges in the Tambopata area:  Sandoval Lake Lodge (SLL) and the Heath River Wildlife Center (HRWC).  The location makes it ideal for a shorter trip, they even have a one-night trip; but in my opinion if you are going  to fly all the way to Peru, stay at least 4 nights to see more wildlife!  The Heath River features the world's most accessible large macaw lick, which has registered up to 260 large macaws in one day, making it one of the five largest recorded macaw licks in the world.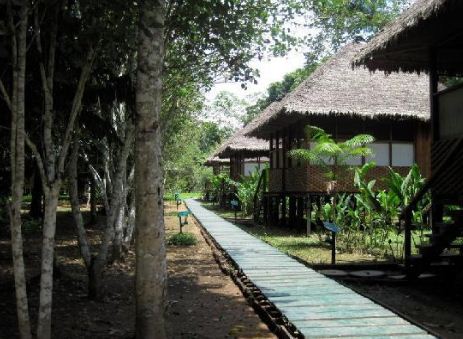 Though all five of these licks are spectacular, the Heath Lick is by far the most economical to visit, making it ideal for a short Amazon itinerary to combine with the Inca sites of Cusco and Machu Picchu. The Heath lick is the only one of the five that can be reached the same day that you fly by jet from Cusco, thus saving one or two nights over other licks.   They have special birding tours led by some of Peru's top ornithologists.  Although we didn't get to visit HRWC on our last trip, this is definitely one I would consider in conjunction with TRC to get a wider perspective of Tambopata.  People on Trip Advisor speak highly of both Heath River Wildlife Center and Sandoval Lake Lodge.
The most expensive and luxurious of the Tambopata eco-lodges, Inkaterra even has a spa package!    This probably won't sway the more dedicated birders unless you have a spouse who is reluctant to visit the rainforest and needs some persuading.  This place would suit honeymooners who want  a romantic rainforest retreat and aren't too fussed about what wildlife they see.   They also accept families and cater to children from 5 years and up.     The canopy treehouse is beautiful!      This is one of three lodges recommended by National Geographic.
They have a wide range of guides who seem well qualified but you should request one who specializes in parrots as not all of them do.     Based on the location they don't seem to be near any macaw clay lick.   "From Puerto Maldonado Airport, check-in at the Inkaterra Butterfly House, then 10 minute transfer to the Jetty Port for a 45-minute boat transfer along the river to the Lodge."    I would recommend this lodge for honeymooners and soft adventure but not for serious birders.  Reviews on Trip Advisor are mixed, some love it, some don't.
This was my choice for the trip we did in 2007 and I couldn't have been happier!  They have 3 wonderful lodges (which I will write separate reviews for):  Refugio Amazonas, Posada Amazonas and the world-famous Tambopata Research Center which is located near the largest known macaw clay-lick in the Amazon.  They have a wide variety of packages at surprisingly reasonable costs, including one especially for parrot lovers!  We did the 5 day 4 night package in 2007 but if we went back, I would want the Parrot Lover's package for sure.  The one drawback to the shorter packages is you may get people with only a passing interest in birdlife and would rather chatter amongst themselves than stay silent and listen for bird calls.  We did have a problem with a chatty couple in our group so next time, I would want to be with people who are focused on the birds.  Recommended by National Geographic!
Sustainability is a top priority here.   Because the locals are co-owners of the lodges, they are highly motivated to preserve and protect their wildlife.  TRC is home to the Tambopata Macaw Project which has researchers and field biologists studying the birds.  Many of the in-house guides will be volunteers with the project who have been there a few months and had intensive training on the local wildlife.     Since we stayed here, I will go into more detail in the individual lodge reviews. (link to follow)   I am not the only one who loves these lodges as you can see on Trip Advisor's reviews of Refugio Amazonas, Posada Amazonas and Tambopata Research Center.
Founded back in 1991, the Tambopata Eco Lodge is one of the most established eco-tourism lodges on the banks of the Tambopata River. There are now a total of nine rainforest lodges in the Puerto Maldonado area, reinforcing the status of the region as one of the major rainforest eco-tourism destinations in South America.
With a capacity of 59 it is also one of the smallest lodges, which is how we intend to keep it. Smaller groups, we believe, contribute to a more fulfilling visit and reduce the impact on the many species of fauna that abound in the surrounding forest.
The lodge employs around twenty Peruvian staff, the majority of whom are resident in Puerto Maldonado. In addition, there are a number of naturalist guides, both from Peru and abroad, who are at your service throughout your stay. As well as guiding and introducing visitors to the many marvels of the forest, a number are undertaking research projects, thereby contributing to a greater ecological understanding of the area.  The package rates are comparable to other lodges in the area.    I can't see where they have any special research programs going on or where their naturalist guides are from.  They do get excellent reviews on Trip Advisor but seem more suitable for a general rainforest experience than for people who are interested in macaws and other parrots.
They have excellent last-minute bookings at very good prices which will appeal to backpackers who don't like to book things in advance.    One thing that stands out is that there is a 4km hike to the lodge but they provide porters.  They do include a visit to Macaw Clay Lick "El Chuncho" in the Bahuaja-Sonene National Park in their 3 night 4 day program.  They also offer educational programs and accept volunteers.    Very positive reviews on Trip Advisor and several people recommend the guide Jorge.
****************************************************
There are probably other lodges that I didn't get a chance to cover.  As you can see, some lodges will appeal to budget travelers or backpackers who just want a rainforest experience and don't have their hearts set on seeing any species in particular.  Other lodges cater to more serious birders and will do all they can to help you find the species you want to see.  Of course no wildlife is guaranteed but the macaw clay licks are a pretty sure bet to see LOTS of macaws and other parrots!
If you find any other lodges and would like my advice about it based on how they present themselves online, please give the link in the comments.  My pick if we were to go back—hands down Tambopata Research Center!  We loved it the last time and I love that they are so committed to conservation.   Heath River Wildlife Center and Explorer's Inn also are stand-outs by my priorities of conservation efforts, birding and macaw clay lick.  None of these are the cheapest lodges, nor are they the most expensive but I don't think for a serious birder Tambopata is a good place to economize.
OTHER POSTS IN THIS SERIES