TAME is not part of any airline alliance so you have to buy these tickets online with a credit card.  Luckily, they are not expensive!   TAME flies to certain destinations like Loja (closest airport to Podocarpus & Buenaventura) and other eco-tourism hotspots like Coca for the Amazon and the Galapagos.
Keep an eye out for sale fares like this one.  Would you rather take a one hour flight or a 10 hour bus ride with prices like this?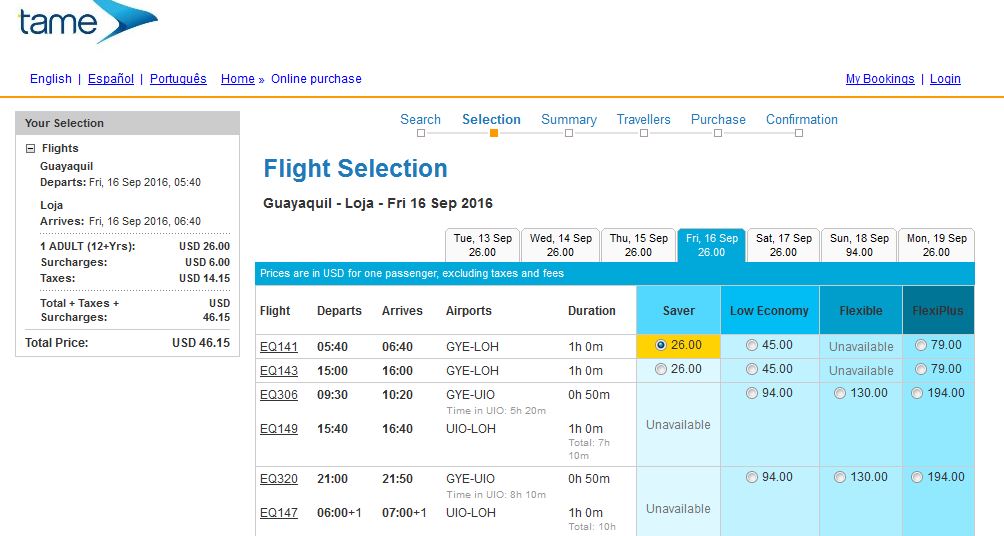 It's a pretty user-friendly airline.  I printed our boarding passes the night before at the Holiday Inn in Guayaquil and the flight actually left on time!  The planes are small but I prefer smaller planes with 2×2 rows rather than larger planes with 3×3 rows where a couple has to sit with a stranger.
When you buy your ticket, you may see a notice that you have to show the original credit card you use to purchase the ticket.  On our flight, no one asked us.  We didn't have checked bags and they just compared our passports to the printed boarding pass.  It's probably a good idea to bring the credit card along just in case though!
The overheads were a tight squeeze for our backpacks which are normal carry-on sized but we managed to squish them in as they weren't full anyways.