The area around Mindo in the western Andes of Ecuador is rich in birdlife and you could easily spend several weeks here visiting all the different birding hotspots.  Unfortunately, most of us don't have that kind of luxury and have to pick a few hotspots based on target species.  I use eBird a lot to track other peoples' sightings and see data on the hotspots so I can make choices that cater to my interests.
GETTING FROM THE AIRPORT TO MINDO
If you fly into Quito, the easiest way to get to Mindo is by official taxi which you can book in the arrival hall.  They even take credit cards!  The fare was $95 which seems high but it's a 2.5 hour trip and the driver has to return empty.  If we had arrived earlier in the day, we probably would have taken the bus but as it was, we arrived around 5:30pm.
I had looked at rental cars but decided against it as I was worried about road conditions and the cost of an automatic SUV would have been more than using a combination of taxis and buses.  The route gets very twisty & mountain-y once you get past the Mitad del Mundo monument.
There's no need to spend a night in Quito unless you arrive so late at night you can't get to Mindo unless you particularly want to see the city.  Since we had limited time, I just wanted to get to the birds asap!
If you do choose to stay in the city, you can economize by taking a bus to Mindo for around $2.50.  Keep an eye on your bags, preferably with you on the bus!
Flor del Valle has direct buses from northern Quito's Ofelia bus station:

During the week: 8:00, 9:00, 16:00
Saturdays: 7:40, 8:20, 9:20, 16:00
Sundays: 7:40, 8:20, 9:20, 14:00, 17:00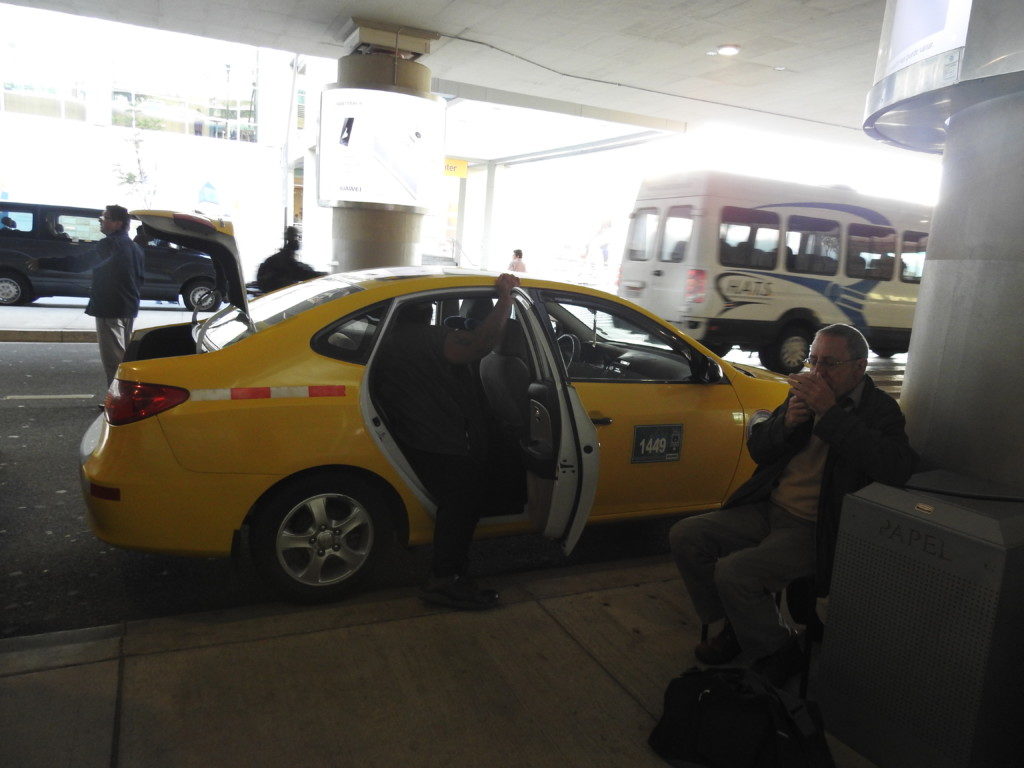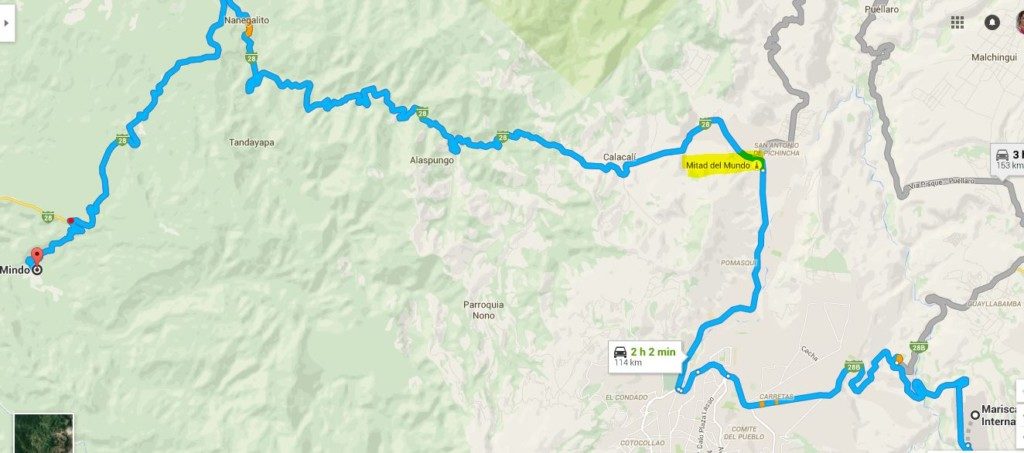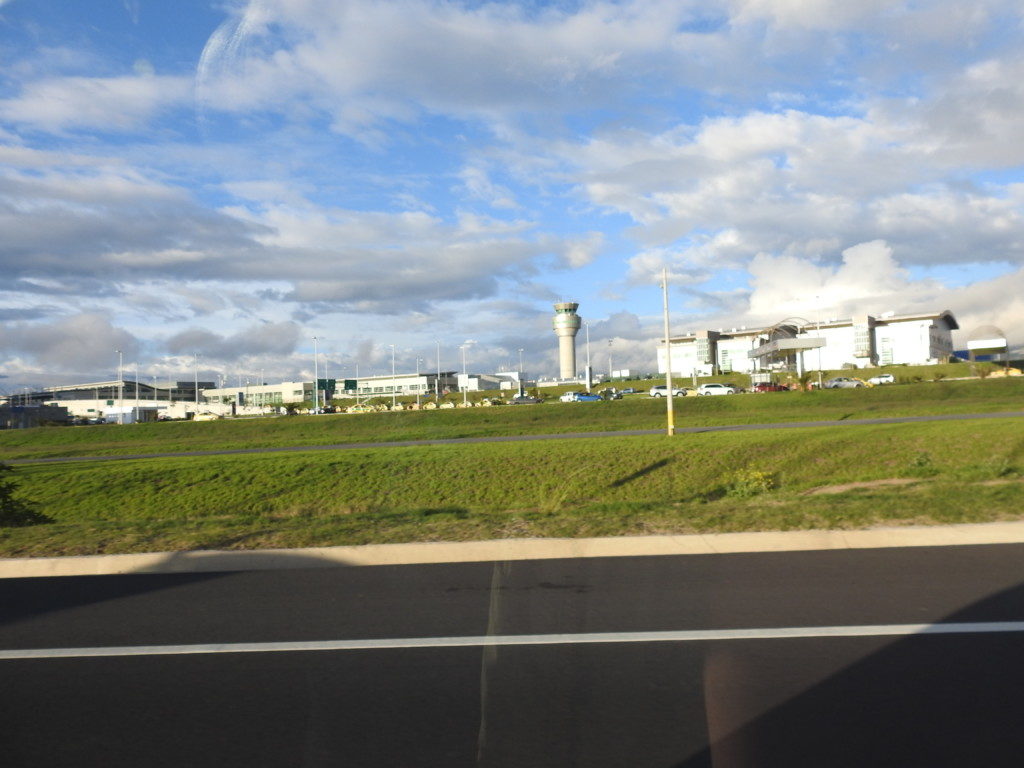 We passed some toll roads but these were included in the fare.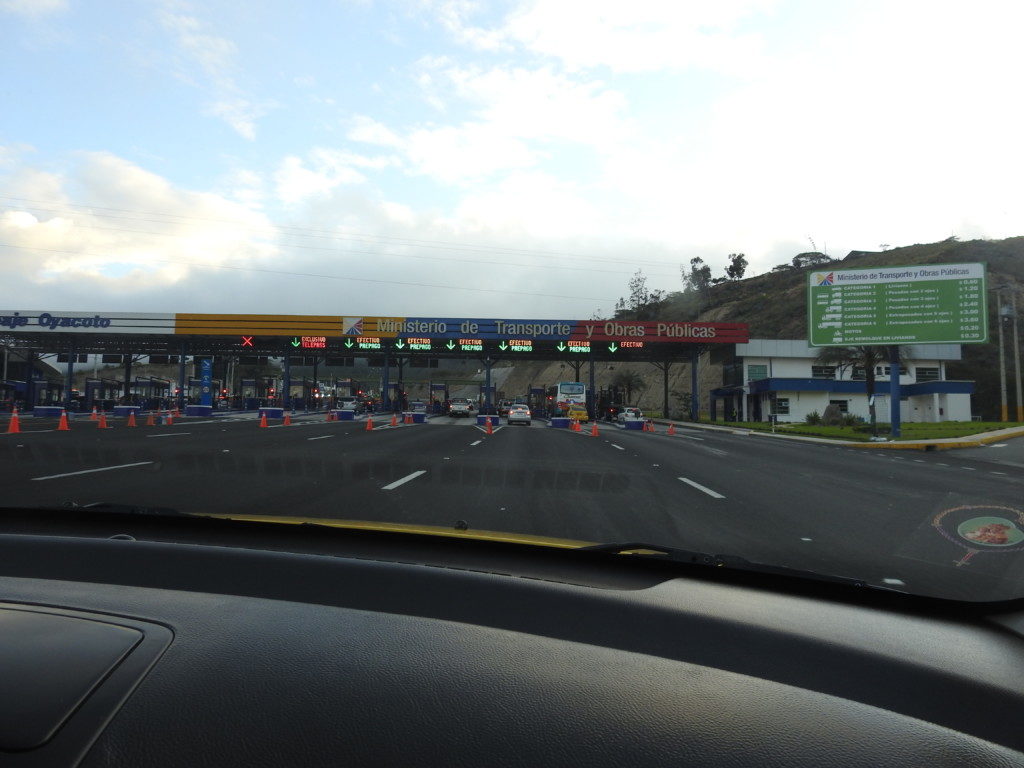 Even though we skirted the perimeter of Quito, we still caught the evening rush hour.  Scenery was pretty cool until it got dark.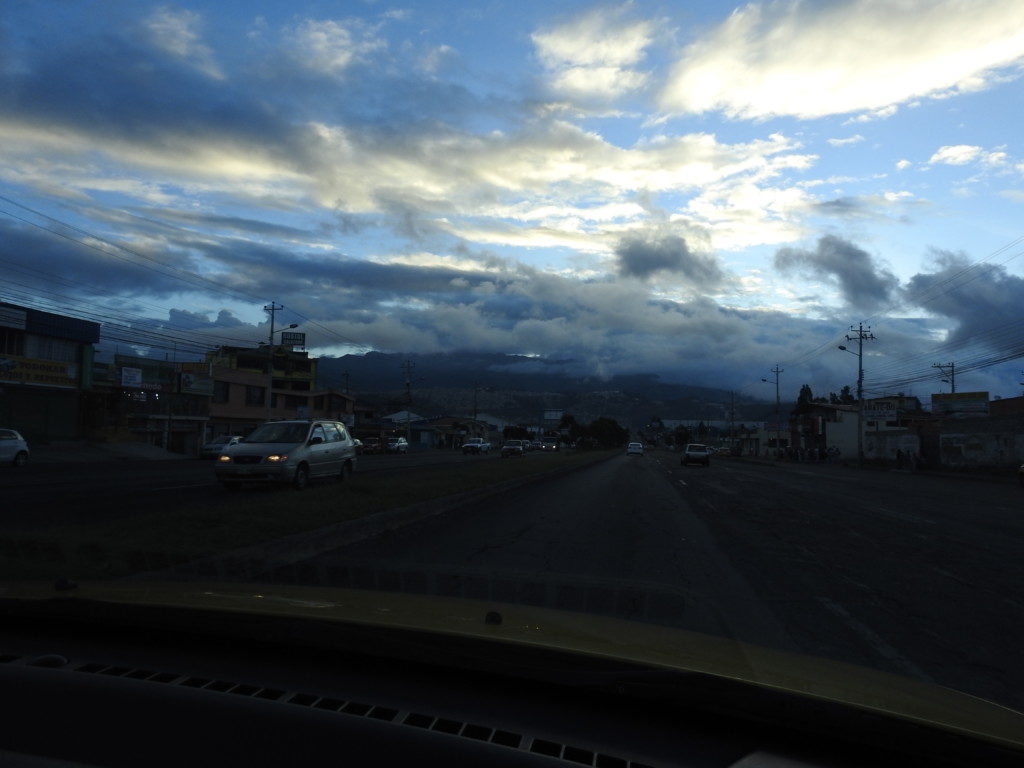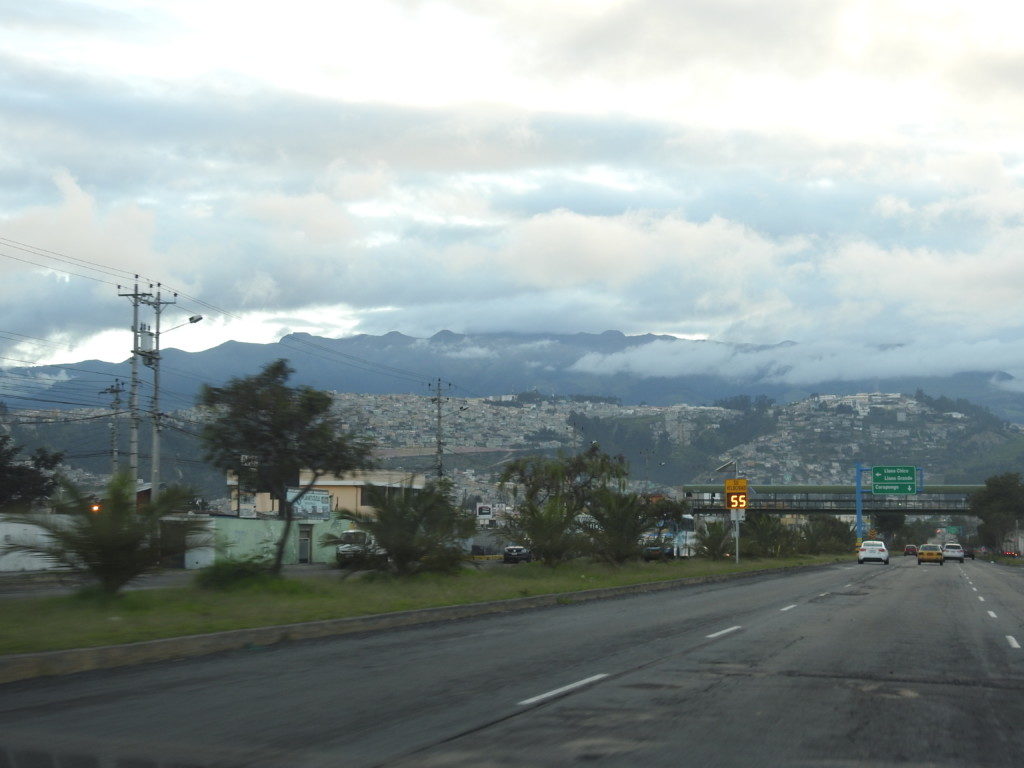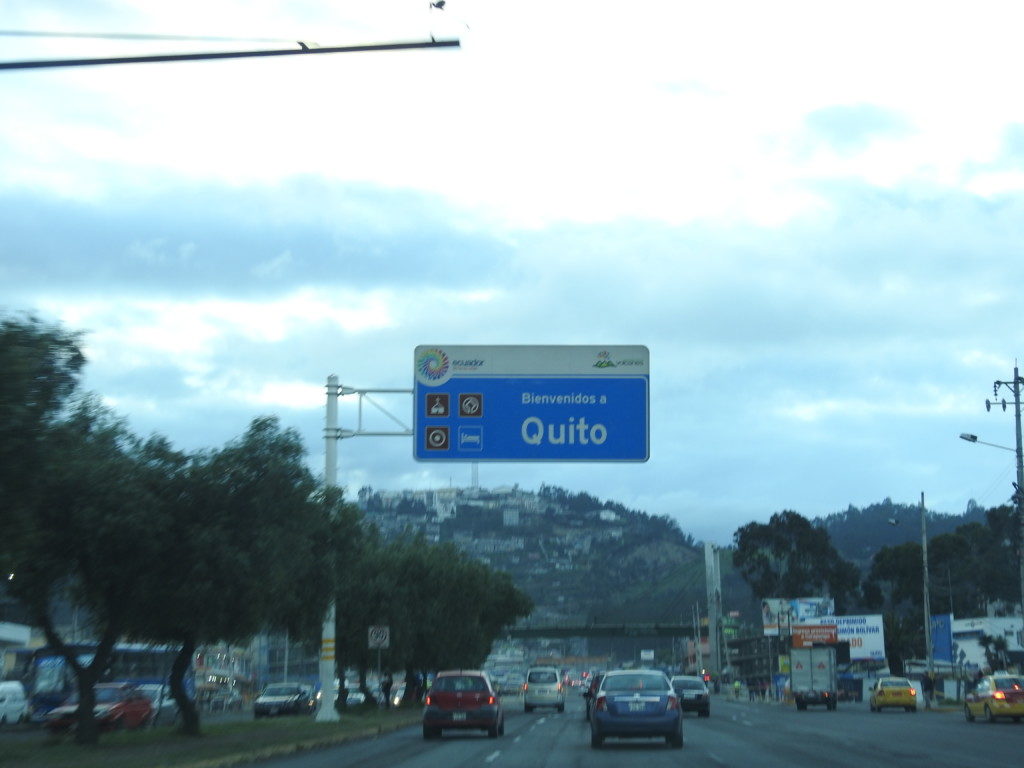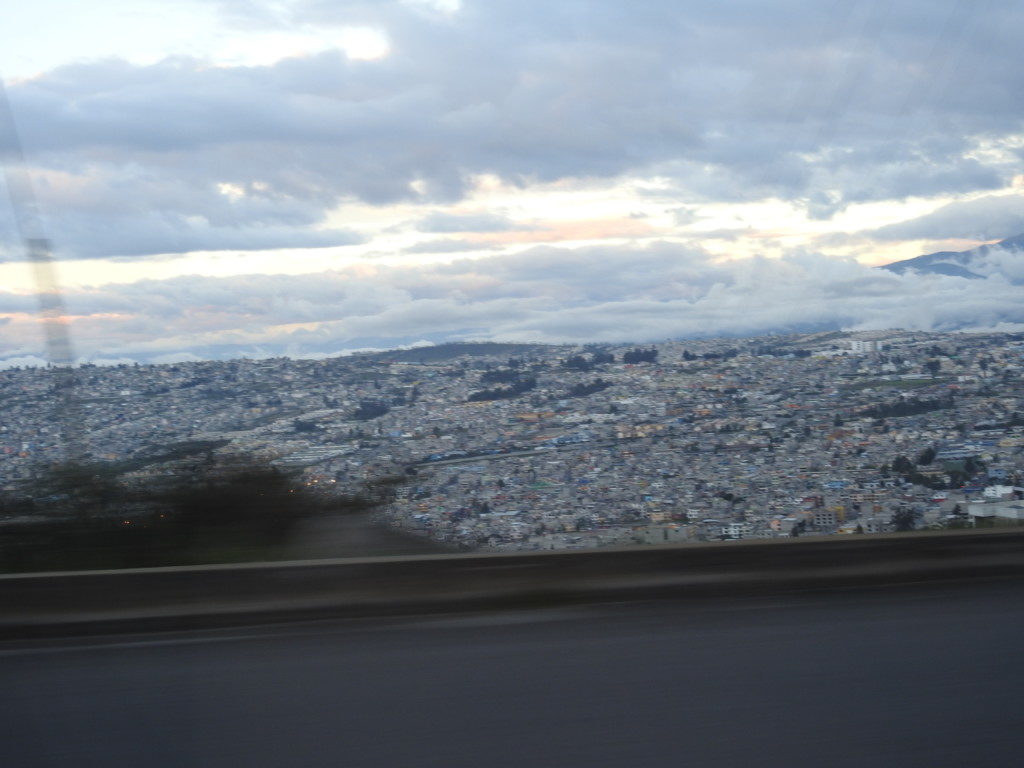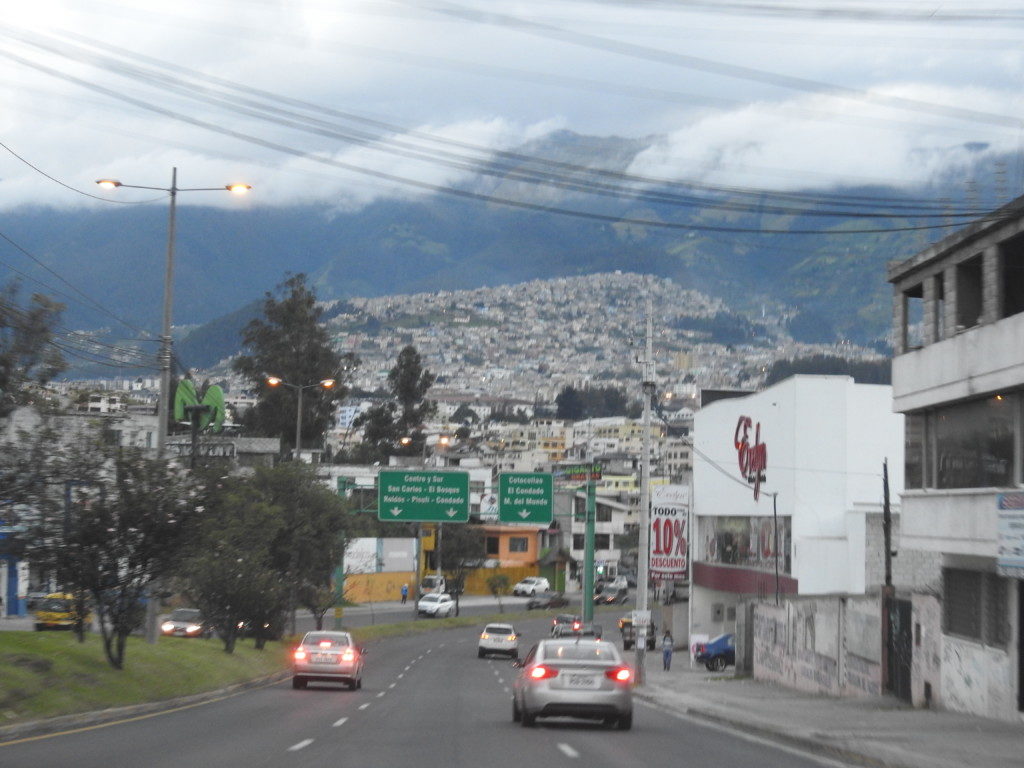 Once we got past the city, we were hungry so asked the driver to stop at a roadside cafe where we bought sandwiches, chips & drinks.  I knew we would be up at 4:30am the next day so wanted to eat in the car so we could sleep as soon as we checked in.  We bought the driver dinner as well but the whole bill came to around $15 so no biggie!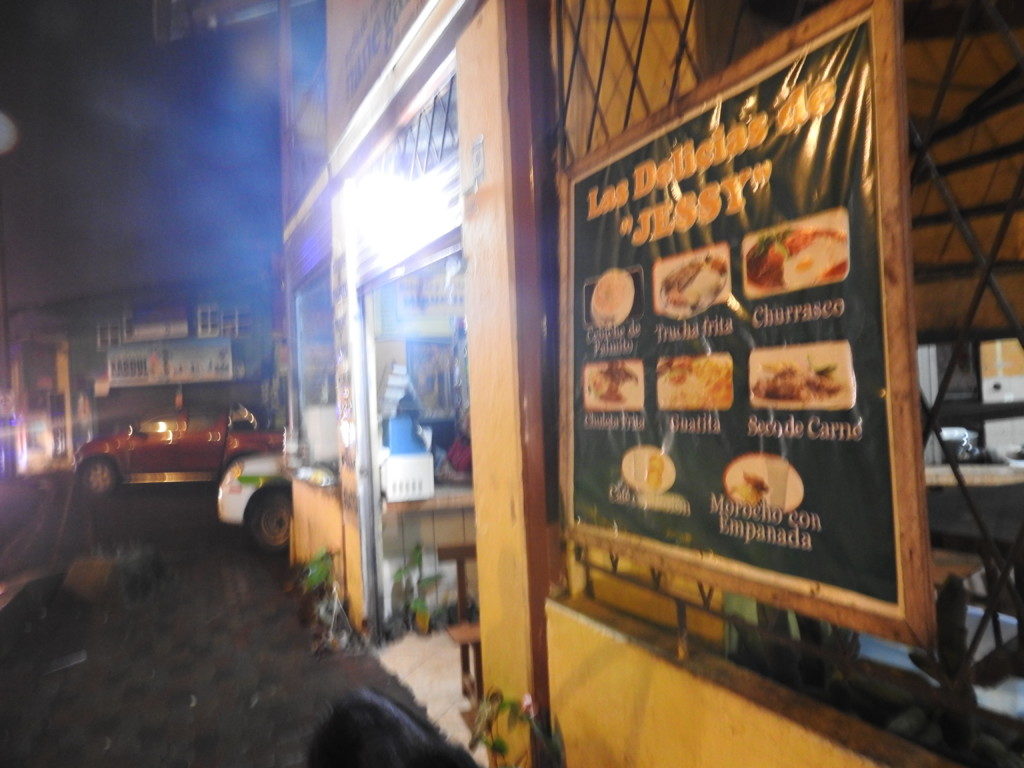 CHOOSING THE BEST BIRDING HOTSPOTS
In Mindo, you are spoiled for choice!  There is an excellent overview on the Birds In Ecuador site. After reading through all their descriptions, comparing the sightings on eBird and consulting with our guide, Alex we came up with a good list where we would hopefully find the target birds.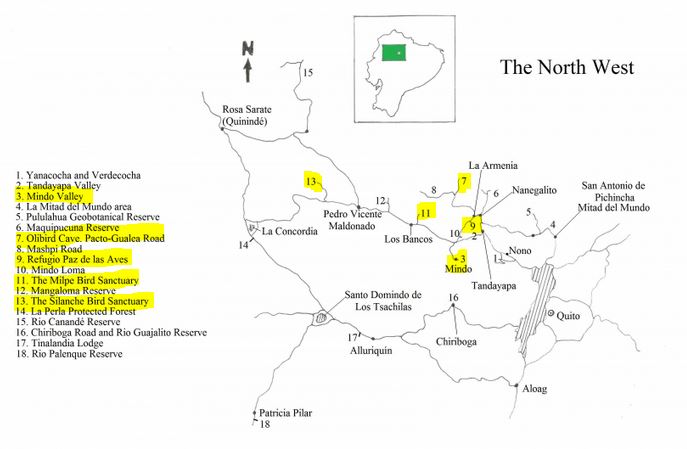 I really wanted to see the Cock of the Rocks, Antpittas and Hummingbirds at Angel Paz Refuge.
Oilbirds can be elusive and in places that are hard to get to but near Mindo you can drive right up to one oilbird cave and have only a 5 minute walk.
The trail above Mindo, sometimes called the waterfall trail has lots of good birds and is known for Rose-faced Parrots.
Milpe & Rio Silanche are also good spots for parrots, quetzals & trogons.
We stayed 3 nights at Sachatamia Lodge (review to come) and I organized 2 full days of birding.  The final day we had a full morning available but I wanted to save it to chase up any species that we didn't get the previous days.
The first day, I grouped the places which had their own guides (you pay an admission fee which includes the property owner or family member as guide) and all we needed was transportation.  I had Sachatamia book us a driver, Daniel for $150 full day to take us to Angel Paz & the Oilbird Cave (Cueva de los Tayos), then drop us in Mindo town so we could wander around.
The second day, I booked a full day birding with one of Mindo's top birding guides, Alex Luna for $160.  I told him which species I was especially interested in (parrots) so he could recommend the best places where parrots have been seen by him and other guides.  The guides in Mindo are all friendly with each other and share information so that makes a better birding experience for everyone!
If we had had a third full day, we would have gone to Bellavista or Tandayapa.  There really is so much to choose from and we made choices based on best places to see parrots, quetzals, trogons and a couple specialty local birds – Cock of the Rock, Antpittas & Oilbirds.  Everyone has different interests so I suggest reading through all the descriptions to make sure you choose the best ones for your own interest.
CHOOSING A BIRDING LODGE IN THE MINDO AREA
It's pretty hard to go wrong here.  The Mindo area is blessed with some really fantastic birding lodges and all of them can organize transport and guides.  We are on a pretty tight budget but still wanted to have beautiful birdy grounds, hummingbird feeders and located near birding hotspots.  I also like to maximize my travel expenses by earning miles for bookings so I considered several options like Hotels.com, Rocketmiles & Pointshound.  Not every lodge is represented on every booking site.  At the time of booking, I needed 3 nights on Hotels.com to get a free night for a future booking and I used TopCashBack as a portal to save more money.  You always need to check a few options and do the math as you never know who could be running a promo or have the best deals on offer!
Since we wouldn't have our own car and would be dependent on taxis and buses to get around when we weren't birding, I wanted to be near a main road, not too far from town.  I also prefer a-la-carte restaurants to fixed meals or buffets.
Sachatamia Lodge fit all the requirements – birdy grounds, hummingbird feeders, well located and easily bookable on my preferred booking sites.  It was also one of the cheaper options in the category I was looking at.  It turned out to be a great choice and we loved it!
I also heard great things about Bellavista & Tandayapa so it's always a good idea to check a few lodges before choosing one that suits your needs.