It's time for my traditional look back at the year in review – both my personal travels and events that affected the miles and points community.  Last year we took it easy and good thing too as this year was epic!
JANUARY
Usually a quiet month after the holidays but I was finalizing accommodation & guides for the big trip to Ecuador, Colombia & the Caribbean.  We were renovating the bathroom and I took advantage of the opportunity to maximize my miles & points haul by using my Amex at Coles to get 3x on Bunnings (like a Home Depot in the USA) gift cards.  I learned the hard way not to scan my Flybuys card as my inflated average expenditure ruined my points promos for months.
FEBRUARY
Just more fine tuning of travel arrangements, nothing much happening.
MARCH
AAdvantage devaluation happens on 22 March with Australians copping the worst of it with huge increases in business class awards.  Jetstar has a major sale on and I grabbed some BNE-DRW-BNE tickets for a Top End trip in September.   We leave for Ecuador on 31 March amidst border protection staff on strike and a late LATAM flight but we still manage to make the connection to Guayaquil by the skin of our teeth!  On a brighter note, another passenger swaps his business class seat for my bulkhead economy so at least I get a good night's sleep!
APRIL
The adventure begins!  We visit some amazing reserves and national parks in Ecuador (including the Galapagos), Colombia & some Caribbean Islands.  We saw some amazing endemic and endangered birds so you can look forward to a top 66 birds of the year tomorrow!   There was a huge earthquake in Ecuador about 400 km from where we were staying and we felt the earth move.  It was pretty scary!  Other earthquakes happened in 2016 but this one was the worst when you consider both magnitude and death toll.
MAY
We finish up the islands and spend some time in the USA to see family.  Chase added Flying Blue as a partner which I really appreciated as I use them for redemptions on Kenya Airways.  With a devaluation pending, I scramble to redeem Velocity points for Etihad PER – AUH in biz with a plan to add the KQ segments in Y DXB – NBO – ADD when they become available which gets us to Africa.
JUNE
Barely was the ink   pixels dry on my Etihad redemption dry than Velocity announced a horrific new tax on Etihad redemptions, so I dodged another bullet!  The rest of my travel dates open up for award bookings and I finish booking next year's trip to Africa. I always want to lock in the rates before a program devalues even further.
JULY
Nothing earth-shaking in the miles & points world this month.  Etihad has a 25% bonus on hotel and credit card (not Flybuys) transfers and a mediocre IHG Pointbreaks list is released.
AUGUST
The one I was waiting for – 20% bonus on SPG transfers to AAdvantage.  I need AAdvantage for 2018 South America and this is the cheapest way to get them from Australia.  United further devalues Mileage Plus by restricting the stopovers to what they call "Excursionist Perks".  If they had done this 2 months ago, it would have messed up my intra-Africa redemption.  On a more positive note, Woolies brings back Qantas points as an option.
SEPTEMBER
We have an amazing road trip through the Northern Territory's Top End in a rented car visiting the top birding hotspots.  You can look forward to these reports in the New Year but there are some hints in the Top 66 Birds post tomorrow!  The Marriott-Starwood merger provides a new option for Aussies to get United miles at a decent rate…………..at least until end 2017.
OCTOBER
United's Excursionist Perk program takes over and puts the kibosh on a couple of my planned future redemptions in northern South America.
NOVEMBER
Velocity partners up with Flybuys in addition to Etihad to compete with the Qantas-Woolies partnership.  The semi-annual 25% bonus gives Aussies a windfall of Velocity points which are good value on South Pacific flights.
Donald Trump wins the US presidential election and the world collectively goes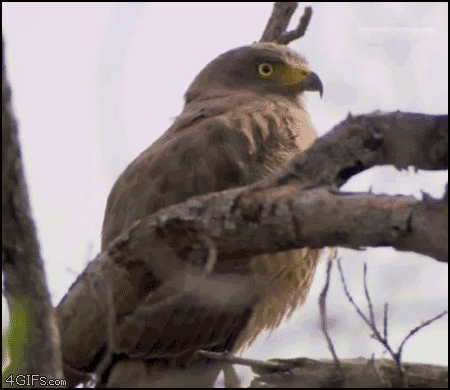 Nervously we await his effect on travel, miles & points, credit card bonuses, worry that he won't support global warming issues and hope he keeps his mitts off the nukes!
PS:  Isn't that the best gif ever!!!!
DECEMBER
Flying Blue has a great promo to earn a 10,000 miles bonus when you book a 2 night hotel stay through their new partnership with Pointshound.  I use it to book our 2 nights in Entebbe for next year.  Garuda Indonesia announces the "Deal of the Year 90% off any redemption" which several bloggers in the USA attempt to book only to find out there are ridiculous hoops to jump through to get the tickets issued.  It was actually targeted to Indonesians and Asians as you need to physically visit a Garuda office to get the tickets issued.  We have a Garuda office in BNE so I might have gone for it if we didn't already have our trips booked for next year.  The promo was cancelled 24 hours later.
And that wraps up this year's review!  Programs continue to devalue and the miles & points game is getting much harder and I have to ask myself how much longer it will go on.  But in the meanwhile, it's been a wild ride to some very wild places and I am not ready to get off yet!