Most frequent flier programs divide the continent of South America into northern and southern regions.  Colombia, which has an amazing bird list with over 1900 species recorded, falls into the northern region.  I already have a blog with my recommendations for which programs to join if you are new to the world of miles and points.
The major gateway cities for Colombia include Bogota (BOG), Medellin (MDE) and Cartagena (CTG).   It will be the same number of miles no matter which you choose.   Once you have been in the miles and points game for awhile, you will get a feel for which airline to use where but if you are just starting out Wikipedia will show you all the airlines that fly into Bogota, Medellin, Cartegena and any of Colombia's airports.  To present examples below, I will be using Bogota as the example gateway airport.
From North America you can use American Airlines,  LATAM.
From South America you can use LATAM.
From Australia and New Zealand you can use Qantas or LATAM via Santiago.
From UK and Europe you can travel via the USA using BA or IB to get to the USA, then AA, LATAM to South America.
From Asia or Africa there are no direct flights so you will need to travel via the USA or Europe.
From North America you can use United, Air Canada, Avianca-Taca or Copa.
From South America you can use Avianca-Taca or Copa.
From Europe you can use Avianca, Lufthansa or Turkish Airlines.
From Australia and New Zealand, Asia and Africa there are no direct flights, you can use NZ to Buenos Aires (EZE) or travel via the USA.  Depending on which program's miles you have, this may require one or two awards.
From North America you can use AeroMexico or Delta.
From Argentina & Southern South America you can use Aerolinas Argentinas.
From Europe you can use Air Europa, Air France or KLM, or you can connect in the USA on Delta.
From Australia, Asia and Africa there are no direct flights, you will need to travel via the USA or Europe.
HOW MANY MILES WILL IT COST?
Every airline member of the 3 main alliances has it's own frequent flier program.  They often have alliances with other airlines outside the program.  I have made some reference charts for the airline alliances and I strongly recommend that you check out the program of the airline in your country and the USA based partners of each program as the USA airlines tend to have the most lucrative bonuses.  Americans can get very generous credit card bonuses.  Details of credit card partners (and other partners) will be on each airline's website, however often there are more lucrative sign up bonuses.  Details are usually posted in the Flyer Talk thread so I strongly suggest you read this thread and the Miles Buzz forum before you apply for any cards just in case a better bonus has been offered.  I don't have any affiliate links and I recommend you do extensive research on your own when applying for airline credit cards.
USING ONE WORLD
AMERICAN AIRLINES
No matter where you live, frequent flyer programs based in the USA usually offer the best deals but it's still a good idea to look at other members of the alliance.  Try to avoid carriers that charge a fuel surcharge.  Looking at AA's award chart, we can see that Colombia is in South America Zone 1.
So let's look at the chart.  AA no longer has all zones on one convenient chart so you need to look at the website for the region you are departing from.  You will notice there are taxes and fees with certain routes and that the awards are prices as one way trips.
We can see that a South Pacific to Central/South America award will cost 45,000 miles each way (90,000 round trip) in economy, 82,500 (160,000 round trip) in business class and 112,500 each way (225,000 round trip in first class.  AA doesn't allow you to transit the USA on this award so you must fly on the only carriers that operate between Australia and South America-Qantas and LATAM.
If you are based in North America, economy will cost 30,000  each way (60,000 round trip), business class  is 57,500 each way (115,000 round trip) and first is 85,000 each way or 170,000 round trip.  You would be flying on AA or LATAM.
AVIOS (BA OR IB)
Avios can be a great bargain for shorter flights.  The awards are priced by distance flown per segment rather than zone to zone.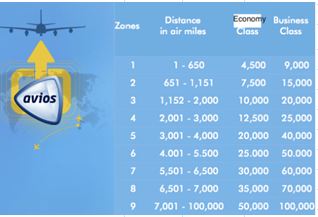 Using the Great Circle Mapper, we can see that a direct flight from Miami to Bogota would cost 10,000 Avios each way, a direct flight from LAX to Bogota would cost 20,000 Avios and a direct flight from NYC to Bogota would cost 12,500 Avios.  If you are using credit card miles, transferring them to Avios rather than UA or AA could save you some points.  If you need a connection from elsewhere in the USA to the gateway city, you need to pay for that segment separately with the Avios cost for the distance flown.  Example OKC-MIA is 1222 miles so you need to add 10,000 Avios to the total price of the ticket.
QANTAS FREQUENT FLYER
For Qantas, it is easiest to use their points calculator to see how many points you need, then look for availability.  Not all itineraries can be booked online, sometimes you have to call them.  Using the example of Sydney to Bogota we can see that they route through the USA (probably because the Santiago route is very hard to get) and economy is 60,000 points one way.  If I were making this trip for real, I would be putting a lot more effort into finding a routing on QF through Santiago.  Although business class shows availability on the random date I chose, if you hover over the seat icon you will see that the DFW-BOG segment is in economy.  I am actually amazed that SYD-DFW has premium seats!  On the next screen you see the points plus taxes & fees that must be paid by credit card.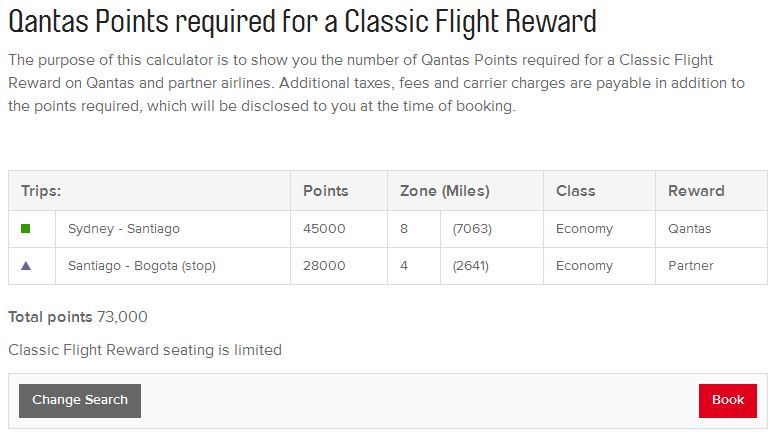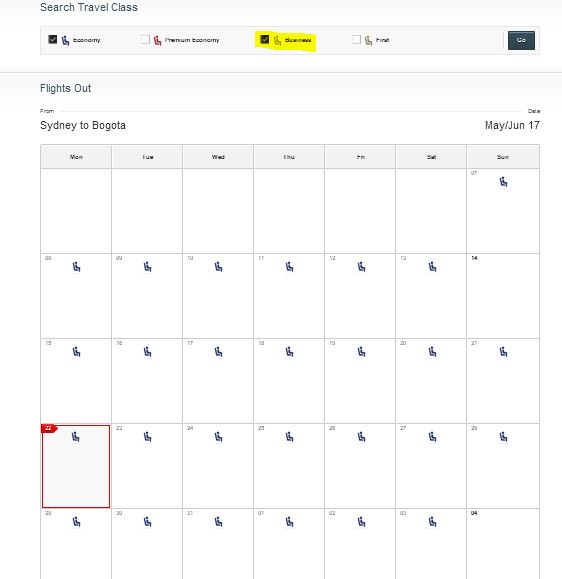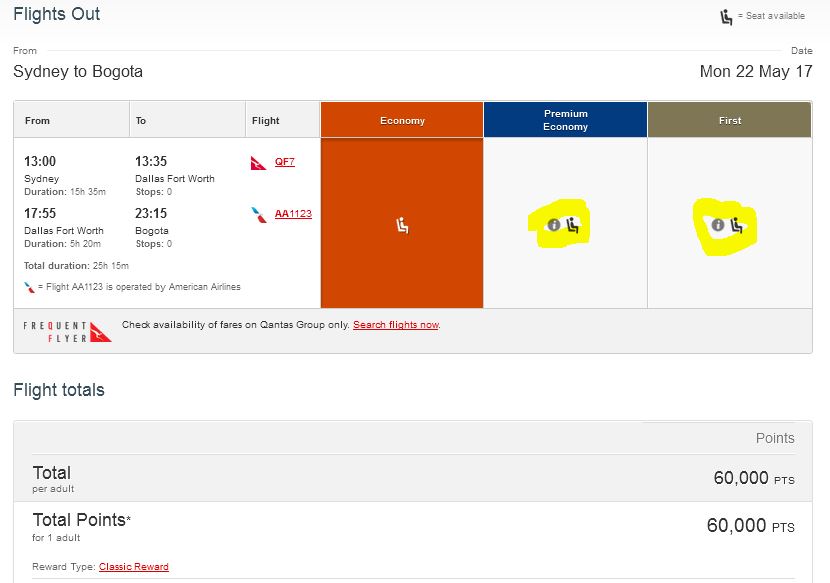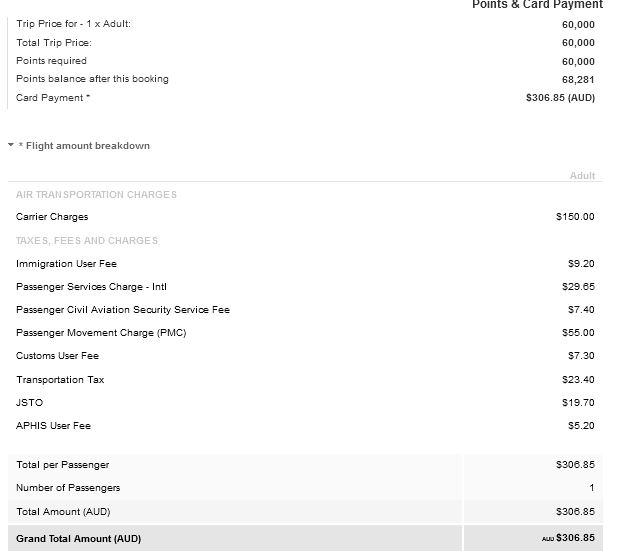 If you are based somewhere else, leave a comment if you don't understand this part and I will help you out.  Meanwhile, here is a reference list for other One World carriers.
USING STAR ALLIANCE
United, Avianca and Singapore are probably the most common Star Alliance programs in use because of good credit card deals and buy miles promos.
UNITED AIRLINES
United Airlines is a USA based carrier that offers one way awards on its own flights and other Star Alliance carriers.  Due to the size of their award chart, I can't paste it here so will link to it and give examples.  For example Orlando to Bogota has availability on several dates which I picked at random.  They are colour coded for economy, business/first or all three classes.  Make sure you scroll all the way down to see all the options.  Some routes are only 20k and others are a whopping 45k!  And beware of routes where it is cheaper to fly business class than economy!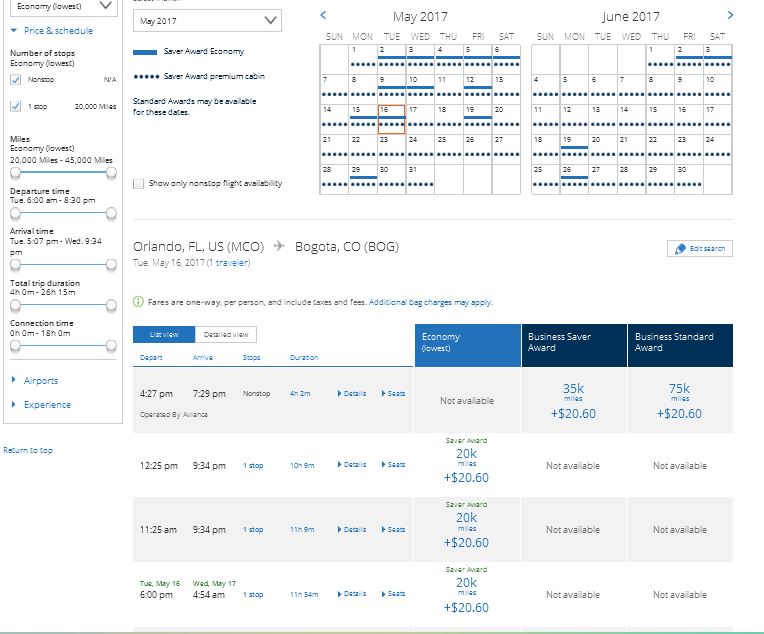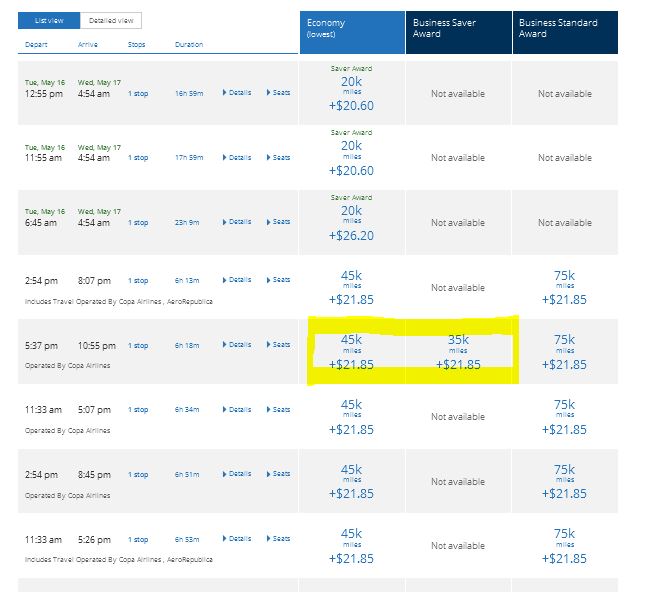 AVIANCA TACA LIFEMILES
Lifemiles has some very attractive promos to buy and share miles.  While this doesn't give you a free trip, it can greatly reduce the cost of a trip especially if you are after business or first class awards.  You need to be an existing member of Lifemiles when they announce  a promo so join now if you haven't already.  Use their calculator to get an idea of award costs.  This will be a range which depends on class and any promos.
They have a Star Alliance Award chart and you can see that they divide the continent of South America into northern and southern regions.  Colombia is in the Northern South America region.  Australia and New Zealand are in the "Others" category.  The chart shows one-way awards.   I prefer to keep my Lifemiles for intra-South/Central America awards which can get pricy but are bargains using awards.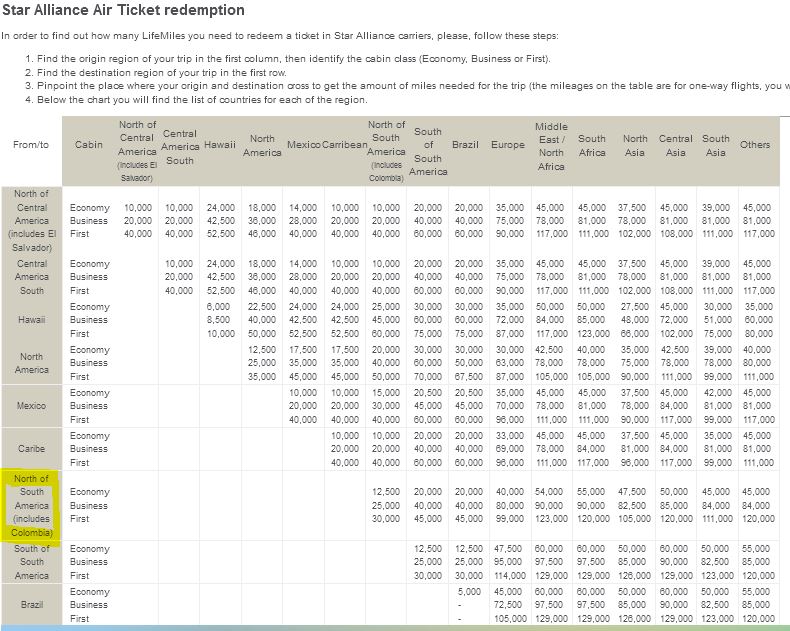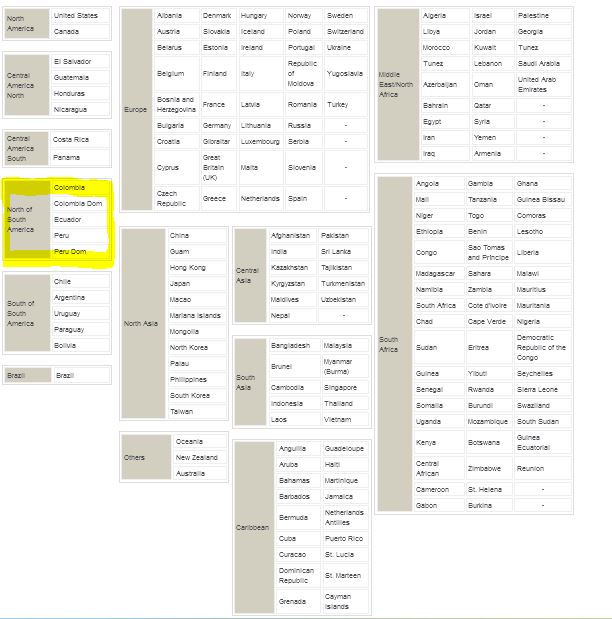 SINGAPORE AIRLINES
SQ miles have become much easier to get in recent years.  Americans can use Chase Ultimate Rewards, Citi Thank You, Amex Membership Rewards.  Aussies can use the Australian Amex Membership Rewards.  Everyone can use SPG.  Just beware of the high fuel (carrier) surcharges when you use Krisflyer.  Personally, I would be happy to use SQ miles for intra-South America awards where surcharges are low or even non-exixtant but would use other programs to get from Australia to South America.  SQ has only one region for all of South America so their awards can be a bargain if you are traveling around the continent!
I don't use all the programs that are out there but these are the most commonly used programs by travel hackers in the USA and Australia so do some research to see which one works for you!  Bear in mind that the tickets are not completely free, there is usually a booking fee of $25-50 and various taxes, but you would have to pay the taxes whether you pay cash or miles for the ticket in any case.
WHAT ABOUT JUST PAYING CASH (WELL, CREDIT CARD)?
No, it's not blasphemy but sometimes it is a good idea to save your miles and simply pay for the ticket.  The 3 main Central/South American carriers – Avianca, Copa & LATAM have been very competitive lately ex-USA and releasing some very good deals.  These are a few examples but they expire soon so always check the airlines' website for current specials.