Believe me, there is nothing I would love more than to be able to post my usual map of where you can see the enigmatic Spix's Macaw (Cyanopsitta spixii) flying free in the wild and tell you how to get there.  Unfortunately, they are extinct in the wild and the species survives only to this day due to a handful of conservation efforts.  They had a very small range in the Brazilian state of Bahia near Curaca.  This map show the rough idea of where they were last seen in the wild back in October, 2000.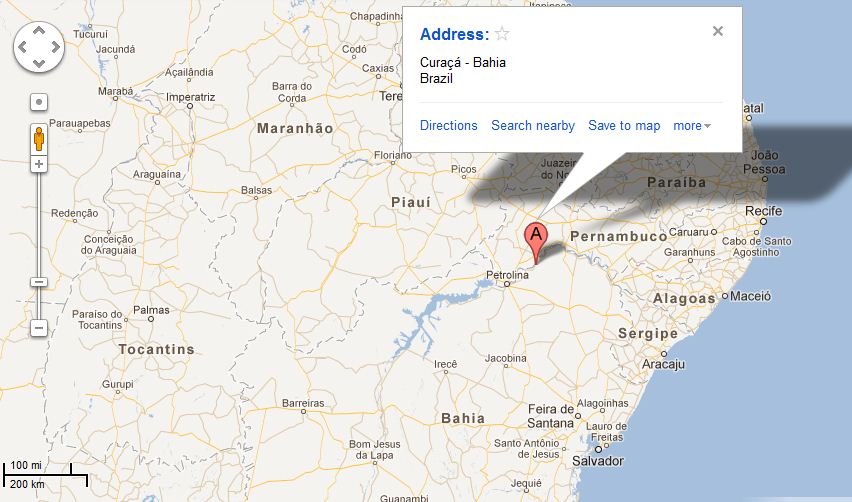 A single survivor, the last of his species tried to pair with an Illiger's Macaw out of loneliness.  No one knows exactly what happened to him, whether he died of natural causes or was trapped and sold to the highest bidder.  The heartbreaking story is told in the excellent book by Tony Juniper,  "Spix's Macaw, The Race To Save The World's Rarest Bird".
As of Nov 2012, there are around 93 Spix's Macaws in the entire world, all in captivity.  The majority are in the Al Wabra Wildlife Preserve (60).  There are 7 in Loro Parque's breeding centre in Tenerife, Spain, 7 in Germany and 5 in Brazil.  The others are probably in private collections.
Opportunities to see a Spix's Macaw in person are very limited.  Unlike most conservation projects, Al Wabra is privately owned and financed by Sheikh Saoud Bin Mohammed Bin Ali Al Thani so they do not require fundraising via ecotourism.  I was lucky enough to pay them a visit in April, 2009; but this was a rare privilege afforded to me through private contacts.  Their website states:
Located on a 2.5 square kilometer large area close to the town of Al Shahaniyah in central Qatar. The farm is not open to the public.
The easiest way to see Spix's Macaws is to attend the World Parrot Congress held every 4 years at Loro Parque, Tenerife, Spain.  Delegates who join the Loro Parque Fundación are given a tour of La Vera and a chance to see the Spix's Macaws along with other rare parrot species.
The next conference is scheduled for 22-25 Sept, 2014 and you better believe I have miles earmarked to get there!  The exact details aren't available yet but I will be blogging about it once they are.  In the meanwhile, you have almost 2 years to collect enough miles to get yourselves from your home to Spain!
Last year, the animated feature film "Rio" was based on the plight of the highly endangered Spix's Macaw and would make a great gift for anyone in the family!
Although at present, the only Spix's Macaws are in captivity, there is hope yet that they may once again fly freely in Brazil,  in the land of their ancestors.  AWWP has purchased the Concordia Farm in Curaca, where the last wild Spix's Macaw was seen in hopes of restoring the land and implementing a release program in the not-too-distant future!