Last week in Australian Edition 1 I showed you how to use the various American Express cards to get a nice sign-up bonus to kick start your mileage balance.  You will remember that you could also use AMEX Membership Rewards to transfer to a variety of partners including airlines and hotels.  Before we start, I want to point out that these are not affiliate links, you will be clicking straight off the airline's website.  If you have been on USA based blogs and forums, you will probably have seen that they can get even better sign up bonuses through affiliates but we don't seem to have that in Australia……………yet!  The only situation where you get more sign up points  than is offered on the bank/airline site is the Amex referral program.  Please use the contact form if you would like me to refer you for this bonus which I discussed in Edition 1.
Now let's look at airline specific cards.  These are co-branded cards that automatically transfer your points into the airline each month.  Even if you get the Amex, you should also get a Visa or Mastercard as there are a lot of businesses and government fees where you can't use an Amex.
VIRGIN AUSTRALIA – VELOCITY
When you click on to their website, you will notice an "Earn" tab and a "Specials" tab.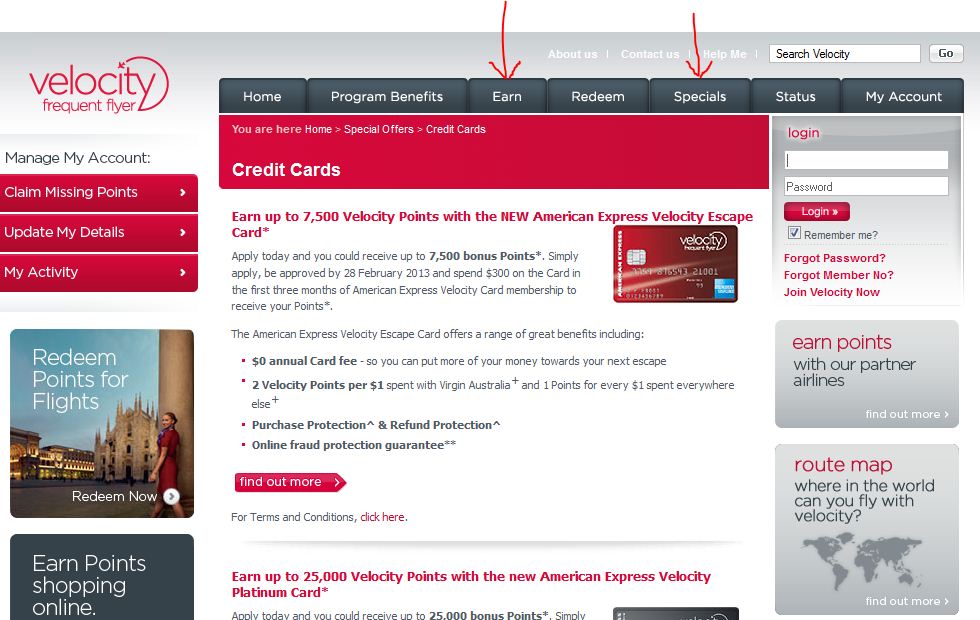 The "Specials" tab will take you to whatever sign up bonuses are running at the time.  Always check this tab before you sign up for any credit card and make sure you read the T&Cs that go with the card so you know what you have to do to earn the bonus.
Now click on the "Earn" tab and select credit cards to see ALL the credit card options that partner with Velocity.  You will see that just about every bank in Australia has a Velocity card or a rewards card that you can transfer to Velocity.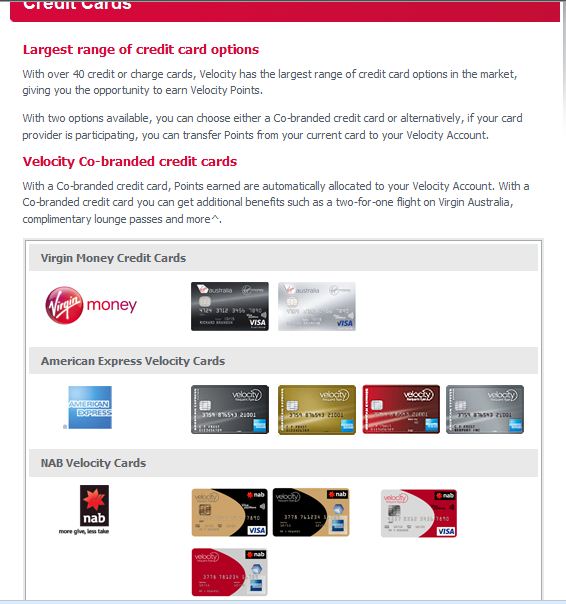 Here are the banks, quite a lot!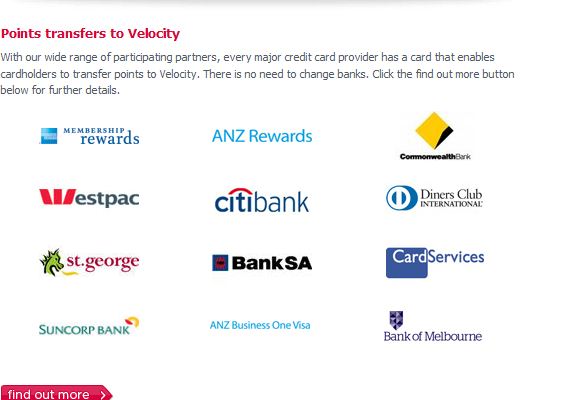 Be sure to check out each bank's website to look for rewards cards that you can transfer to Velocity.  You will also see different transfer ratios for each one so you have to spend some time reading each one to see which card would give you the best value for annual fee vs transfer ratio and what other benefits the card may have like travel insurance.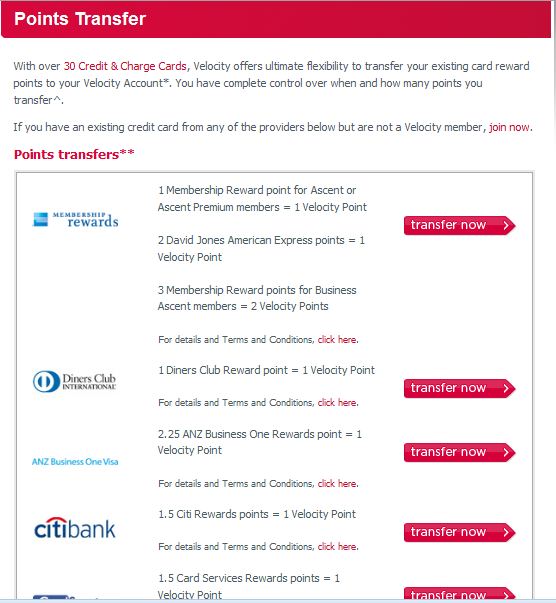 ***********************************************************************************************************
***********************************************************************************************************
QANTAS FREQUENT FLYER
Now let's look at Qantas options.  From their homepage, go to the Frequent Flyer tab and select Earning Points, then "Pay".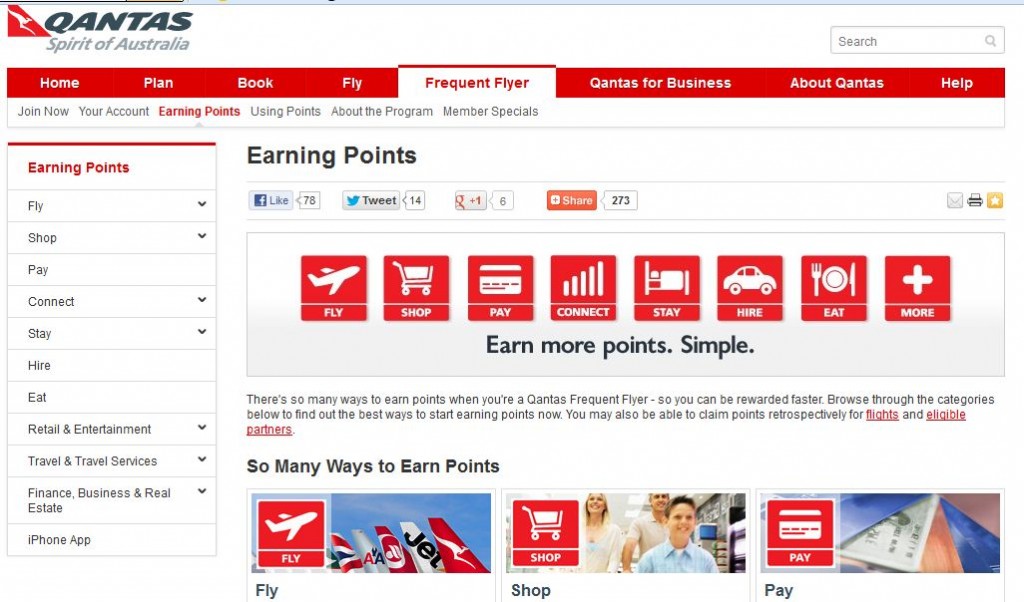 This page is set up a bit differently from Velocity.  If there are any specials, they will be on this page.  I have highlighted in yellow the bonuses that are current as of this post date.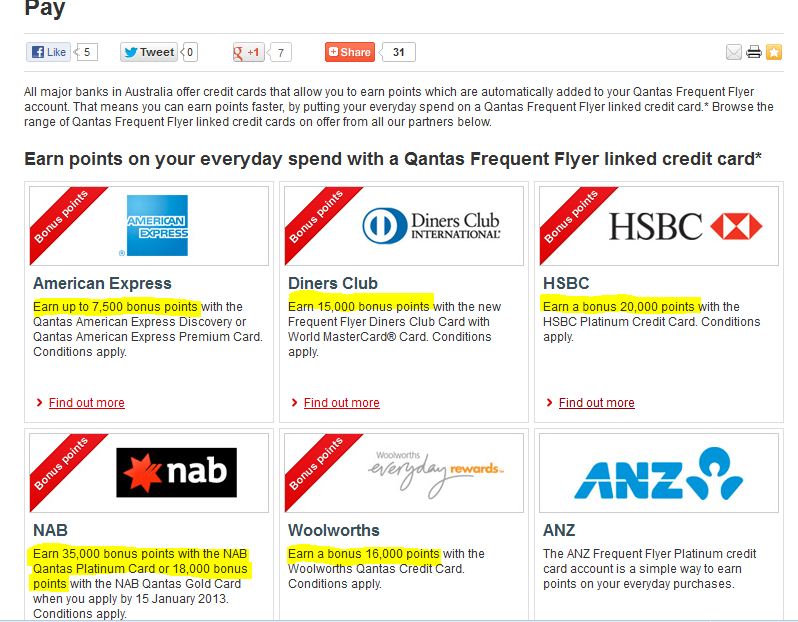 .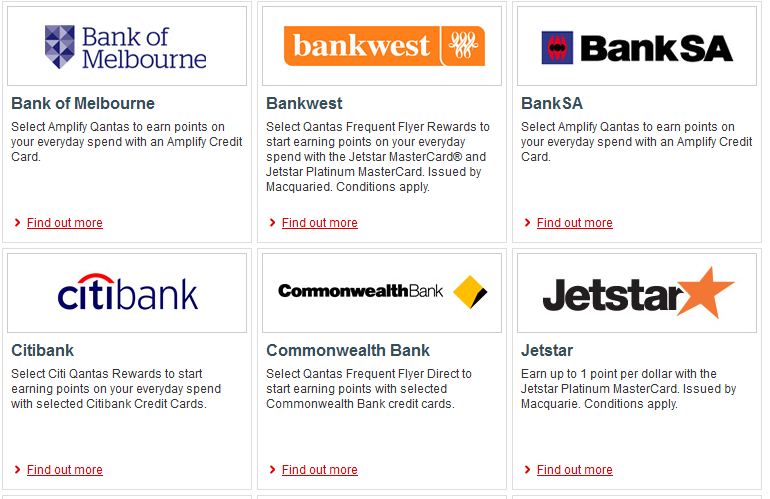 .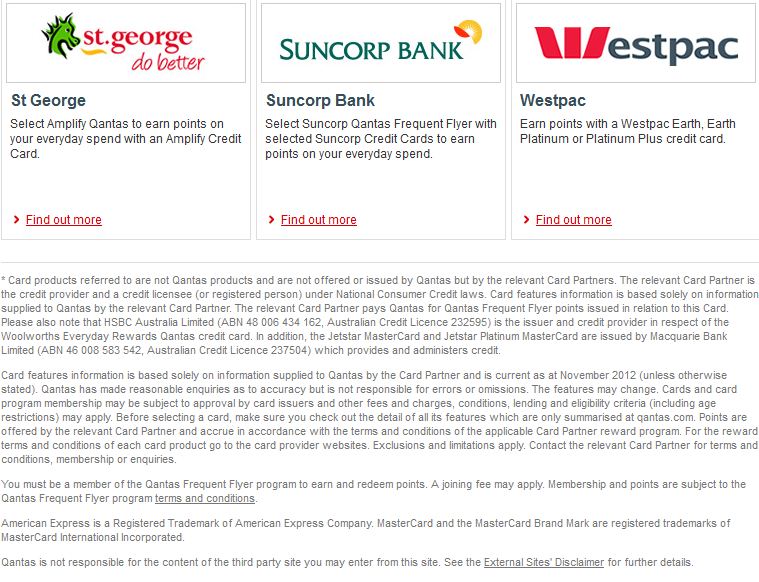 With Qantas, it is also worthwhile to check its partner Jetstar because their credit card also has the option to credit the points to Qantas.
No matter which credit card you choose, always make sure you are prepared to pay it off every month because if you incur interest, then the miles and points are less valuable.  Be sure to read the T&Cs of each card, check for annual fees, interest rates and minimum spend within a specified time to get the sign up bonus.  If you haven't already, you should join both Qantas Frequent Flyer and Virgin Velocity because they will email you special deals that may include targeted sign up bonuses.
In the next post in this series, I will show you (Aussies) how to get miles and points for FREE just from every day living!