Any way you look at it, Mauritius is not a cheap place to stay, even on points!  Only 4 hotel chains are represented here so you don't have a lot of options.  If you have gotten hotel points via credit cards, these could be a great use of the points as cash rates are very high.  For the examples below, I did a quote for 1 night Saturday 9 May.
ACCOR LE CLUB

With Accor, every 2,000 points acquired results in €40 off your bill. If you have enough points your stay could be free, or simply pay the remaining balance using your credit card.  For the first hotel you would need 24,000 Le Club points and 12,000 points for the 2nd one.  You have to add taxes to the rates below.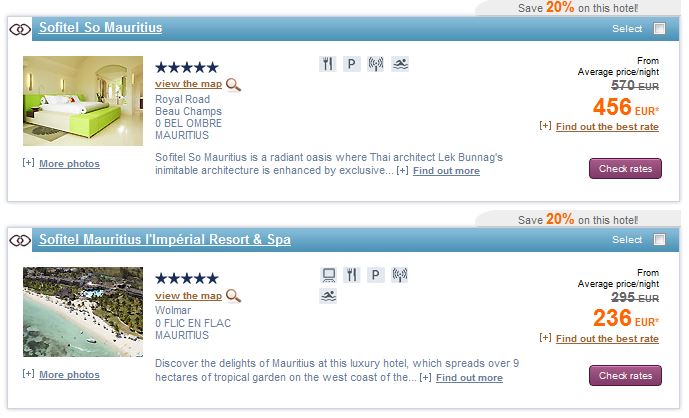 HILTON HONORS
There is only one Hilton property in Mauritius and if you can snag a capacity controlled cash&points award this can be a really good deal! IHG REWARDS
The Intercontinental would be an excellent use of a Chase free night certificate!  They also have a new hotel near the airport which could be a good idea if you have an early flight out.  The traffic can be horrendous!
SPG
Cash & Points looks like a pretty good deal!
BOOK NON-CHAIN HOTEL & EARN MILES
If you don't have enough hotel points or prefer to pay cash, there are lots of options on both Pointshound & Rocket Miles that allow you to earn in a wide choice of airline programs.  If you use the links I posted, you and I both get a bonus after you complete your first booking.  This is currently 1000 miles!