Scottevest has some huge bargains on some of their most popular products.  You can save 40% through 6 Feb by using coupon code SEV16.

For tropical birding, I recommend the Featherweight vest (Shown below) or the Hunting vest which comes in a nice olive shade.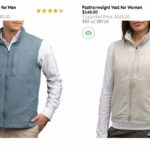 They have some nice women's styles for city traveling on sale this time as well.  See my more detailed review on Scottevest.  With more and more airlines restricting carry on bags, I find them invaluable to get those heavy birding field guides, laptop, camera lens past the boarding gates.
It's also a good idea to keep your valuables like your passport, credit cards, SD cards, cash in the inner pocket and keep it on during the flight.  If there is an emergency evacuation, you will be wearing your valuables and can disembark safely without losing anything essential!