I am in the midst of planning an amazing birding adventure around West Papua, Indonesia.  Indonesia is one of the top twelve countries in the world for parrot species, so you can imagine how I am looking forward to this trip!   Last year, I stumbled across a promo Garuda was running on flights that were booked at least 6 months in advance.  Flights to West Papua are normally pretty expensive so I jumped on the cheap fares and booked DPS – UPG – BIK – DJJ – UPG (Bali – Makassar – Biak – Jayapura – Makassar) and grabbed a SUB – DPS (Surabaya – Bali) just because it was around $20 each and there are more options to Surabaya from West Papua than to Denpasar.
That still left some local routes in West Papua which I needed to visit –  Manokwari (Arfak Mountains) and Sorong (Raja Ampat) but Garuda doesn't serve these routes.  Only a few airlines do:  Sriwijaya, Batavia, Lion Air/Wings, Merpati and ExpressAir.  After checking each of the websites last month, I could see that Sriwijaya had the best fares but the problem is that they don't accept non-Indonesian credit cards.  Actually none of the domestic carriers with the possible exception of Garuda, Lion Air and Air Asia do.  At least they accept Australian credit cards but maybe not USA based credit cards.  Some research on FlyerTalk, a Scuba Diving Forum and Lonely Planet found a few random reports of people getting lucky with domestic tickets and others striking out.
Fast forward to a few days ago, I have the budget in order and want to buy my domestic tickets.  I double checked all the airlines again, Sriwijaya is still the cheapest.  But wait, what's this?
Let's check this out!  It's actually a "real" short-haul business class, not the European style where they give you economy with an empty middle seat.  The Gerry Airways blog has more details with the following photo.
Upon doing a dummy booking (not going to use my real dates and itinerary for security), I noticed that it cost roughly the same plus or minus $10 max to book 2 x economy tickets vs paying for 1 executive ticket with one given free.  Obviously this promo is only useful for 2 people traveling together.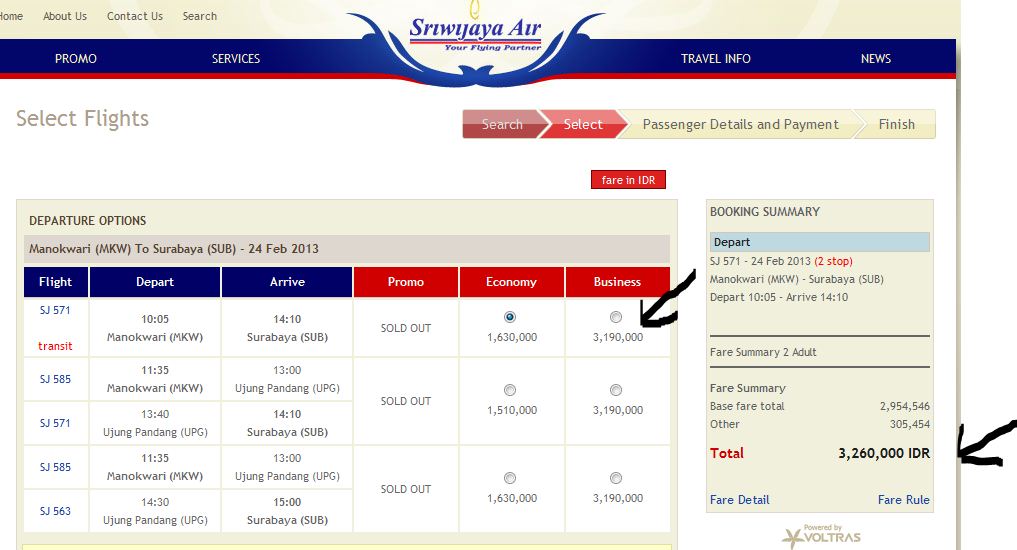 This was  a no-brainer, of course we would prefer to fly in executive class for about the same price as economy–but how do we book it?  There were no promo codes on the advertisement and it wouldn't auto-price at the "Buy one get one" price online.   So I called Sriwijaya Airlines and booked the flights I wanted at the promo rate intending to pay by Visa over the phone.  Surprise!  They don't take credit cards over the phone………….and the ticket time limit was 3 days from booking.  I tried to get them to extend it until we would arrive in Bali and could pay in person but they couldn't do that .
So I emailed one of the travel agents that had been recommended in the links above, Mau Ke Mana and explained the situation.  Chris replied back quickly and asked for details.  I sent them and a bit later he replied that he would be able to get the tickets for us.  The quote he gave was the same as the Sriwijaya quote and an extra amount which  included his fee and an allowance for Paypal currency exchange.  If I were willing to risk that seats would be available when we arrive in Indonesia, I could wait and try to rebook and pay in person.  But since I have birding arrangements made, I didn't have any flexibility and wanted confirmed flights in advance.   I paid by Paypal last Saturday.  He had said he would get the tickets done on Monday which was normal business hours, but much to my surprise, late Saturday evening (10pm), an email showed up from Chris with our tickets!   I was really impressed with the prompt service and feel good about recommending Mau Ke Mana.   And I am not the only one, they have a long list of testimonials from people all over the world!