Out of all the places in West Papua I have been blogging about, Raja Ampat is the one most likely to be familiar to most tourists.  It is one of the world's greatest scuba diving destinations and there are many blogs and websites to help you organize a dive trip on either a live-aboard boat or based in a resort.  Some of the resorts also offer bird watching so I will mention that where appropriate.
GETTING THERE
As of this writing, you can fly into the airport of Sorong  (SOQ) with Sriwijaya (Jakarta-Soekarno-Hatta, Manokwari, Surabaya, Makassar); Express Air (Jakarta-Soekarno-Hatta, Jayapura, Manokwari, Surabaya, Makassar, Yogyakarta); Merpati (Jayapura, Manokwari);  and Wings Abadi/Lion Air (Ambon).  None of these airlines currently offer online booking and payment with a non-Indonesian credit card except possibly Merpati.  In my article about Sriwijaya, I describe how to use an Indonesian travel agent to book the tickets.  The good news is that Garuda will be starting service to Manokwari and Sorong in July 2013 so in the future you will be able to book these flights online.  Garuda is due to join SkyTeam later this year so you will be able to use miles to redeem tickets all the way from your home airport to Sorong!
RAJA AMPAT DIVING TAGS AND CONSERVATION FEES
If you visit any of the scuba diving sites, you will see this mentioned.  I didn't know about it before we left as I had been visiting mostly birding sites and only heard about it from another tourist on the ferry to Waigeo.     They were planning on diving and also hiring a boat to go to some more remote islands.   We weren't planning on even snorkeling so didn't look into this before we left.   No one asked for "tags" on the ferry so I tend to think that if you will only be on the main island of Waigeo and not diving you don't need the tags.  There is a bit of a grey area if you are hiring a charter boat to go to Batanta and Salawati.  Some of the diving websites that I looked at just now mention that the tags are inspected on the boats.  If you think you need to buy the tags, when you arrive in Sorong, walk across the street to the JE Meridien Hotel and buy them there.
FERRY TO WAIGEO
The main reason I chose Waigeo as our birding destination is because you can get there on a public ferry rather than having to charter a boat.  Most birding tour groups charter a boat and go to Batanta and Salawati.   The birdlife is pretty much the same on Waigeo and Batanta, Salawati does have some different species.
It will cost around 50,000 rupiah to get to the ferry terminal but you will have to bargain for this price and probably go outside the airport to the main street and head to the left.  Taxi drivers don't speak English so have someone write "ferry to Waisai" on a piece of paper.  Once there, you buy your tickets and any supplies you want to bring to the island-water, cold drinks, snacks.  You don't have to buy too much as Waigeo is the main population centre of Raja Ampat and there are shops and small restaurants on the island.  There will also be people coming around on the ferry to sell snacks.
A ferry leaves Sorong daily to Waisai around 2pm but it's best to be on board around 1pm.  Seats are assigned and cost 120,000 rupiah ($12).  The ferry back to Sorong from Waisai also leaves at 2pm and costs the same.  It's a pleasant 2.5-3 hour trip.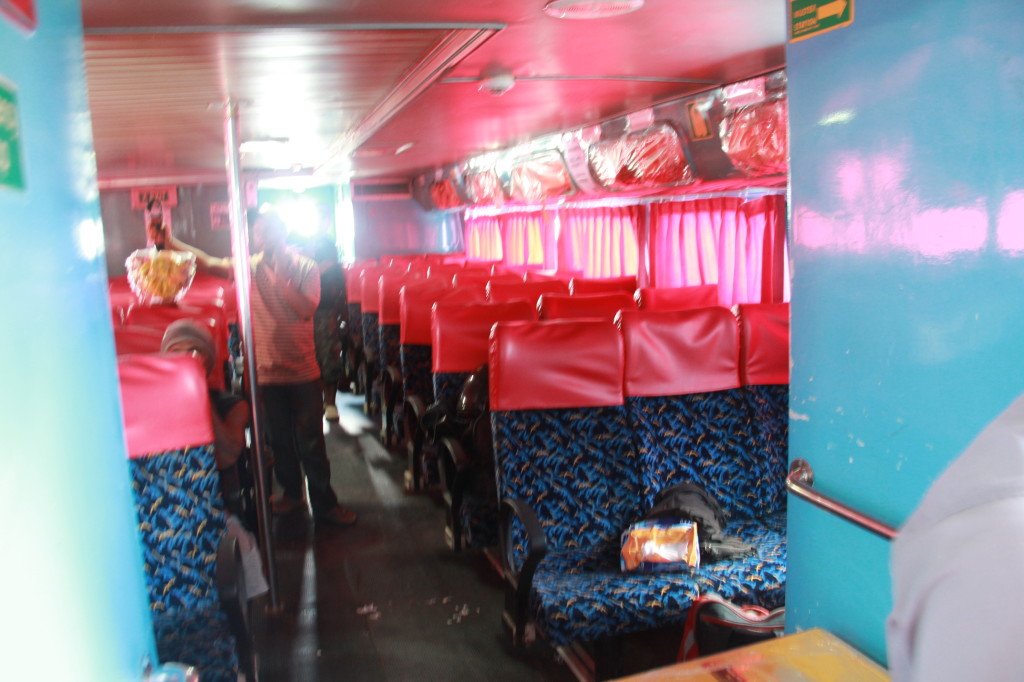 GETTING TO OTHER ISLANDS SUCH AS BATANTA AND SALAWATI
There are no public ferries to these islands so you will need to charter a boat complete with captain, first mate and bring enough food supplies to feed them, yourselves and a couple of guides once you get there.  You will need to get to Dom Island and ask around for a charter boat.  Papua Bird Club may be able to help with this.  Expect to pay around $100-150 per day.  You will need to hire the boat for the duration of your stay but it will be available to use for side trips to Salawati or snorkeling excursions.
Coming next:  Waigeo, top birds and the world's cheapest overwater bungalows!