I have to admit that when "birding" and even "safari" is mentioned, Ethiopia is not the first African country to come to mind.  Most tourists come here for the ancient churches and culture.  However to those in the know, Ethiopia has 924 species of birds, 23 of which are endemic.
Ethiopia is the hub of one of Africa's largest airlines and is very easy to get to with airline miles, especially for Star Alliance members.   If you have limited time and finances you will really have to make some tough decisions on how many parks to visit. It really helps if you know what species are your priority. For some people this may be raptors or trying to check off all the endemics. For me it's always parrots first, then songbirds, then other birds and mammals.
DO YOUR HOMEWORK
With so much on offer, you have to do lots of research online to find out your best chances of seeing the species you really want to see. I always check trip reports on Surfbirds and more recently added Cloudbirders to that. Xeno-canto has mapped locations where birders took sound clips of many species so that can pinpoint them even more.
I always check bird sightings on eBird, you can see my full guide on locating bird species .
I also look through trip reports by major birding companies such as Birdquest, VENT, Naturetrek, Rockjumper and more. The trip reports will show you which parks you need to concentrate on. Once you have this, you can start contacting birding tour operators or safari companies that are well-recommended for quotes.  If you are traveling on your own, it's worthwhile to note when the birding groups will be in the area as they will have the best guides already reserved and you may not even find accommodation.
HOW I CHOSE MY ITINERARY
I was a bit nervous about visiting Ethiopia as there were some riots in Oct 2016 and the lodge I was planning to stay at, Bishangari had been burned to the ground.  I decided to keep the visit to the minimum I would need to see my two target parrots, the Yellow-fronted Parrot and Black-winged Lovebird.  Both were usually seen at Bishangari and hopefully also at the nearby lodge which we booked called Hara Langano.  Then I wanted to make a day trip to Menagesha Forest for another chance at the same two parrots and also have time to explore the gardens of the Ghion Hotel where most birders stay in Addis Ababa.  I was prioritizing parrots knowing that plenty of other bird species would be in the same habitats so chose these locations:
HARA LANGANO LODGE

Yellow-fronted parrot, Poicephalus flavifrons
Black-winged lovebird, Agapornis taranta
GHION HOTEL
Black-winged lovebird, Agapornis taranta plus many other endemics.
MENAGESHA FOREST
Same as Hara Langano.
Here is a map showing the locations.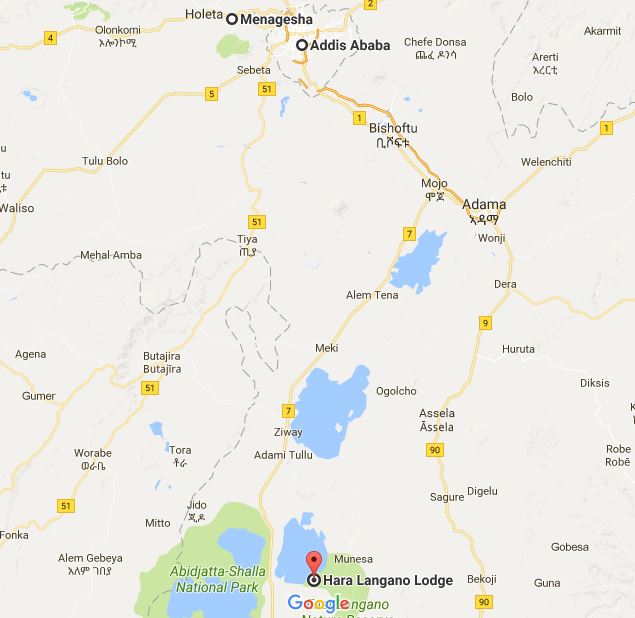 HOW TO ORGANIZE YOUR OWN BIRDING SAFARI
In Ethiopia, it's very rare for tourists to self-drive cars and you will have to use some kind of transport with a driver included. These drivers probably won't know anything about birds so you will also need a guide at each park/reserve you visit. There are usually guides hanging around national parks waiting for customers so this won't be a problem. You may decide that it's more convenient to just join an organized tour such as those whom I mentioned above if you can afford it.
When I booked Hara Langano Lodge, they offered minibus transport for $50 per person shared among whoever was traveling that day.  It turned out that we were the only ones.  For the return I planned to save money by using public transportation.
For the day trip to Menagesha, I planned to use a hired car and driver from the hotel and find a guide at the park.  This didn't work out quite so well as we got lost trying to find the entrance to the park and ended up on the wrong side.  We did find some birds but not as many as if we had entered the park proper.
VISA FOR ETHIOPIA

Visas are issued on arrival to most nationalities on payment of a $50 fee in cash.  It was very straightforward and smooth, didn't take long at all.
BEST SEASON TO TRAVEL
There's a couple things to consider, the weather and potential crowds.  I always check the weather on Weather2Travel. In my case, since we were going to other places in Africa we went in the moderate rainy season (April/May 2017) but it wasn't too bad.  Hara Langano was nice and we got a few evening showers in Addis Ababa.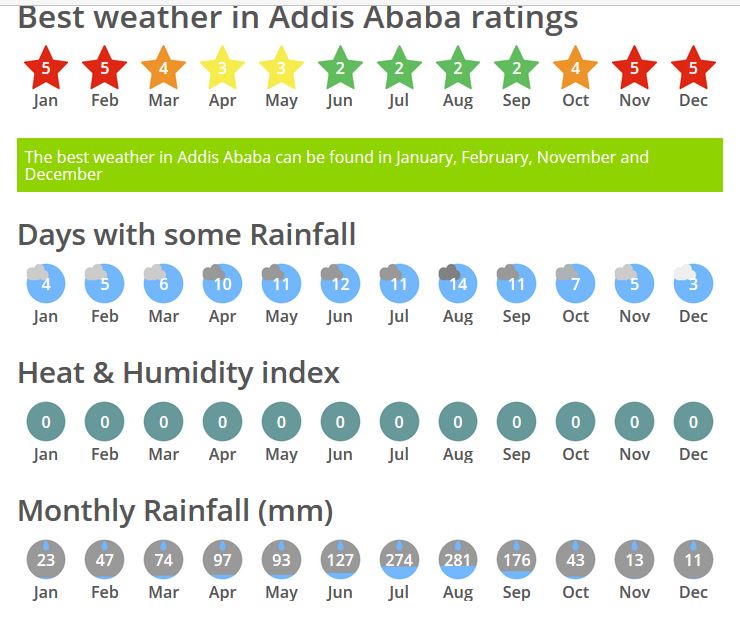 If you have "must-see" bird species, always check eBird to make sure the birds are being seen that time of year by other birders.
BOTTOM LINE
Although Ethiopia isn't the top birding destination in Africa, it is growing in popularity and becoming easier to access.  We had no major problems when we were there other than attracting some curious teenagers at the bus stop on the road to Addis.  This was the most challenging country to "wing it"  as outside the hotels hardly anyone spoke English and they aren't used to seeing tourists not in groups.  We did get the target birds although the Yellow-fronted Parrot didn't come out in the open to be photographed which was disappointing.  The Black-winged Lovebirds did make a few quality showings!