I've always had big dreams and big plans to travel to lots of countries where I can see wild birds and parrots in particular.  Dreams are not enough, I also carefully spreadsheet my goals for accumulating enough miles to make these dream trips come true.  I'd like to say I am in charge of my own travel destiny but in some ways I can't be.  Having your country's currency lose 20% of its value can throw a huge monkey-wrench into even the best laid plans.
This first chart represents the last 6 months for those who have AUD and want USD.  Pretty shocking, especially when you consider how many tour operators quote in USD.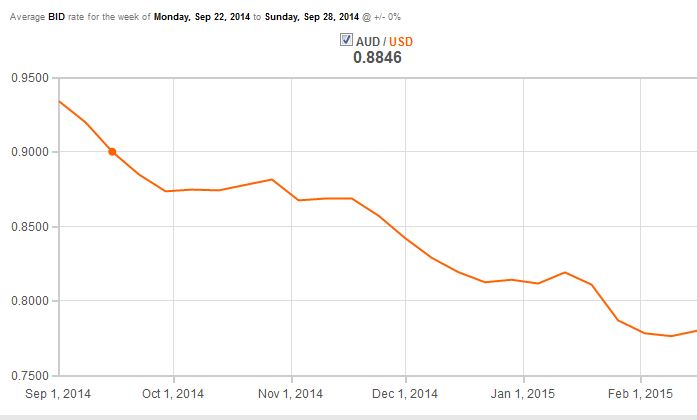 This chart shows the last 5 years to give a bigger picture.  We've had some ups and downs but mostly ups.  It's been a good few years for Aussies!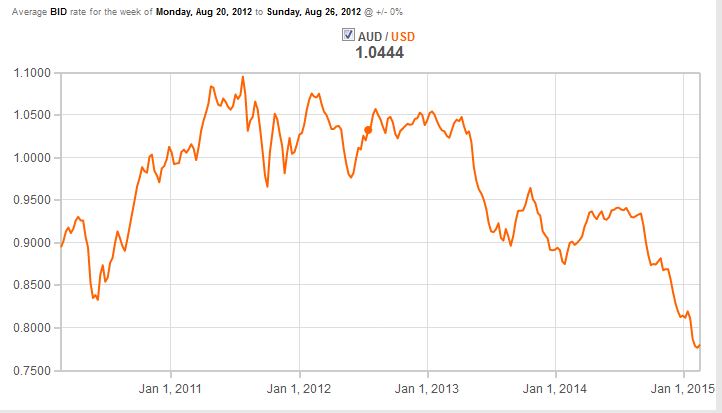 This year we are only doing one overseas trip to Thailand and Malaysia for birding and the Cook Islands (to see family).  The AUD has also gone down against the Thai Baht, but the overall cheapness of the country makes the visit still economically possible.  Surprisingly the AUD has pretty much stayed the same against the Malaysian Ringgit.
Next year we are in trouble.  I had big plans for Peru, Bolivia, the Caribbean (birding) and the USA (to see family).  The birding in Peru & Bolivia requires dealing with locally based tour operators who price their packages in USD and you have to pay a substantial deposit up front and the balance 30 days before arrival.  We can't do these trips as DIYs as you have to use private river transport (Peru) or possibly small planes (Bolivia) packaged with accommodation and birding excursions.  So the unfortunate result is these two trips have to be postponed to a time the AUD is more favorable.  The Caribbean is also USD-centric but I can use points in some places like Puerto Rico and Hotels.com Welcome Rewards to ease the pain and all other expenses would be paid on the spot, not in advance.
I still want to go birding in South America so what to do?  The answer is to find countries where I can book and pay for lodges online ad-hoc and watch for discounts on hotel booking engines such as Pointshound & Rocketmiles.  I found the ideal countries in Ecuador & Colombia.  Ecuador is small, easy to get around and other than the Amazon region I can book lodges online and pay for guides and other expenses when we get there.  Colombia is no longer as risky as it used to be and has an amazing bird list, plus it's still cheap.
We can use Lifemiles for Aerogal in Ecuador and Avianca in Colombia and also use Avios for LAN in Ecuador and Colombia.  In fact either option even gets us to the Galapagos! Some places can be cheaply accessed by bus.  By choosing countries where I can pay with Aussie credit cards or withdraw the local currency from an ATM against my Aussie bank and avoid involving USD, I can keep the costs down and take advantage of better rates in cheaper countries.
The lesson here is don't let currency fluctuations derail your whole trip!  Peru and Bolivia will still be there when the AUD goes up again…………..and it will.  Just be flexible and look for alternatives, they are out there!