Look at Manaus on Google's satellite map and it looks like it's smack dab in the middle of the Amazon rainforest.  Geographically it is, but in reality it's a large city many miles away from where eco-tourists would want to be.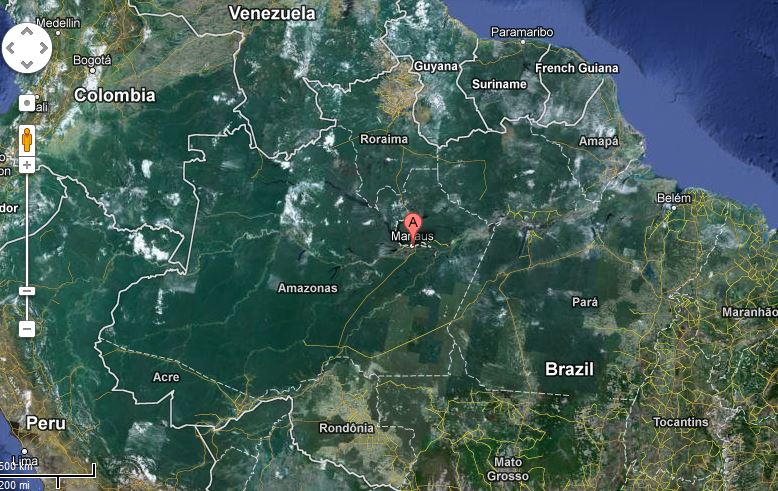 The best thing about Manaus is that you can easily get there using miles and from there it's an easy domestic flight to more interesting places or an adventurous boat down the river.  Bear in mind that the Amazon river is huge and you won't see much from a river boat, you need to get off into a tributary.  I've already discussed getting to Brazil using miles and you can see all the mileage costs for my top 8 recommended programs.  Let's look at getting to Manaus in particular.
ONE WORLD
American has a daily non-stop flight from Miami.  This flight is a bargain 12,500 Avios one way or 25,000 round trip and can be booked online at British Airways.  Using AA miles starts at 20,000 one way but you can travel from anywhere in the USA whereas using Avios is only a bargain if you start from Miami.
In mid 2014, TAM will be leaving Star Alliance and joining OneWorld so that opens up a few more options too.
STAR ALLIANCE
Copa flies to Manaus from Panama City daily with good connections from the rest of the USA.  A sample itinerary might look something like this.
WHERE TO STAY
As you can see, most flights arrive at night so you will probably need at least an overnight hotel.  There are a couple of options if you have points with Priority Club or Choice Rewards, otherwise I recommend using
Pointshound
* to book an independent hotel and earn miles in your preferred frequent flier program.
* I don't have any special affiliate relationship with
Pointshound
.  This link is the same one all members have access to.  If you use my link, both you and I get 250 miles when you book your first room.  Once you are a member, you will get a link of your own to use for referrals.
Holiday Inn Manaus – 15,000 points.
Choice has 3 properties but they aren't real bargains as they start at 16,000 points but could be useful if you have lots of Choice Rewards points you can burn.