Blue Vanga Lodge is run by a friendly family in the village of Ampijoroa, about 5 km from Ankarafantsika NP.   They accept online bookings which will be replied to by their Majunga office. You must pay cash Ariary or Euros, no credit cards accepted either online or in person.
We arrived with barely enough light to see the track from the main road which was well-signposted.  It is a small lodge with 6 brick bungalows for tourists and a bunk room for drivers.  There is no parkland nearby and the only birds we saw here were chickens belonging to local farmers.  If you want to see Blue Vangas, you need to go to the park.  We saw a couple other tourists who also had a private car/driver so I am not sure how people using public transport would get to the park.  I did see some mini-buses (taxi-brousse) parked in the village you you could get one headed towards Majunga and just hop out at the park.  To get back to the lodge, you could try for a mini-bus with empty seats or walk.  A tasty breakfast is provided and they will have cold drinks if you ask after the generator has been running a couple hours.  They can also do other meals.  For lunch and dinner your choices are basically eat at the lodge, buy food at the market in the village or have lunch at the park.
Beds have mosquito nets and there is a fan but electricity only runs from around 6-10pm.
Nice large bathroom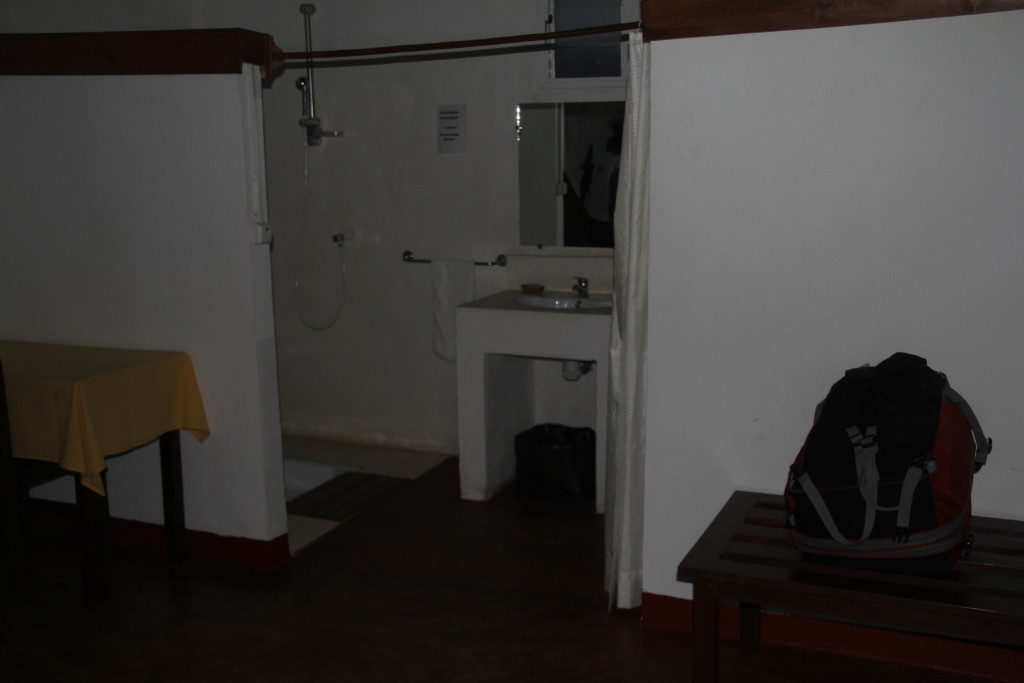 There's our jeep parked at the entrance.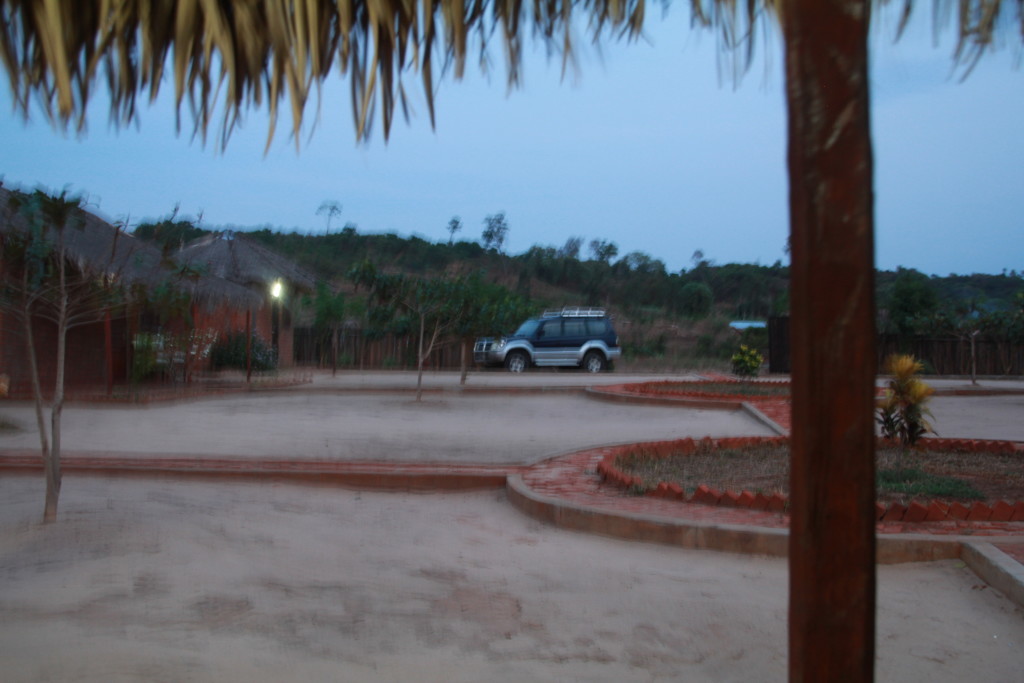 Although there weren't many mosquitoes, there were lots of moths that would get in and even get through the net.  They are attracted to laptop or tablet screens, especially after the generator is switched off.  The bungalows can get very hot once the fan turns off and I was dying to open a window, but then more moths came in.  The next morning, the staff fixed fly screens on the windows (which just happened to be laying around) and the problem was solved!  We had cross-ventilation and no moths!
The village is very small.  You can see a mini-bus on the right of the red truck.
Basic food supplies – drinks, fruit, veggies and canned food can be bought at the market.  We had to do this the 2nd night as I was running out of cash and no place to get any more and I needed to save enough for the petrol back to Tana.  We survived!