*** Sadly this hotel is no longer with Club Carlson, it is now with the Pearl Hotel group.  You can no longer book it with points. ***
As luck would have it, we had 2 days to kill in Papeete as the next flight to Rimatara was only 3 days a week and we were booked for Friday.  This was a perfect opportunity to keep costs down by using my Club Carlson Visa benefits of getting one award night free after booking one.  The Radisson Plaza Resort in Tahiti was a very nice property although the location was inconvenient to get to.  Most people will take a taxi from the airport for around $50-ish but budget travelers can use the local buses which stop in front of the airport to get downtown.  This bus will leave you near the Grande Marche and you will need to walk a couple blocks to get an onward bus to the Radisson.  Just ask the locals, they will make sure you get the right one.  In the map below you can see the location of the Radisson, the Intercontinental (review to come) and the Marche Municipale.  It will cost around $5 per person in bus fares to get there.  The photo below shows where you get off the bus for the Radisson.  The last bus is around 5:30 pm but I would get there by 5 just to be sure.
.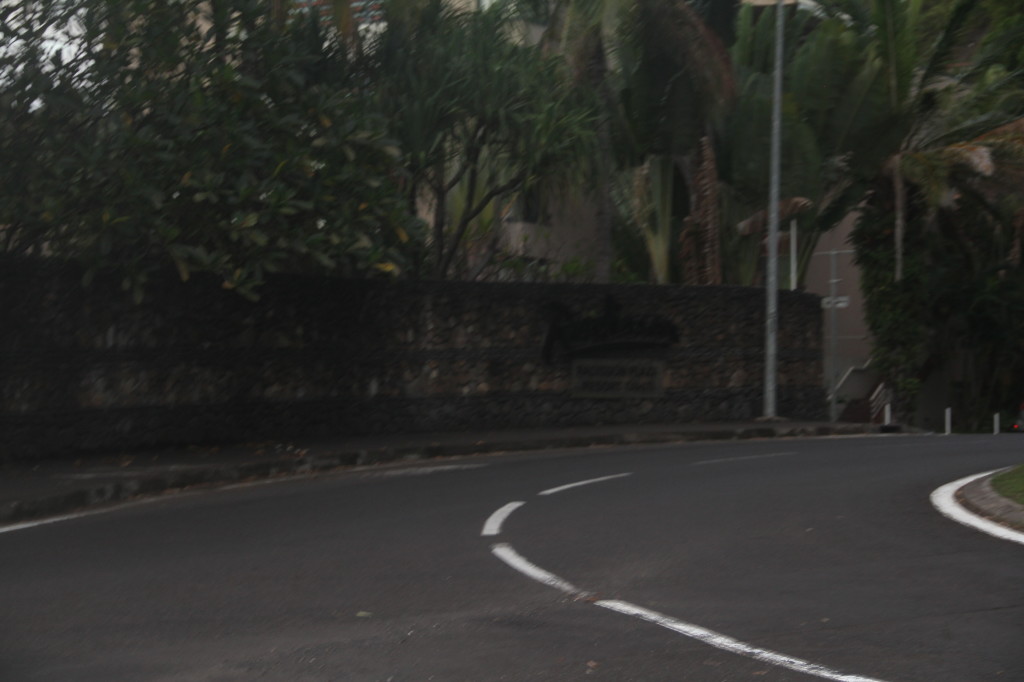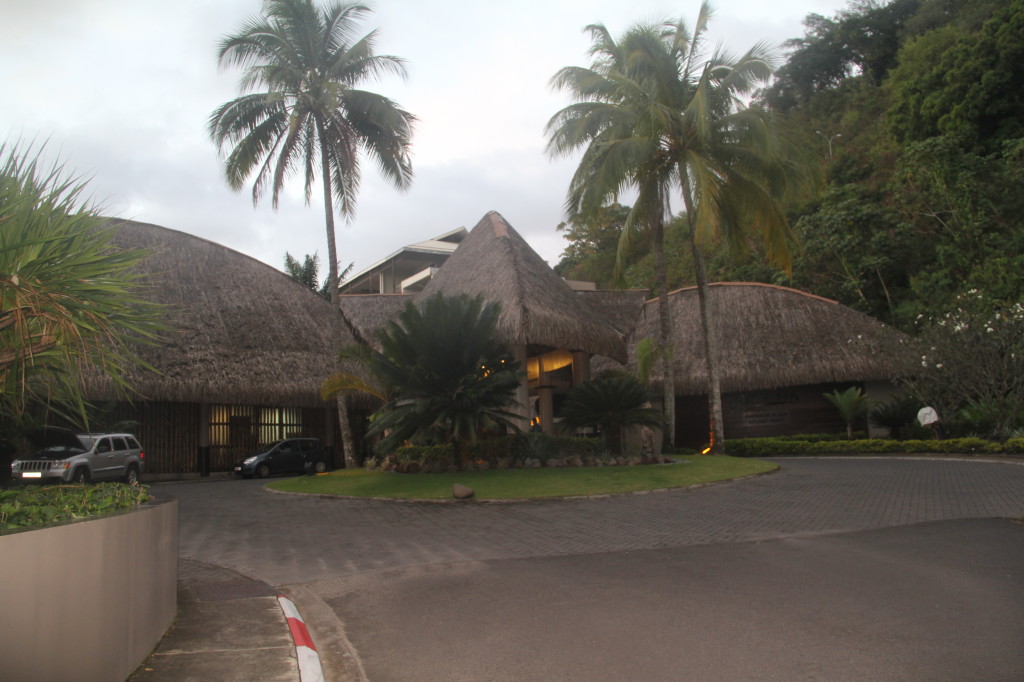 I was pleasantly surprised to see we were upgraded to a suite overlooking the beach!  There was a living area, balcony and powder room downstairs and the bedroom with full bathroom upstairs.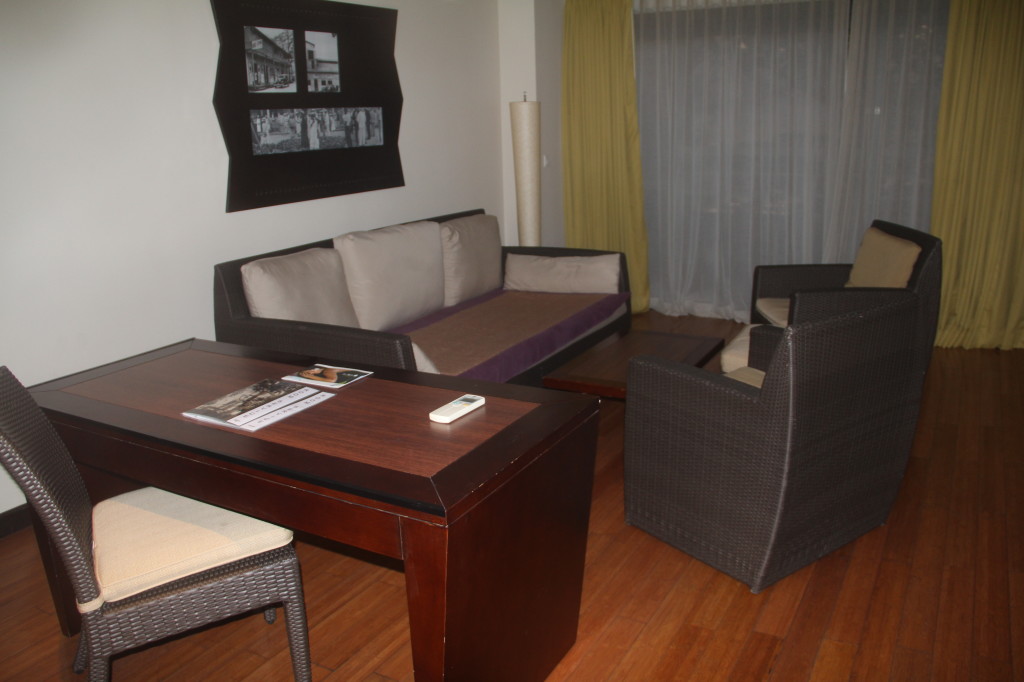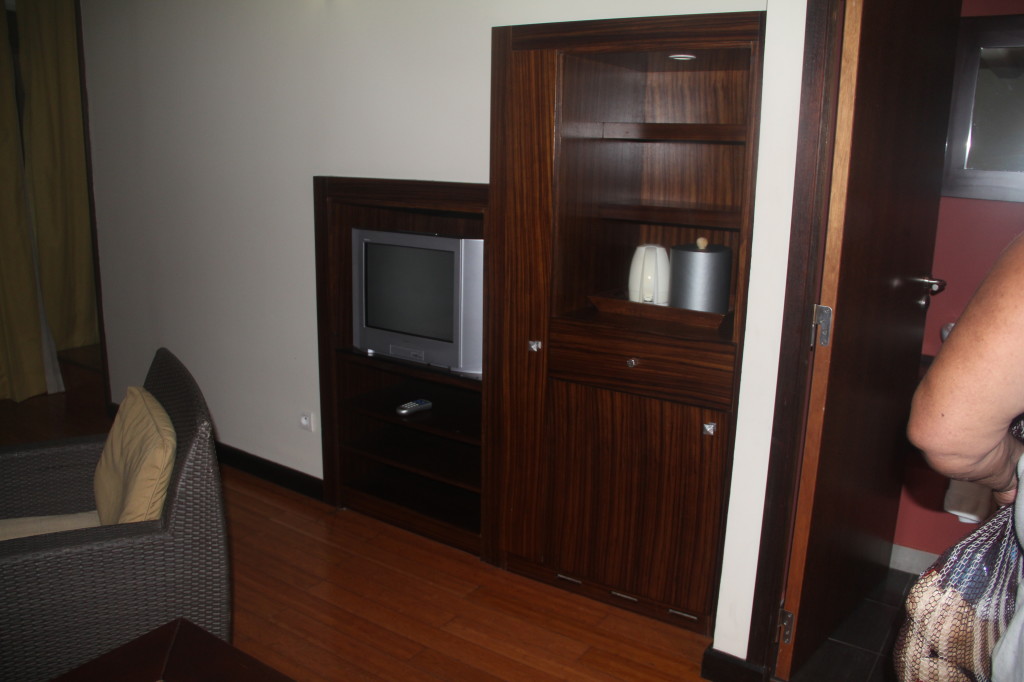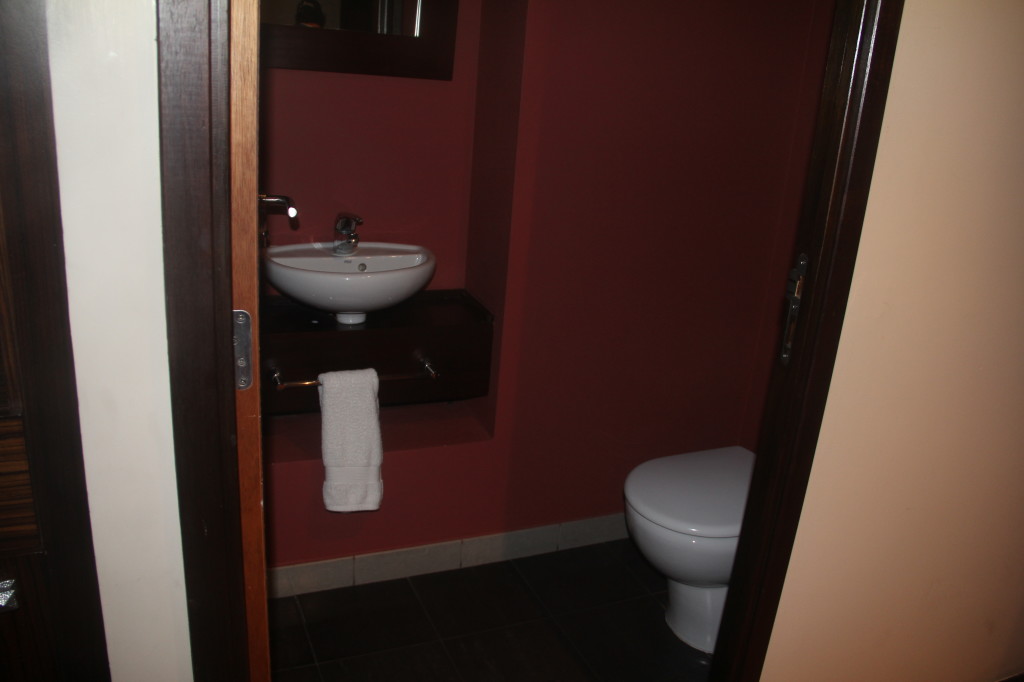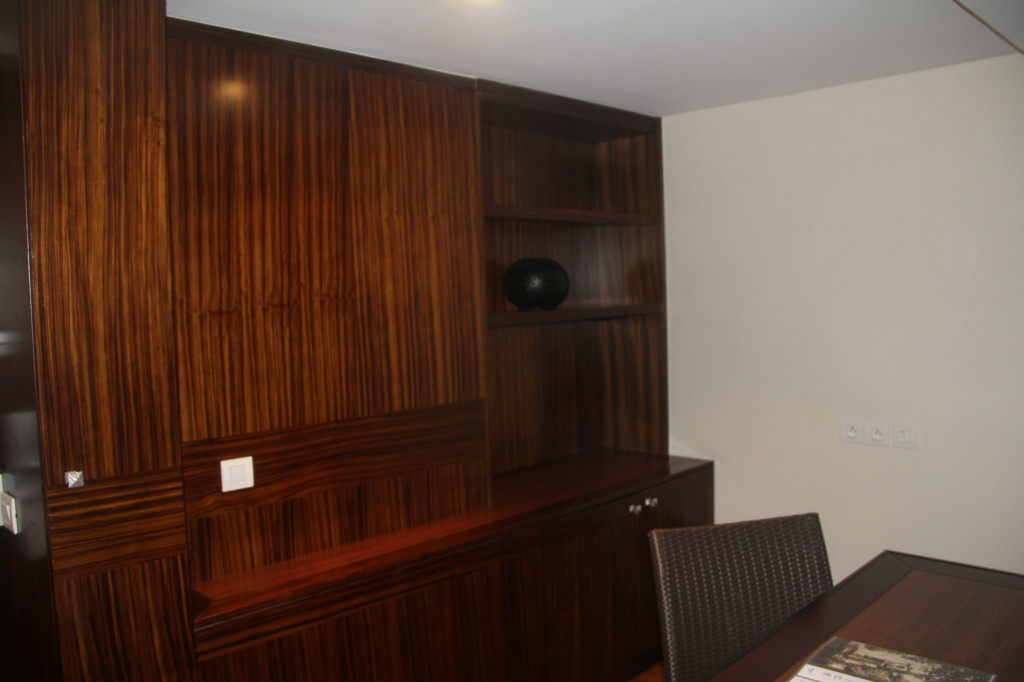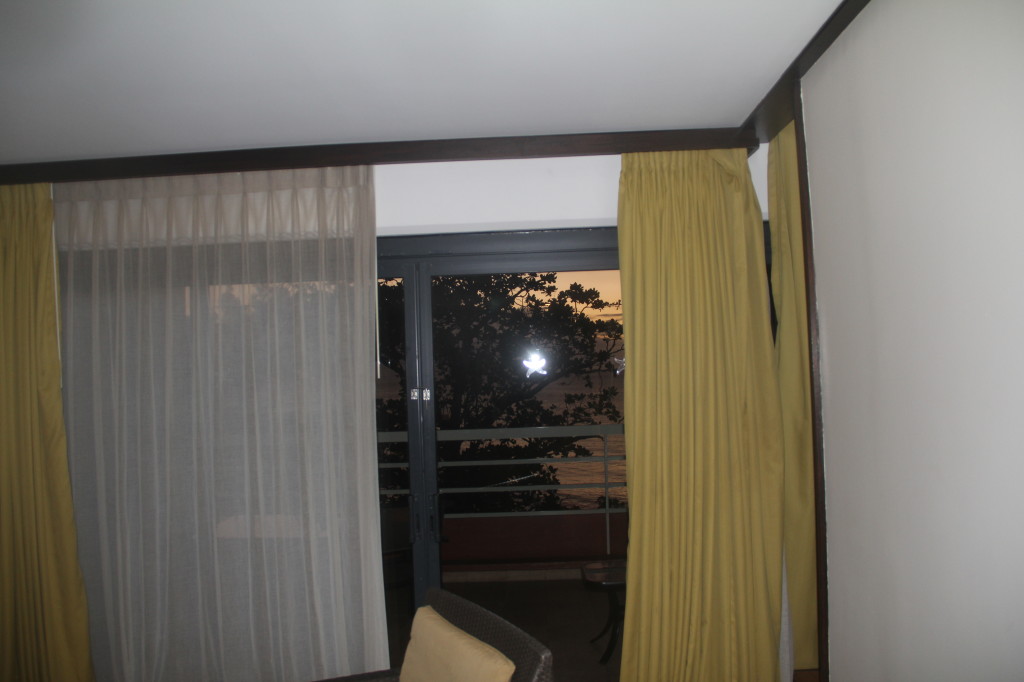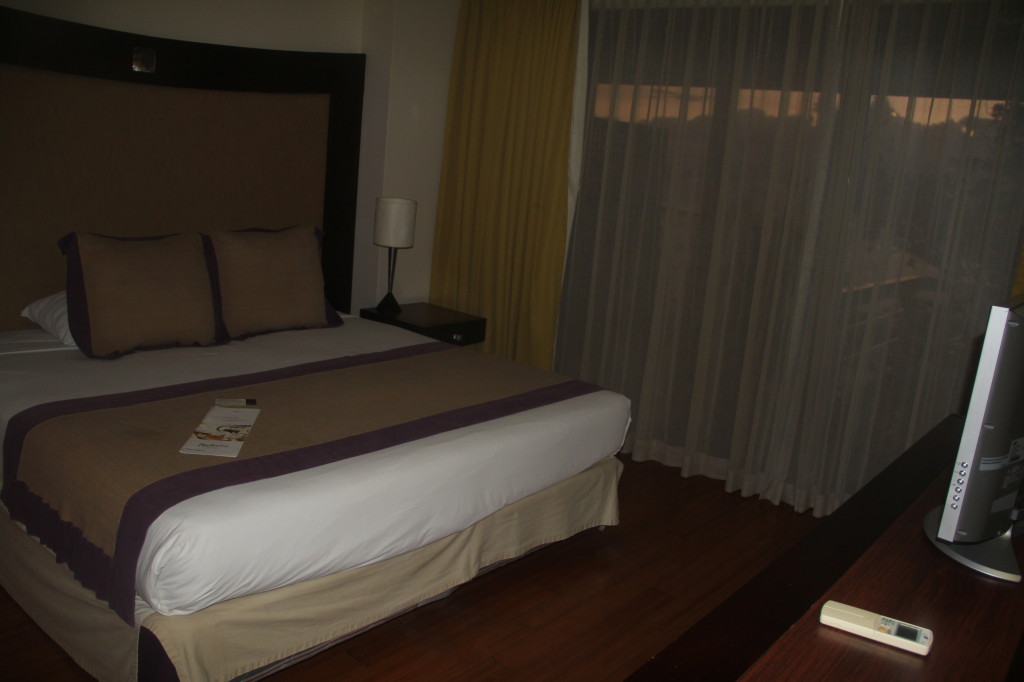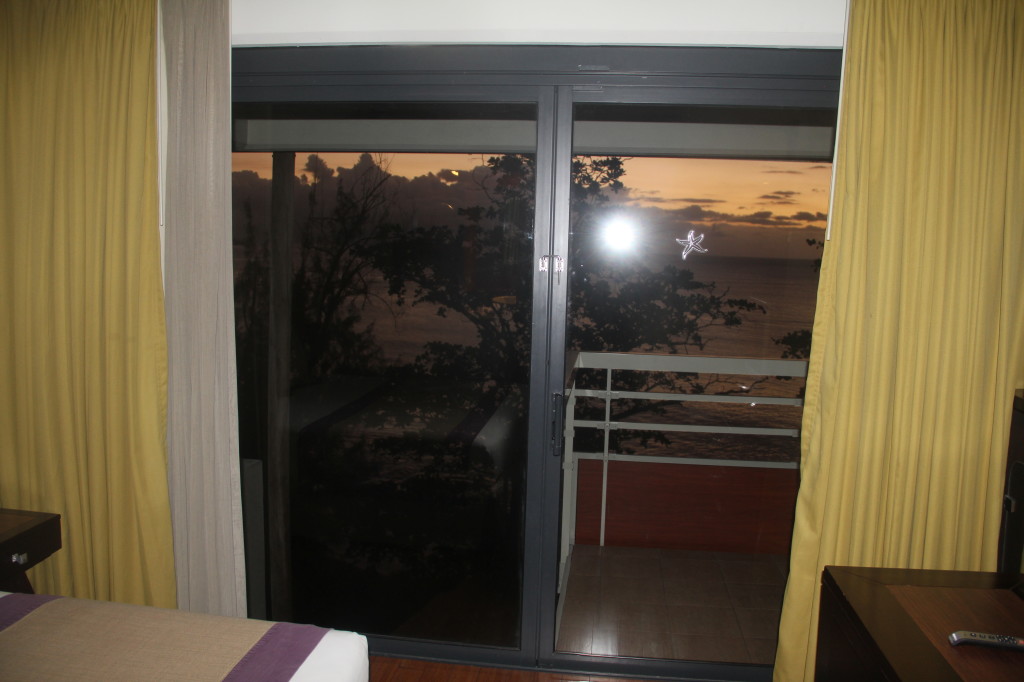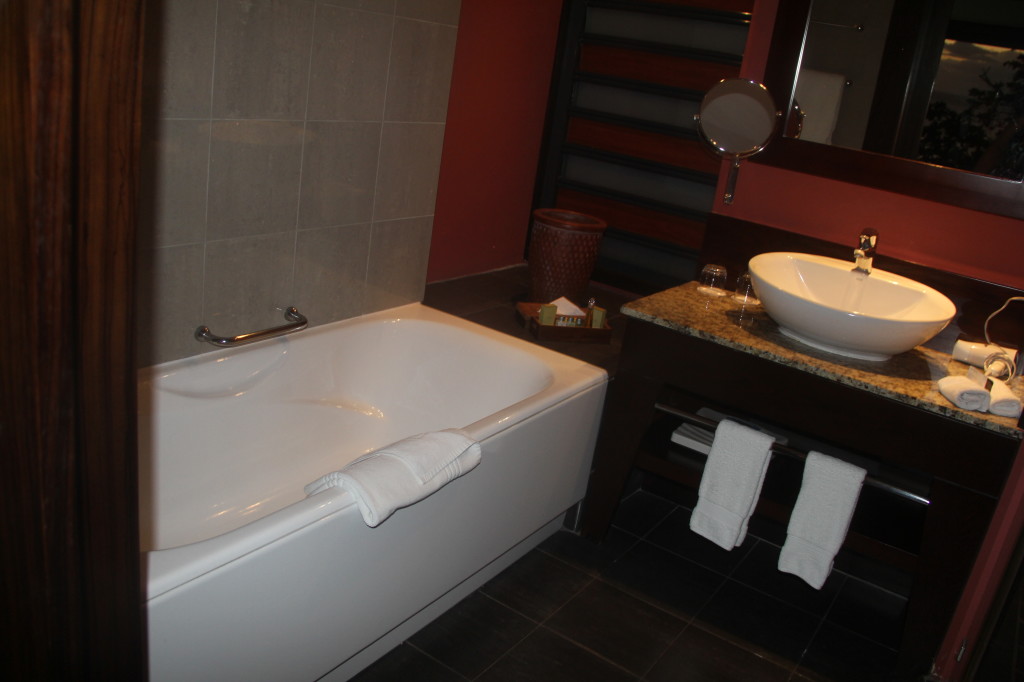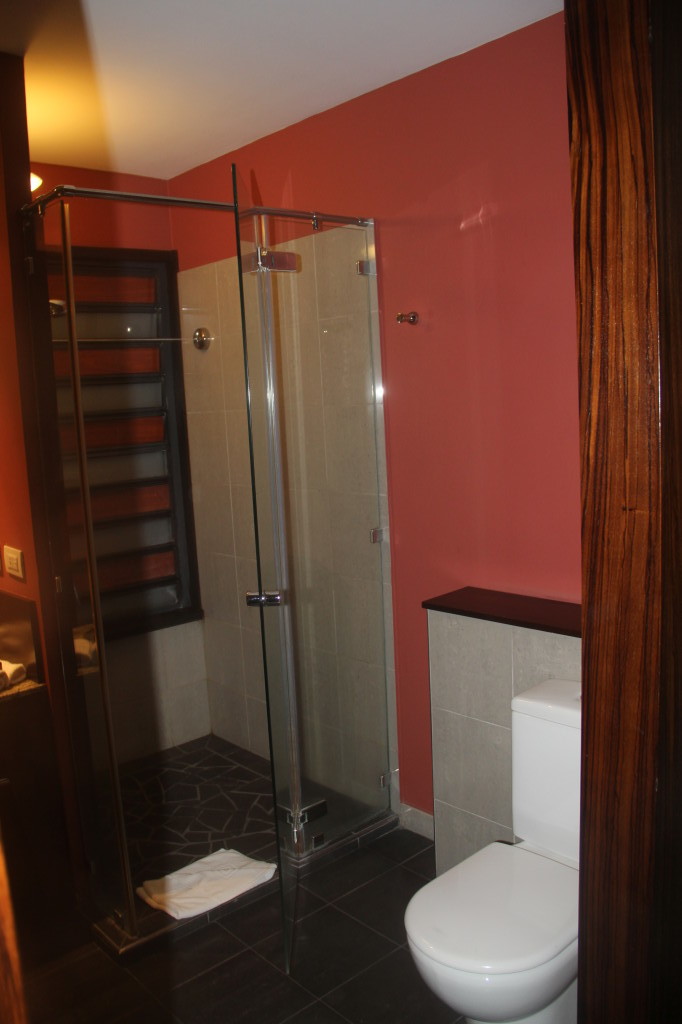 The wonderful view from our balcony!
The van that takes you downtown twice a day (8:30 am, returning 12:00 and 2:00 returning 5:00pm) is fairly small and you need to book in advance.  Otherwise you will have to use a taxi or the local buses.  They drop you off and pick you up behind the tourist office.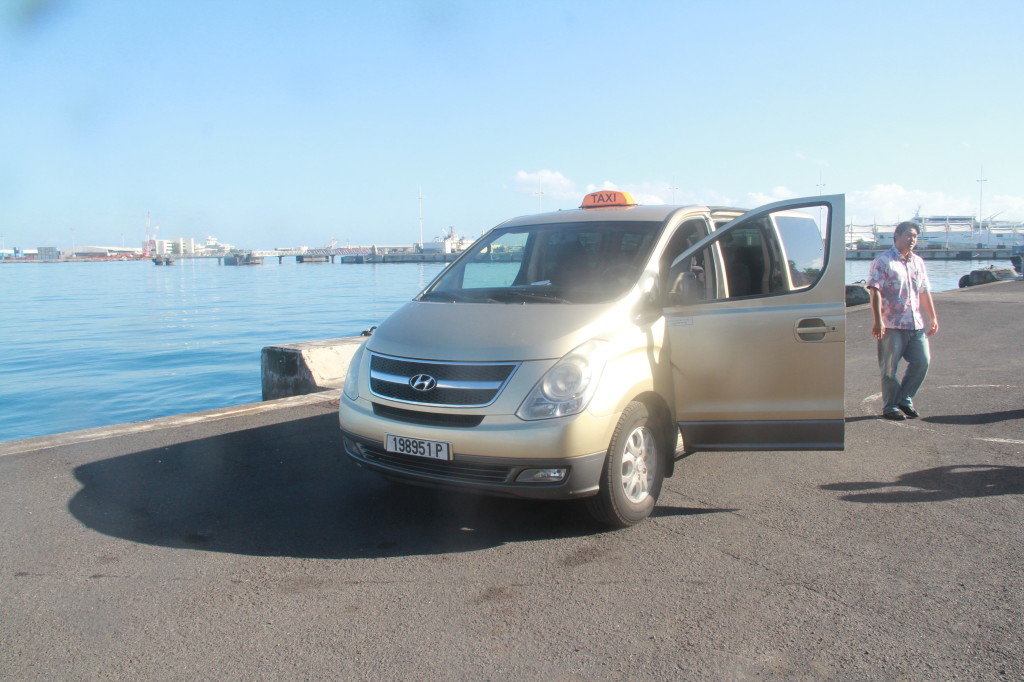 The swimming pool was really nice but I was disappointed to see the jacuzzi had cold water.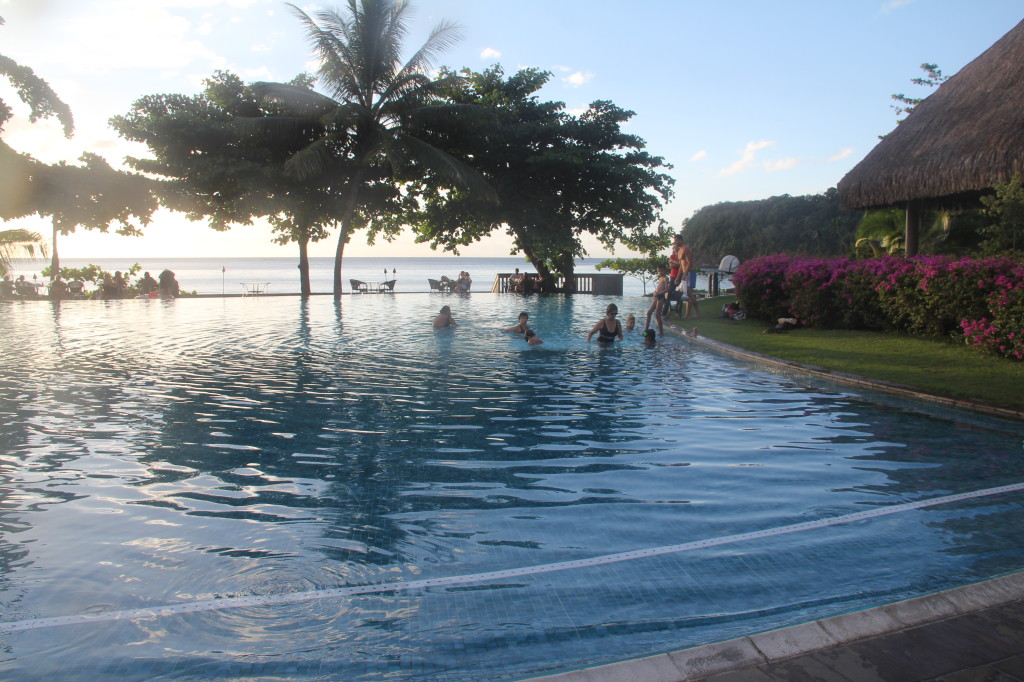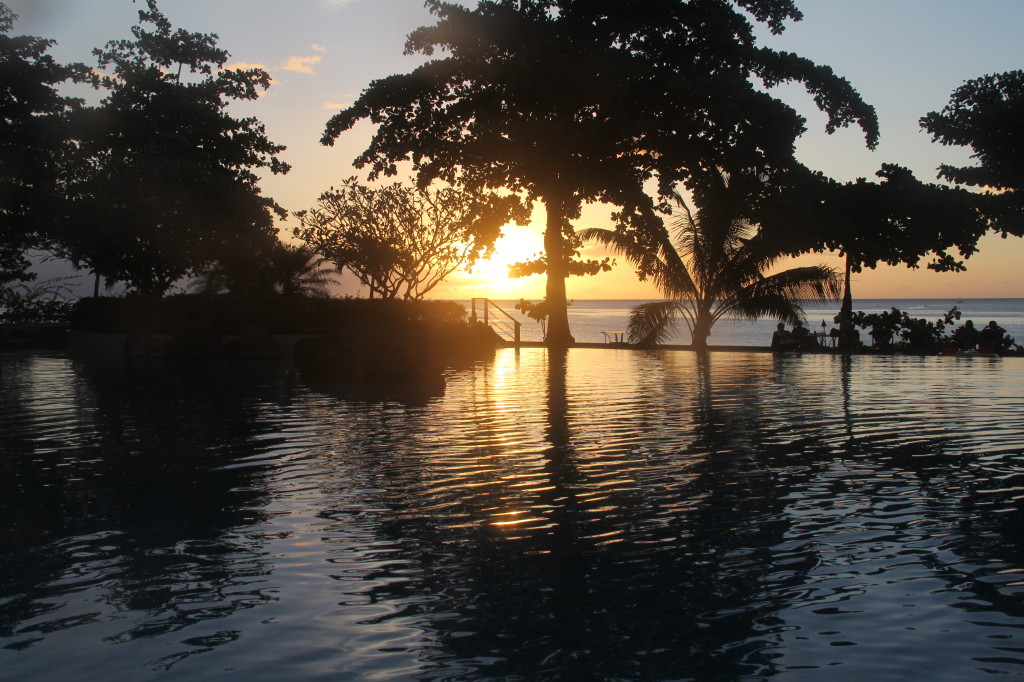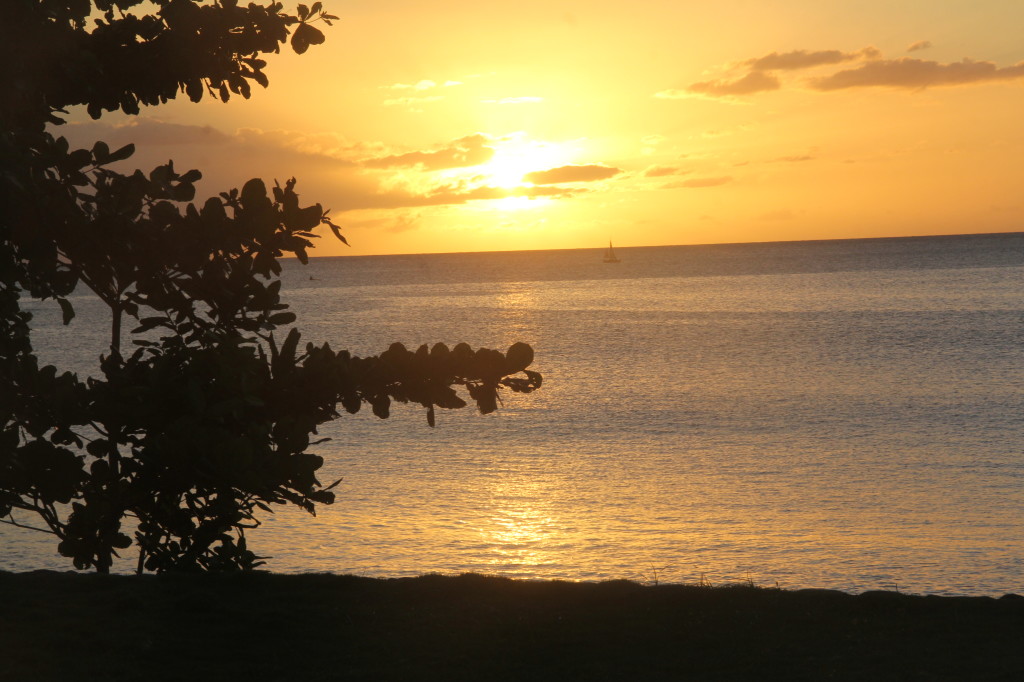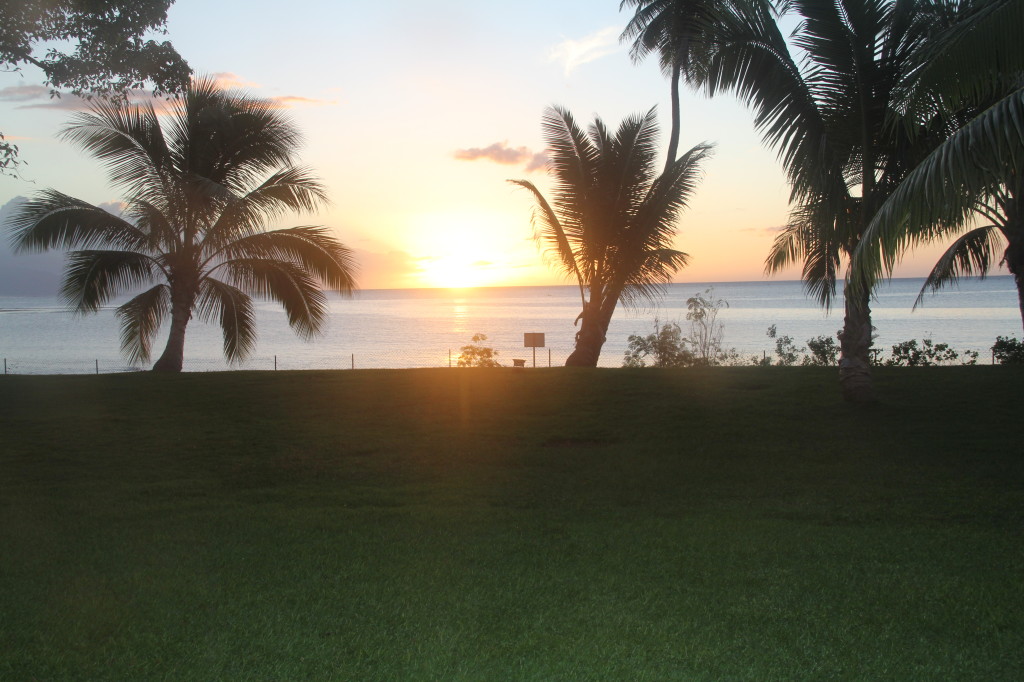 This is where I get ideas for our upcoming bathroom renovation.  I love tropical decor!
On Thursday evenings, don't miss the fantastic Marquesas dance show!  My husband managed to get us a great table up front (guess it pays that he speaks their language)!  It doesn't have to be expensive.  Thankfully it wasn't some over-priced buffet and you could order what you want from the menu.  Pasta dishes are around $20-25.
My husband is actually a Cook Island drummer so wanted to jam with the band!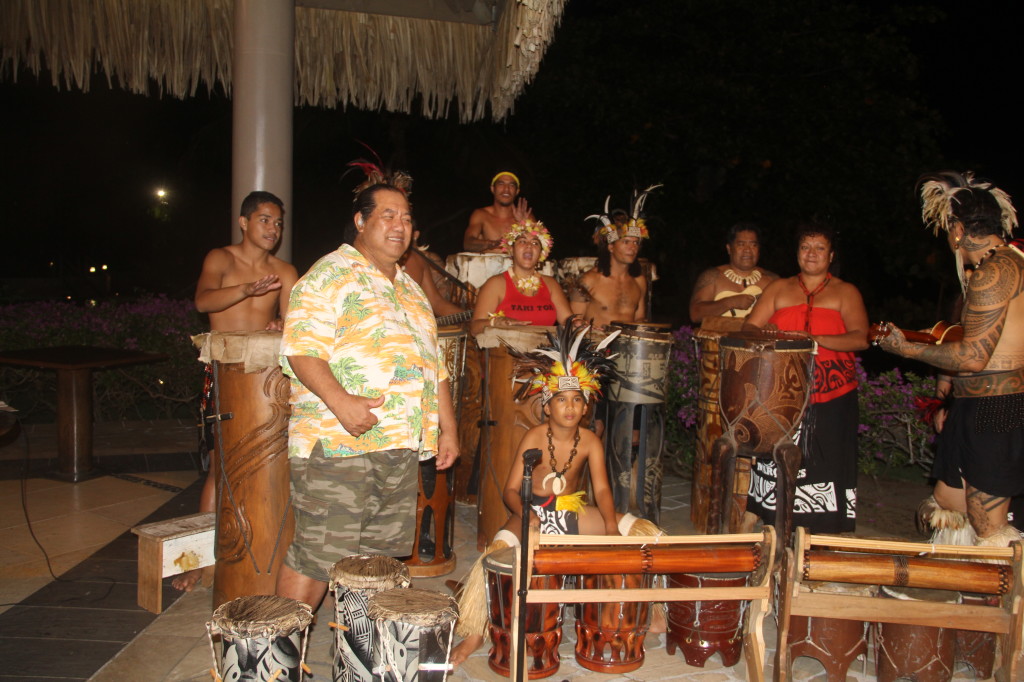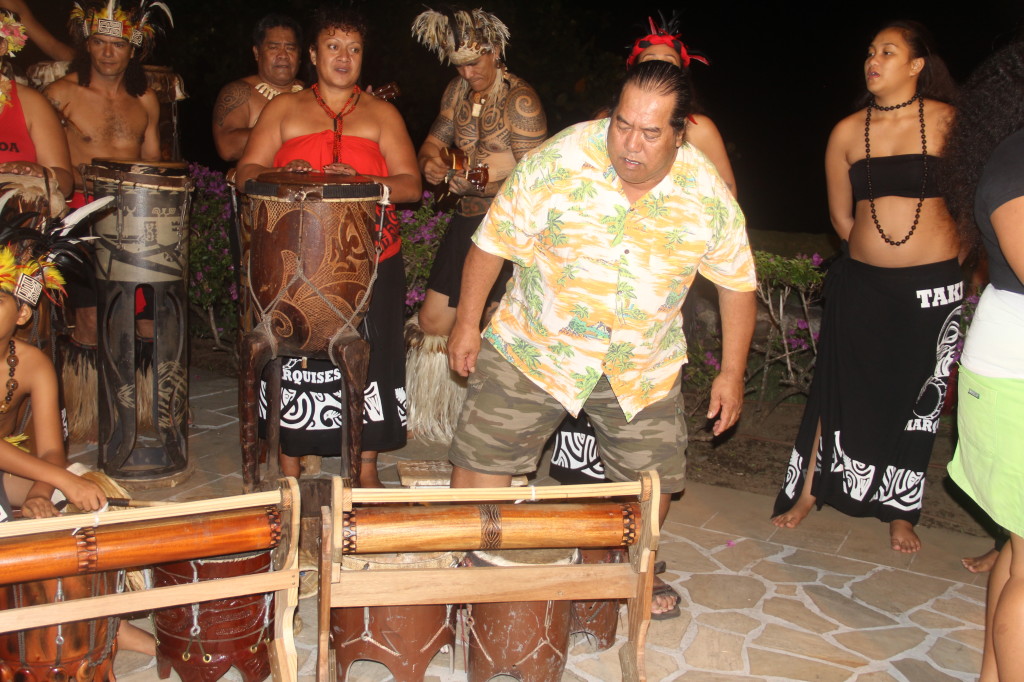 Even award nights attract a resort fee of around 1800 XPF and city tax 300 XPF per night.  Award nights are 44,000 Gold Points (2nd night free with Club Carlson Visa).  Reviews on Trip Advisor are mixed, most people have more issues with the location rather than the property itself.  There are no dining options within walking distance so you can buy food at the market and bring it back.
When leaving for the airport at 4am on check out day, we were reluctantly prepared to have to pay for a taxi but got lucky.  There was a large bus picking up a group of tourists and we arranged with the driver to pay 1000 XPF each to be dropped at the airport.