OVERVIEW
Kings Park and Botanic Garden is visited by nearly 6 million people each year. With its remarkable expanses of unique bushland, tranquil parkland and botanic garden, the park is the most popular visitor destination in Western Australia.
The total area of the park is 400.6 hectares and is located adjacent to the Swan River, approximately 1.5 km from the Central Business District of Perth.
HOW DO YOU GET THERE?
If you aren't already in Perth, see my guide on how to get there with miles.  King's Park is conveniently located near the central business district of Perth making it either a 20 minute walk or take the bus.
HOW MUCH IS IT?
Free!
HOW LONG SHOULD YOU SPEND THERE AND WHAT SHOULD YOU SEE?
A park of this size with such abundant birdlife is best visited in the morning or early evening when the birds are out and about.  Plan on at least a couple hours to have a leisurely stroll around and relax and watch the birds.  King's Park boasts an impressive bird list for a city centre park.  Eremaea has one bird list and you can also download a PDF from King's Park website with full colour pictures of some of the most popular birds.  Here's a snippet from the brochure.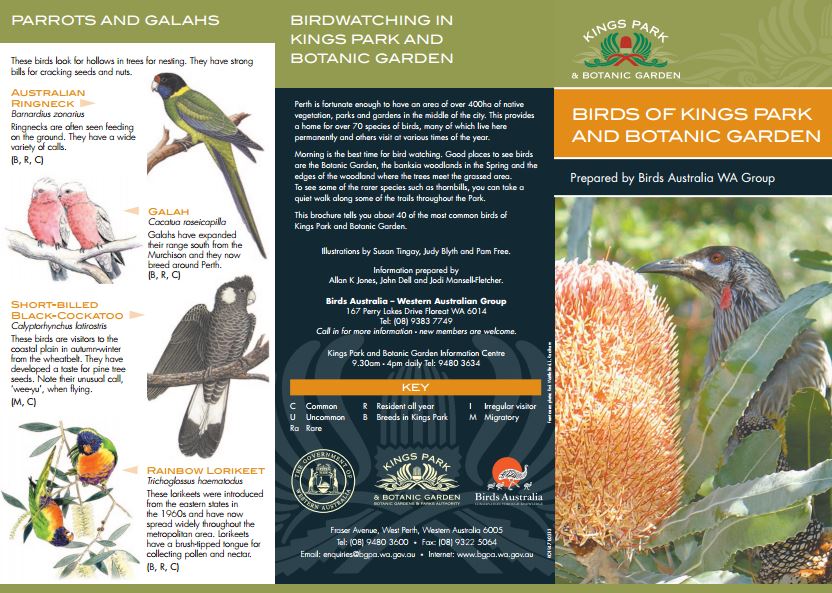 VALUE TO CONSERVATION
Humans and cities have been encroaching on wildlife habitat for years.  This park provides a beautiful natural habitat for  the birds and animals who would otherwise have no place to live in a modern day city.  The park has an education program to give people a greater appreciation of the native wildlife.
Kings Park and Botanic Garden enjoys the devotion of hundreds of enthusiastic and dedicated volunteers. It's very important to keep the community involved.
WHERE TO STAY NEARBY ON POINTS
Perth is a major gateway city to Australia and has many options for those wishing to use hotel points.  I have done a comprehensive post on visiting Perth.