I will be using Accra's Kotoka International Airport as an example because that is where I went and also because Ghana is in my opinion the best country in West Africa to go birding.
The first step is to identify which airlines that participate in one of the 3 alliances serve the airport in question.  You can do this by looking the airport up in Wikipedia and making a note of which airlines fly there and cross referencing with my guides on Star Alliance, OneWorld Alliance and SkyTeam.  The main airports of interest to birders will be Accra, Dakar, Banjul, Abidjan & Freetown (if ebola crisis is over).  Lagos, Nigeria and Douala, Cameroun could also open up to birders if the security situation improves.
This is what you are looking for and I have highlighted all alliance members in yellow.
STAR ALLIANCE
Star Alliance rules Africa in general and for most people, these are the miles you want if you are going anywhere in West Africa.  Egyptair, Ethiopian Airlines, Lufthansa, TAP Portugal, Turkish (which the Wiki forgot) and South African Airways all fly here.  Most people will be using United Airlines miles for their trip although Australians may be using Singapore Krisflyer miles.  I advise using United or possibly Avianca Lifemiles to avoid YQ fuel surcharges.  Here are some typical routes and costs with United, all are quoted as one-ways so double it for a round trip.
Traveling from the USA or Canada will cost 40k economy or 80k business class.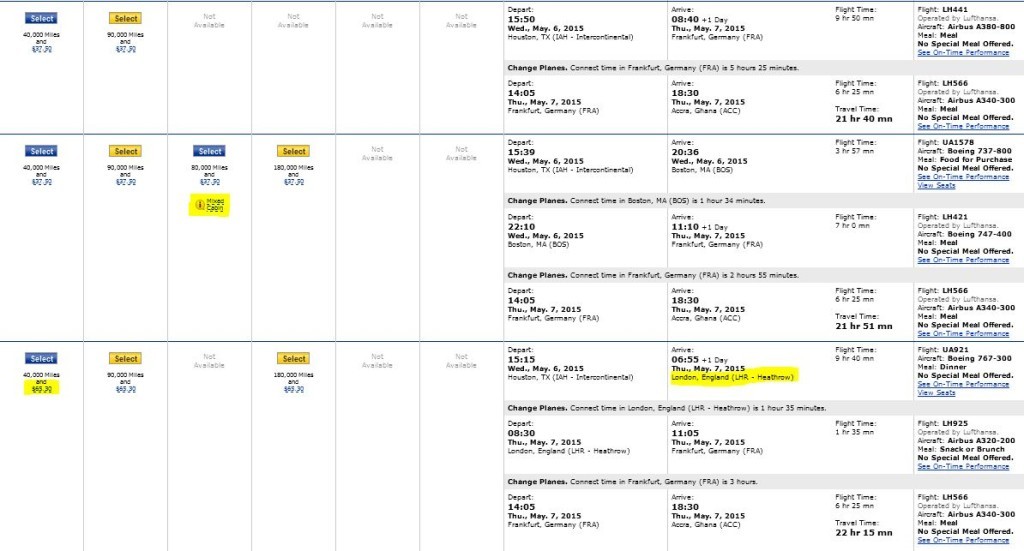 From the UK or Europe you will pay 30k economy or 55k business class.  Watch the high airport tax from the UK!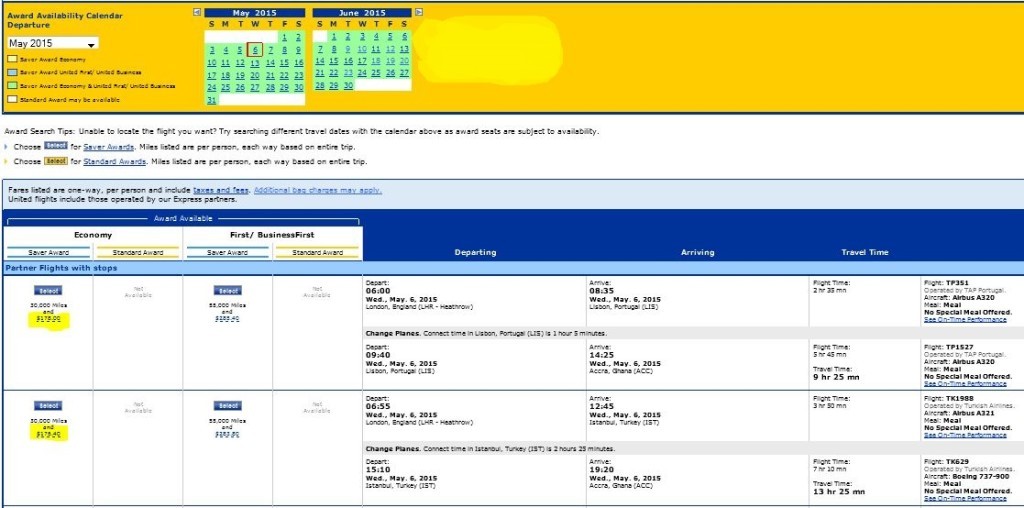 From Australia or New Zealand you will pay 50k economy or 85k business class.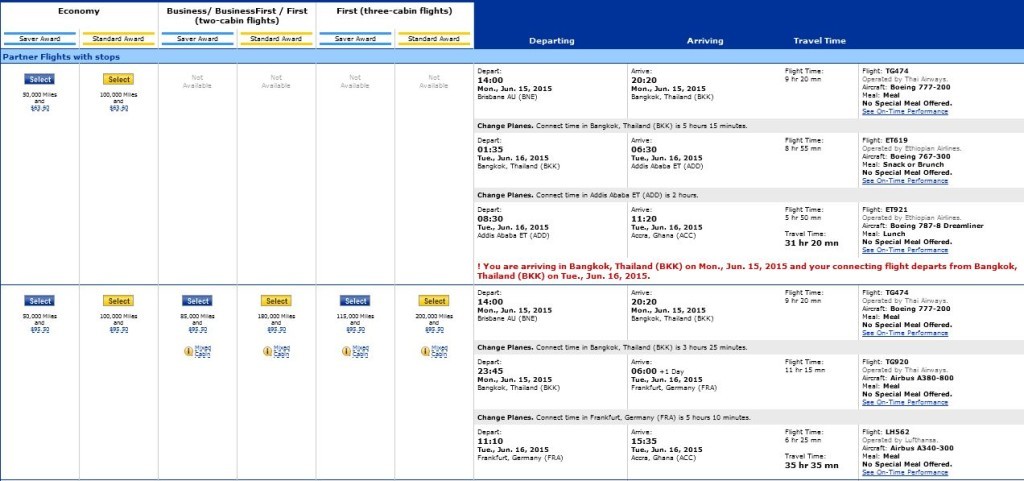 If you need intra-Africa flights, these are a bargain at  17.5k economy and 35k business class.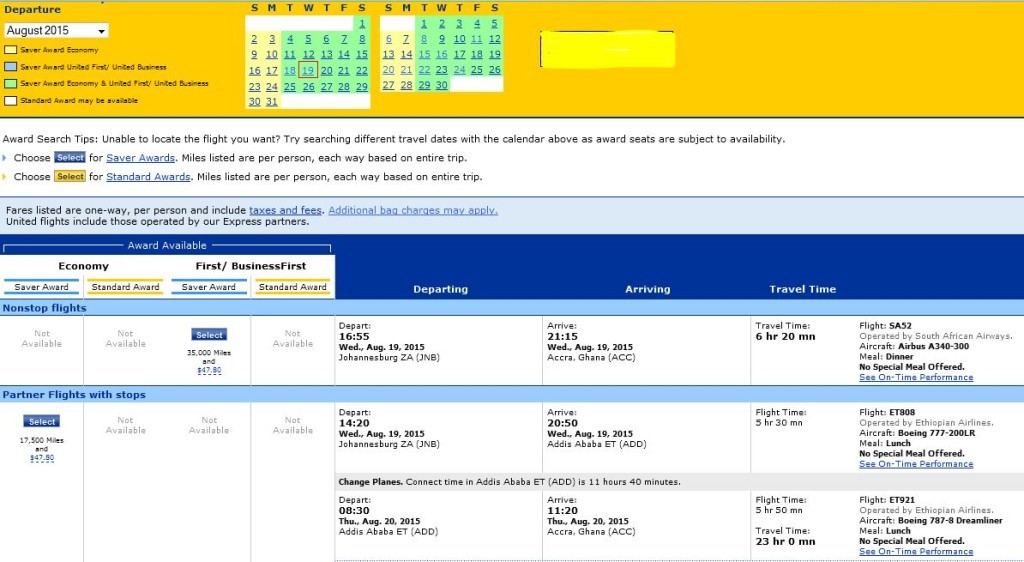 If you are using Singapore Krisflyer, the miles are reasonable but the YQ surcharge is insane!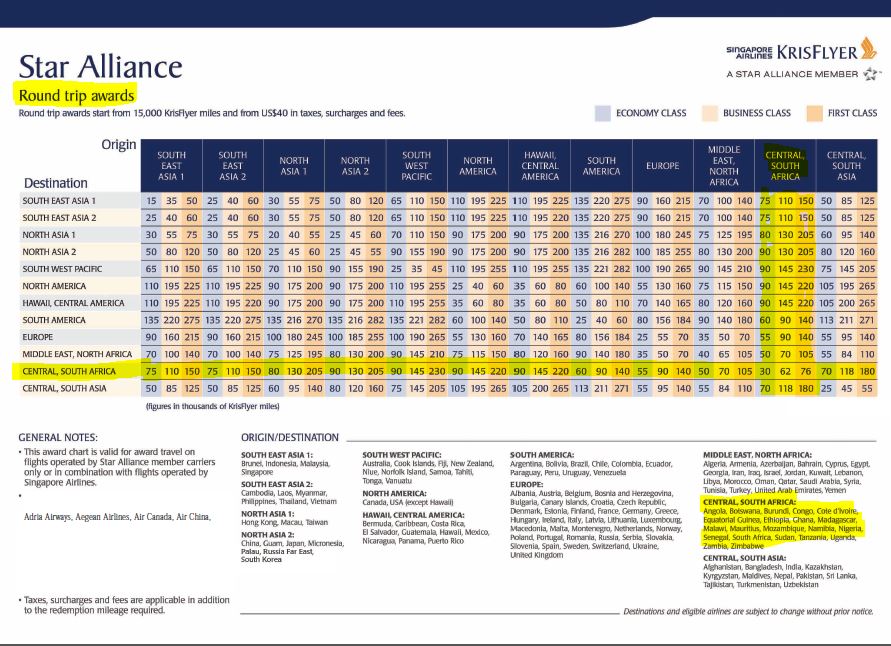 Seriously?  Over $500 AUD for the YQ surcharge!!!
ONEWORLD
Only 2 OneWorld Airlines serve Accra – British Airways and Iberia.  Both attract YQ surcharges (BA is higher than IB) so these routes will not be most people's first choice.  Due to routing restrictions, you will need to redeem 2 awards if you are coming from Australia/New Zealand – Singapore/Bangkok – West Africa.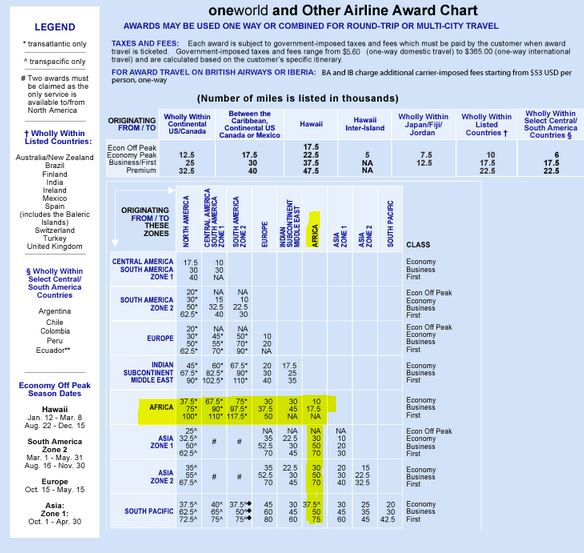 If you are flush with Avios from a credit card bonus, they are an option but please note the YQ surcharges!
SKYTEAM
Accra is served by 4 Skyteam partners – Delta, Kenya Airways, KLM and Middle East Airlines.
Delta has surprisingly good availability.  They no longer publish an award chart so I did a few examples.  From the USA/Canada mileage starts at 40k economy & 90k business class and goes up depending on saver availability.
Notice how much higher the YQ surcharges are for these examples for Sydney and London!
Using Flying Blue miles on Kenya Airways can be good for hopping around Africa and they do add certain destinations like Madagascar that Star Alliance can't provide.  For more information on using Kenya Airways, see my Madagascar post.
BOTTOM LINE
If you want to go to West Africa, collect United Mileage Plus!  Chase is your friend!