This promo will be especially welcome if you aren't American and can't get the AAdvantage co-branded credit cards.  If you have an Aussie Amex MR you can change 40k MR to 20k SPG, then transfer then to 30k AAdvantage.  We still don't know what the AAdvantage program will look like when the dust settles after the merger so don't go too crazy.  Just transfer enough to cover your needs for the next 18-24 months.  I'm only transferring 40k Amex this time just in case J space opens up on next year's plans.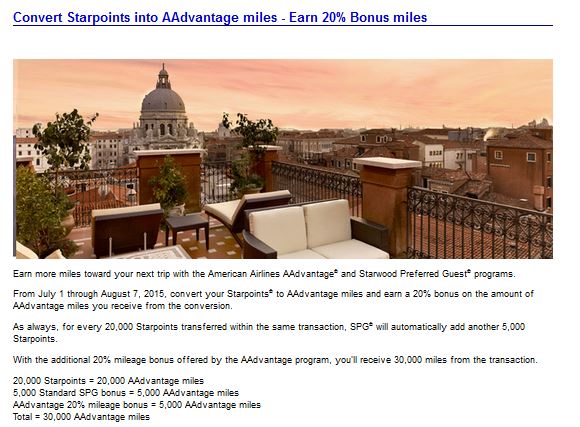 Converting your Starpoints into AAdvantage miles will bring you closer to reaching your dream destination faster.
Terms and Conditions:
AAdvantage® Bonus Mile Offer Terms and Conditions
To qualify for this AAdvantage® bonus mile offer, member must initiate the AAdvantage mileage conversions with the Starwood Preferred Guest® program between 12:00 am Central time July 1, 2015 and 11:59 pm Central time August 7, 2015 (the "Promotion Period"), and be in good standing in the AAdvantage program. Members can convert multiple times during the Promotion Period.
To earn the 20% conversion bonus, member must convert points from the Starwood Preferred Guest program. This offer is non-transferable and non-reversible.
Bonus miles will be posted by American Airlines to the qualifying AAdvantage member's account within 7 business days after the initial conversion activity has been posted by Starwood Preferred Guest. Bonus miles earned in this promotion do not count toward elite status qualification.
American Airlines, AAdvantage, the Flight Symbol logo and MileSAAver are marks of American Airlines, Inc.
Starwood Guest Preferred Transfer to Miles Terms and Conditions
Starwood Preferred Guests can transfer up to 79,999 of their Starpoints® per transaction per program within a 24-hour period to the American Airlines AAdvantage® program. Plus, for every 20,000 Starpoints transferred within the same transaction, Starwood will automatically add another 5,000 Starpoints! This means that up to 94,999 Starpoints can be transferred into your AAdvantage account.
There is no minimum Starpoint transfer requirement for Platinum Preferred Guest members. Gold Preferred Guest members have a minimum transfer requirement of 1,500 Starpoints, and Preferred Guest members have a minimum transfer requirement of 2,500 Starpoints.
Transfer maximums are based on a combination of member Starpoints and the Starwood Preferred Guest airline transfer transaction bonus. Only one airline transfer transaction per member per 24 hour period is allowed; multiple transfer transactions within the same 24 hour period will reject. Both the Starwood Preferred Guest and AAdvantage account must have identical member names in order to complete this request; different names will cause the transfer to reject. Airline transfers are one-way, non-reversible, and non-refundable.