Few people who visit Belize can resist the temptation to visit the wonderful archeological ruins of Tikal.  Some people go on a very long day trip and return to their San Ignacio hotel at night.  Others will be planning a longer stay in Guatemala and moving on to other places in Central America.  Crossing at the land border is very easy whether you take a group shuttle or do it in segments.
If you want to leave first thing in the morning, the same companies that operate the Tikal day trips also offer shuttle service to Tikal.  Here are a few to check out.
If you don't want to leave first thing in the morning (birders probably won't want to as they will be birding in the morning), you can either have your hotel book you a private transfer or take a Belizean taxi to the border, do the formalities on both sides and get a Guatelmalan minibus or taxi on the other side yourself.  Since Parrot Nest is a fair ways out of town, we opted for the convenience of door to door service.  The lodge arranged it and it was around $80USD to be picked up, have the driver wait while we did the formalities, then hand us over to a Guatemalan driver who took us direct to Tikal Inn.  I don't think you really save all that much by breaking it down as this guy on Trip Advisor paid $60 from the border to Tikal so make it easy for yourself!
Be prepared with cash as you won't be able to use credit cards for the transport, the exit/entry fees and the entrance fees to Tikal.  You will need to pay the departure fee of $37.50 BZD ($19 USD)  per person after which you will stamp out at the Belize immigration desk, from there you driver will accompany you to the Guatemala area where you will then stamp in and pay a $6.00 BZD ($3 USD) entry fee. After you have completed this, hop in your waiting Guatemalan vehicle and head direct to Tikal.
You will have to pay the park entry fee before continuing the last 15 km or so to the lodges in Tikal.  There are no ATMs or banks at Tikal so you will need to take along extra change to pay the entrance fee to the park which is 23 USD or 150 Quetzals.  You should also change some extra money into Quetzals for extra park fees if you do a sunrise or sunset tour, meals outside your hotel, guide fees and souvenirs.  Tikal Inn takes credit cards and we had breakfast & dinner there but lunch in the small market mearby.  Some souvenir sellers take credit cards but charge extra for doing so.
These photos show what to expect from a border crossing from San Ignacio to Tikal.
SCENERY FROM SAN IGNACIO TO BORDER
BELIZE IMMIGRATION/CUSTOMS
PROTECT WILD MACAWS!
MY HUSBAND & DRIVER (GREEN SHIRTS) & THE CAR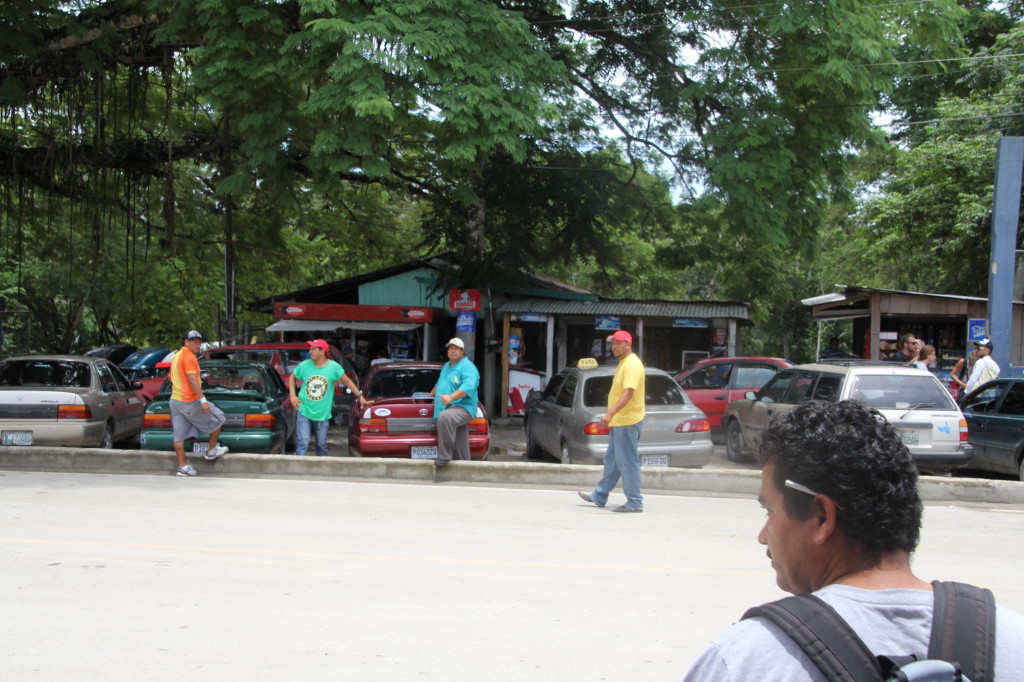 GUATEMALA IMMIGRATION/CUSTOMS
SCENERY FROM BORDER TO TIKAL
THIS IS WHERE YOU PAY THE ENTRANCE FEE TO TIKAL