Our next birding destinations were in Malaysia so after a couple lazy days on the beach at Koh Samui, we were rested up and ready to bird!  As I mentioned, flights to and from Koh Samui are not cheap and I had run out of stopovers to cram into the generous United award ticket.  So we took the Lomprayah ferry from Koh Samui to Surat Thani and Air Asia to Kuala Lumpur.  From there, a 5 hour bus ride would get us to our first Malaysian destination – Taiping.  We could have gotten up early and done it all on one day but I was wary of cutting the connections too close as ferries can be cancelled if weather is bad.
Actually if it had not been Songkran (major holiday in Thailand) we would have taken the train to Butterworth, then bus to Taiping but you can't book Thai trains online and I didn't want to risk not getting a sleeping car.
The Lomprayah van picked us up and took us to the jetty.  The ferry left a bit late but was a pleasant and speedy way across the sea to the mainland.
It wasn't full so we spread out and enjoyed the ride.
Most people will have booked combo tickets that include a bus ride to your final destination in Thailand.  I had booked us to Surat Thani town where we were dropped at the office in town and had to get a taxi to the hotel.  They arranged it but we had to pay something ridiculous like 300-400 Baht!
The second part of this journey was Air Asia from Surat Thani to Kuala Lumpur which I booked online well in advance (due to Songkran) and got an insanely cheap price of around $35 per person!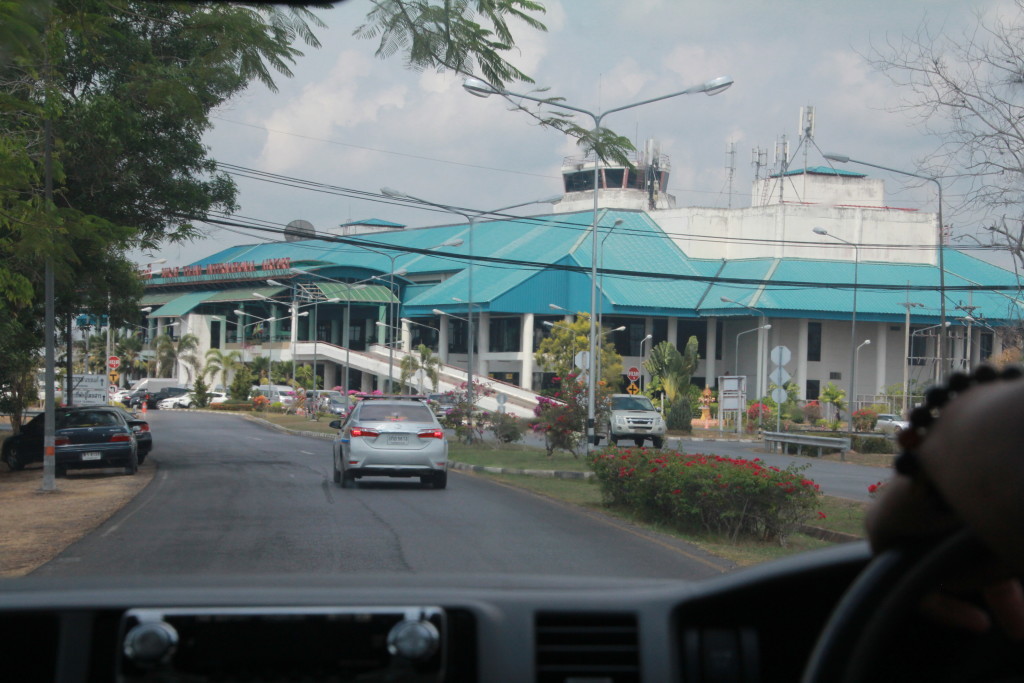 Lovely welcoming committee!  I don't know if these ladies are always here or it was special for Songkran.  At this small airport you have to wait until about a hour before boarding to go through security to the gate.