First of all, everything I write here works for a normal "Big 5" type safari or even the mountain gorillas (though there are more specific blogs on gorillas) so if you are not particularly into birding you will still find value in this post.  Of course if you ARE into birding, you will find even more value!
Uganda has so much to offer and is easily accessed by airline miles.  If you have limited time and finances you will really have to make some tough decisions on how many parks to visit.  It really helps if you know what species are your priority.  For some people this may be raptors or trying to check off all the endemics.  For me it's always parrots first, then songbirds, then other birds and mammals.  Don't get me wrong, I'm not going to bypass lions or cheetahs though!
DO YOUR HOMEWORK
With so much on offer, you have to do lots of research online to find out your best chances of seeing the species you really want to see.  I always check trip reports on Surfbirds and more recently added Cloudbirders to that.  Xeno-canto has mapped locations where birders took sound clips of many species so that can pinpoint them even more.
I always check bird sightings on eBird, you can see my full guide on locating bird species .
I also look through trip reports by major birding companies such as Birdquest, VENT, Naturetrek, Rockjumper and more.  The trip reports will show you which parks you need to concentrate on.  Once you have this, you can start contacting birding tour operators or safari companies that are well-recommended for quotes.
HOW I CHOSE MY ITINERARY
Firstly I should mention that I had unusual circumstances regarding travel insurance coverage and pre-existing conditions so I could only make a short dash into Uganda.  Normally I would have spent at least a week here although I have already seen the Mountain Gorillas back in 1998.  I was prioritizing parrots knowing that plenty of other bird species would be in the same habitats.  There are 3 parrot species in Uganda.    The African Grey Parrot is one which I only caught a fleeting glimpse of in Ghana so I wanted a better look.  Same with the Red-headed Lovebird.  The third parrot is the Meyers (Brown) Parrot.  I didn't want to stray too far from Entebbe so I found 3 good prospects:
ENTEBBE BOTANICAL GARDENS

African Grey Parrot — Psittacus erithacus
Red-headed Lovebirds — Agapornis pullinarus
Meyer's (Brown) Parrots – Poicephalus meyeri
MABAMBA SWAMP
Best known for Shoebills though African Grey Parrots have been seen flying overhead.
MPANGA FOREST
Same as Botanical Gardens.
Here is a map showing the locations.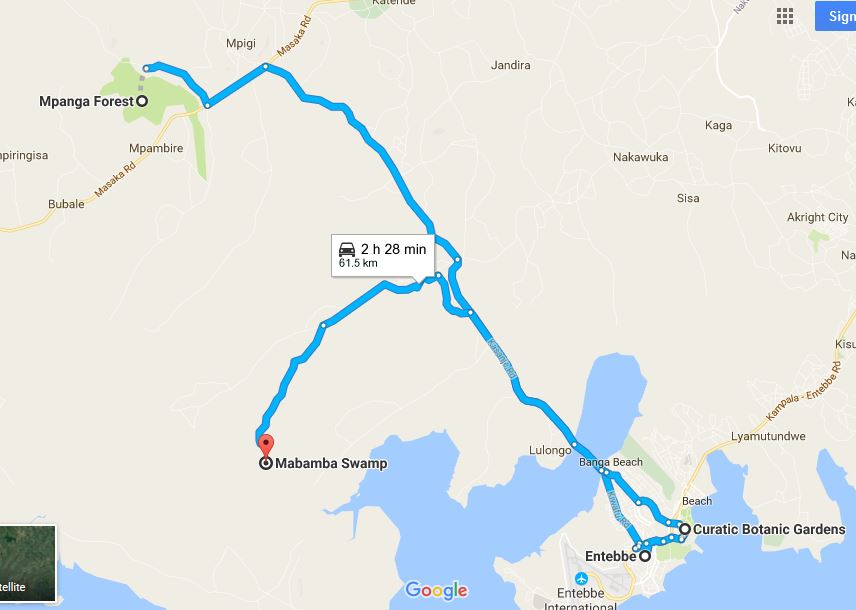 HOW TO ORGANIZE YOUR OWN BIRDING SAFARI
In Uganda, it's very rare for tourists to self-drive cars and you will have to use some kind of transport with a driver included.  These drivers probably won't know anything about birds so you will also need a guide at each park/reserve you visit.  There are usually guides hanging around national parks waiting for customers so this won't be a problem.  You may decide that it's more convenient to just join an organized tour such as those whom I mentioned above if you can afford it.
I booked a Shoebill Safari with Mabamba Shoebill Safaris which was well-recommended on Trip Advisor.  The first time we went to the Botanic Gardens we used a taxi-minibus from our hotel.  This didn't work out well as the windows were shaded cutting visibility.  After the Shoebill safari, I struck a deal with their driver to take us back to the Botanic Gardens after the shoebills, then the next day to Mpanga Forest.  They had a more comfortable vehicle (SUV) and made a good price.  If you are a less-experienced traveler and not comfortable with "Winging it", then you can contact safari companies in advance to book a driver.
VISA FOR UGANDA

Uganda has an e-visa system where you fill out the application, upload scanned copies of your documents and pay online.  The paying thing is new, when I did it, we paid on arrival, $50 cash per person.  The details and application is HERE.
You will need scanned copies of your passport, a recent passport photo, your Yellow Fever certificate (valid for lifetime) and details of your flights and accommodation.  It's pretty easy and our were approved by email the nest day.
BEST SEASON TO TRAVEL
There's a couple things to consider, the weather and potential crowds (especially if you are going to other parts of Uganda).  I always check the weather on Weather2Travel.  In my case, since we were going to other places in Africa we went in the rainy season (April 2017) but it wasn't too bad, only a few showers in the evening.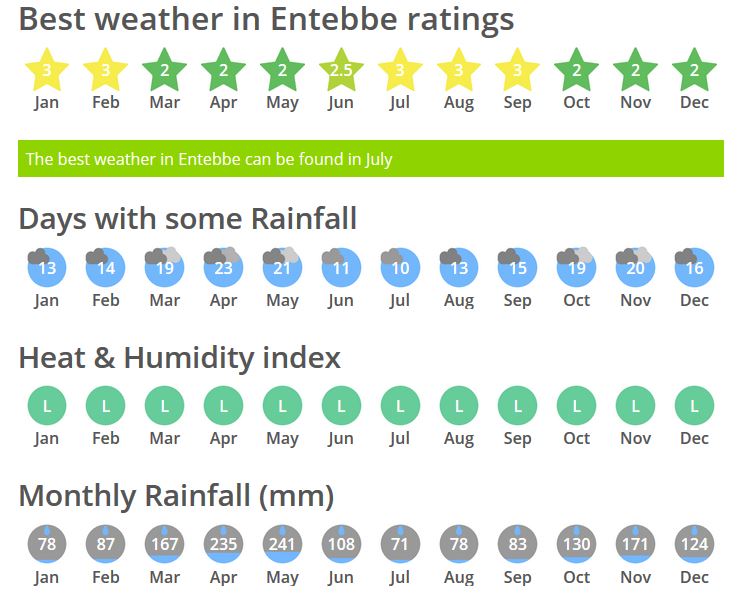 If you have "must-see" bird species, always check eBird to make sure the birds are being seen that time of year by other birders.
BOTTOM LINE
Obviously a lot of thought and preparation needs to go into a birding safari to Uganda and even more so if you will be visiting Chimps & Gorillas.  The lower your budget, the more you have to do yourself.  For most people, this will be a once in a lifetime experience so take your time and get it right!