Namibia is a very user-friendly country with fantastic national parks and good roads so it is a great choice for a novice eco-tourist.  You can rent a car, drive yourself around or join a birding tour, whatever suits you best!  The parks here are much less crowded than those in South Africa but the wildlife is amazing!  Birders can look forward to seeking 706 species of which one is endemic.
Namibia's gateway airport at Windhoek is very small and doesn't have as many airlines as other safari destinations but careful planners can still use their miles to get here.    If you have limited time and finances you will really have to make some tough decisions on how many parks to visit. It really helps if you know what species are your priority. For some people this may be raptors or trying to check off all the endemics. For me it's always parrots first, then songbirds, then other birds and mammals.
Rosy-faced (aka Peach-faced) Lovebird at Kunene River, Namibia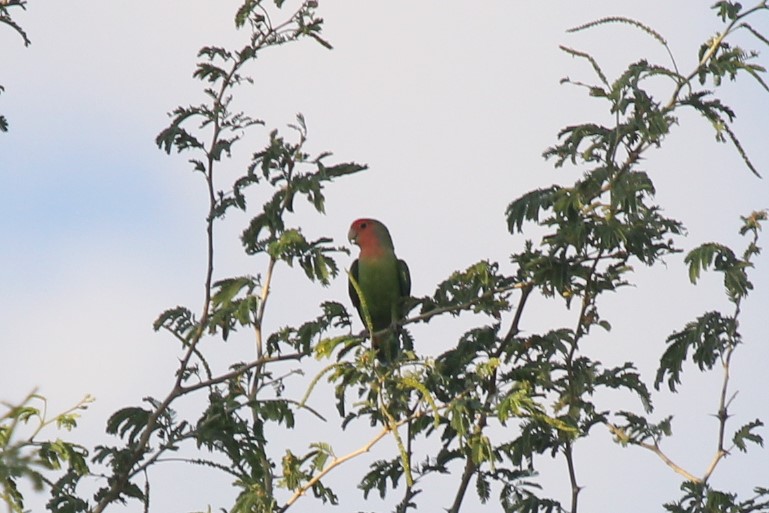 DO YOUR HOMEWORK
With so much on offer, you have to do lots of research online to find out your best chances of seeing the species you really want to see. I always check trip reports on Surfbirds and more recently added Cloudbirders to that. Xeno-canto has mapped locations where birders took sound clips of many species so that can pinpoint them even more.
I always check bird sightings on eBird, you can see my full guide on locating bird species .
I also look through trip reports by major birding companies such as Birdquest, VENT, Naturetrek, Rockjumper and more. The trip reports will show you which parks you need to concentrate on. Once you have this, you can start contacting birding tour operators or safari companies that are well-recommended for quotes.  If you are traveling on your own, it's worthwhile to note when the birding groups will be in the area as they will have the best guides already reserved and you may not even find accommodation.
HOW I CHOSE MY ITINERARY
I had 2 definite target birds – Ruppell's Parrot & Rosy-faced Lovebird.     My research revealed that the Lovebirds had a large range all over Namibia and were possible in Etosha NP, the Kunene River area near the Angola border and Omaruru area.  Ruppell's Parrots were being reported at Huab Lodge.  Since I was prioritizing parrots knowing that plenty of other bird species would be in the same habitats I chose these locations:
ETOSHA NP:

Rosy-faced Lovebird (Agapornis roseicollis)
Plus it's the major safari destination in Namibia!
KUNENE RIVER LODGE

Rosy-faced Lovebird (Agapornis roseicollis)
Slim chance for Cinderella Waxbill, a local speciality.
HUAB LODGE
Rüppell's parrot, Poicephalus rueppellii
OMARURU AREA
Rosy-faced Lovebird (Agapornis roseicollis)
Here is a map showing the locations.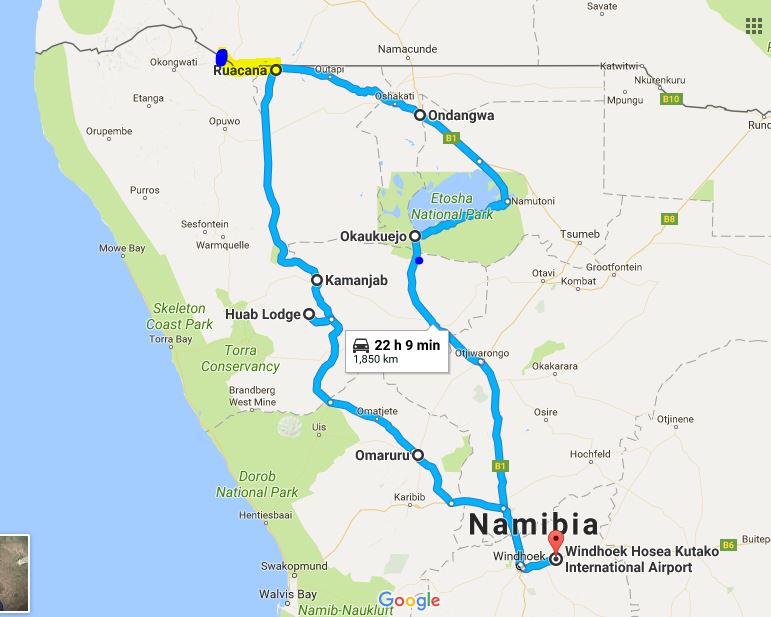 HOW TO ORGANIZE YOUR OWN BIRDING SAFARI
A rental car is essential to visit the national parks in Namibia.  The public transport is very limited and only has buses between main cities and minivans linking smaller towns.  A few car rental firms to check are Hertz, Avis and Europcar.  Use coupon codes that can be found on Flyertalk to get the best deals.  In most cases, the roads (even gravel roads) are ok for sedan cars but in some cases you need at least an SUV if not a 4×4.  The road from Ruacana to Kunene River Lodge was hard for us in a Toyota Rav4 but we took it slow and made it.  A 4×4 would have no trouble at all, don't try it in a sedan.
Doing a self-drive safari means you have to rely on your own bird spotting and identification skills.  I found an excellent book in the gift shop at Okakuejo Rest Camp in Etosha which has pictures of the most commonly seen birds and animals which was a huge help!  The book also has maps and helpful info, I'd say get one of these books straight away.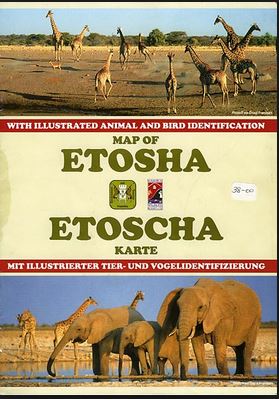 If you stay overnight in some national parks, check with the local rangers about guided day and night drives.
Namibia has many accommodation options for all budgets such as campgrounds, backpackers, budget motels and high-end luxury lodges.  As this report progresses you will see examples.  Before heading off to the bush, it's best to stop at a supermarket in Windhoek to stock up on drinks, snacks and food for anything you plan to cook as it will be much cheaper.  Always top up the fuel when going through any reasonable sized town.
VISA FOR ZAMBIA

Good news, visitors from 52 countries do not need a visa to enter Namibia, including Australia, Canada, New Zealand, UK, and USA!
BEST SEASON TO TRAVEL
There's a couple things to consider, the weather and potential crowds.  I always check the weather on Weather to Travel.  Namibian weather was a priority as I knew the places we were visiting would be difficult to reach if it were raining.  May is in the dry season and we enjoyed good weather throughout the trip.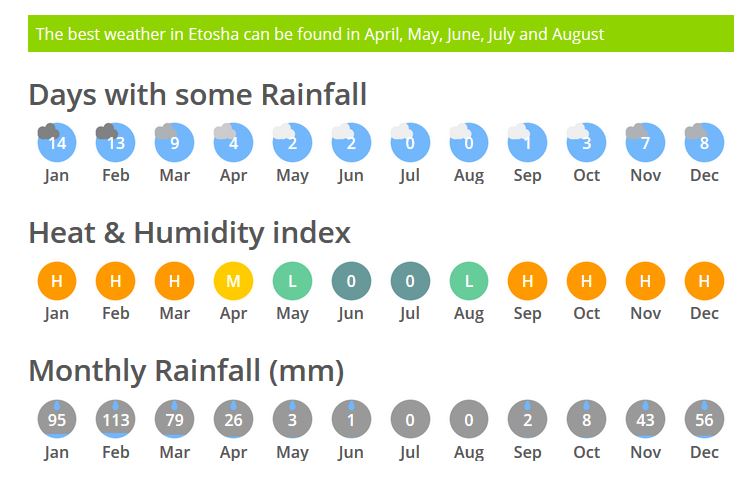 If you have "must-see" bird species, always check eBird to make sure the birds are being seen that time of year by other birders.
OTHER HELPFUL RESOURCES
NWR Resorts
– this is where you book accommodation at the rest camps.  They fill up fast so you need to plan in advance.  I missed out as the camps (budget options) were full on our dates so we had to use alternatives which I will be explaining in detail.
BOTTOM LINE
Namibia is a great choice for both newbies and experienced birders as the infrastructure is so good for travelers.  Everyone speaks English, it's a safe country, no malaria and you can do it on a budget!  There are wonderful birds and animals to be seen, Namibia never disappoints!